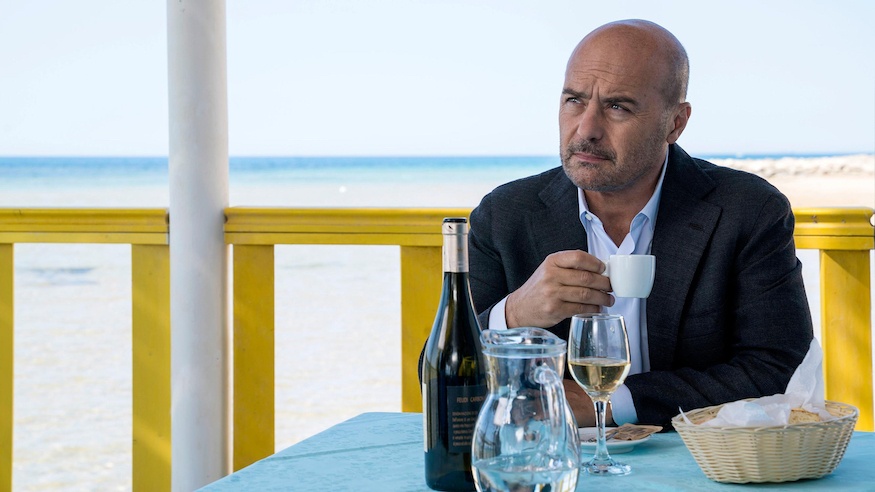 The writer Simonetta Agnello Hornby argued that Andrea Camilleri should have been put forward for the Nobel Prize. He was a major cultural figure in Italy, and in the arts across Europe. Of course, he's better known in the English speaking world as the creator of one of the best-loved detectives in modern crime fiction, Inspector Salvo Montalbano. When Camilleri died in 2019 his loss was felt globally but Montalbano's own adventures still have a little way to run. Perhaps with an eye on his legacy, Camilleri wrote the final mystery for his detective nearly two decades ago and kept it back as a way of ensuring the series would conclude on his terms. The manuscript of the novel now called Riccardino was locked away in a notary's safe, only emerging to update the language in 2017 before being secreted away again. It was published in Italy in 2020 before finally appearing in English in autumn 2021.
The Vigàta of the novels is a fictional version of Camilleri's home town, Porto Empedocle, where he was born in 1925. Montalbano, his irascible and sometimes reprehensibly behaved yet ingenious detective, shares the author's love of the local culture and the island's culinary delights. The mysteries are often based around political events and draw heavily on literary references, helpfully explained by the superb translator, Stephen Sartarelli, in the after notes. These slightly strange mysteries appeal to readers of cosy crime and those with darker tastes. There is always some insight into Sicily's ills and Italian affairs but the stories are told with a great deal of humour.
As well as appearing on the page, Montalbano is on our screens in two guises. In the series Montalbano he is played by Luca Zingaretti, while Michele Riondino plays Young Montalbano in the spin-off.
Camilleri's love of Sicily and its people shines from the pages, as does his hatred of fascism, corruption, the mafia and incompetent government. However, organised crime is rarely the focus of the Montalbano books. Camilleri didn't want to give the mafia the oxygen of publicity, although they are clearly behind a lot of what goes wrong in the books. His passion for truth and justice and a quiet anger are clear in Camilleri's writing.
More than anything, Montalbano is a wonderful creation and so are the cast of characters who populate the mysteries. These include long suffering girlfriend Livia – their rows are legendary; lothario Mimi Augello; fastidious Fazio; the abusive forensic examiner Dr Pasquano; and the switchboard operator Officer Catarella. 'Cat' for short, the latter is a gatekeeper at the local police station and is the source of jokes about the misunderstanding between Sicilian and Italian. The distinct Camilleri tropes – the early morning phone call bringing disaster, the mangled exchanges between Cat and everybody else and Montalbano's strange dreams – are all features we come to savour.
The popularity of Montalbano surprised and delighted Camilleri. Though he began writing about his detective late in life, close to 60 in fact, he produced 28 mysteries and two collections of short stories. The books have been received well by critics, several have won awards, and The Potter's Field claimed the CWA International Dagger in 2012.
The best of Montalbano
Sadly, all good things come to an end and as Riccardino, the final adventure for Montalbano, is released in translation shortly, we decided to bring you some of the highlights in this long-running and distinguished series.
The Shape of Water #1
Italian 1994, English 2002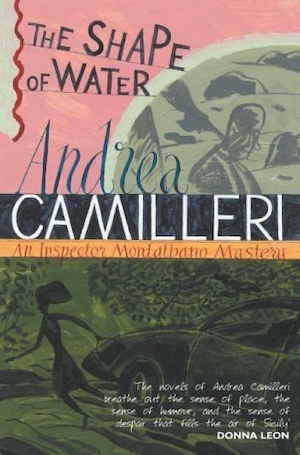 The Pasture, formerly communal grazing land, has become home to the local prostitutes and drug dealers. When the body of an engineer Silvio Luparello, an important man, is found in flagrante the coroner quickly declares it to be natural causes. Inspector Montalbano doesn't buy it. Amid the corruption, vendettas and gormandising, Montalbano has to deal with the police chief, a judge and the local bishop – none of whom wants to interfere but would like to add their opinions. From those early attempts not to influence Montalbano we see he is irreverent to authority and the path for humour in the novels is established.
Buy now on Amazon
The Terracotta Dog #2
Italian 1996, English 2002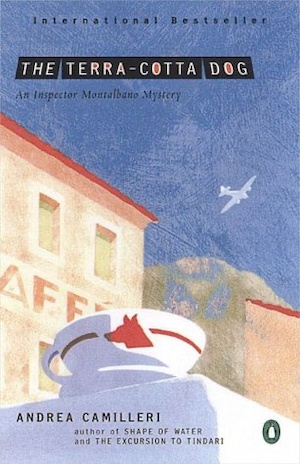 The Terracotta Dog opens with a clandestine phone call between Montalbano and an old mafioso. That leads the detective to a secret grotto in a cave in the mountains where the bodies of two young lovers are discovered, guarded by a giant terracotta dog for 50 years. Thus begins an exploration of the island's wartime past. Meanwhile, a strange supermarket robbery in which the loot is abandoned taxes Montalbano's team. It becomes a feature of Montalbano's mysteries that he is distracted by past crimes, the significance of which others fail to see. His obsession with the cold case will get him into hot water. We are beginning to recognise Montalbano's exceptional ability to decipher that which everyone else thinks inexplicable in the crimes they tackle.
Buy now on Amazon
The Snack Thief #3
Italian 1996, English 2003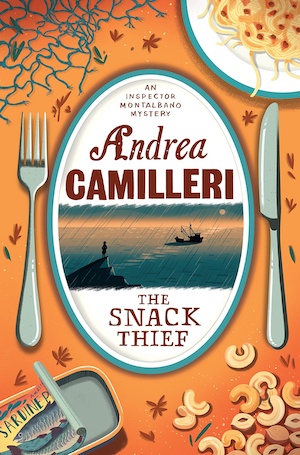 An elderly man is stabbed to death in an elevator, while at sea an Italian fishing trawler is machine gunned by a Tunisian patrol boat off Sicily's coast. Montalbano is the only one to see the link between these two events. It all leads to the beautiful Karima, a poor immigrant house cleaner struggling to raise her son and supplementing her income with prostitution. When Karima goes missing, the plight of her son becomes central to Montalbano's story, his relationship with Livia and deputy Mimi Augello. The depth of Camilleri's empathy for ordinary people slips past the gruff exterior.
Buy now on Amazon
The Voice of the Violin #4
Italian 1997, English 2003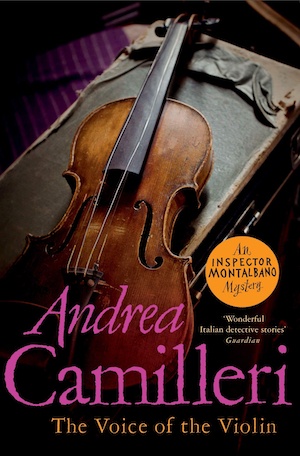 A young women is found suffocated and naked on her bed. This arouses the inspector's anger and pity. His deputy Mimi Augello may be the lothario but Montalbano has an eye for the ladies too. The charms of the victim's beautiful friend Anna beguile him. The dead woman's aging husband, a noted local doctor, is a suspect but so is the woman's missing lover, an antiques dealer from Bologna. However, the mystery hinges on a reclusive violinist, demonstrating that oddities matter in Montalbano books. We see Montalbano hoodwinking authority but also the struggles in his relationship with long distance girlfriend, Livia. The temptation never goes away but as Montalbano matures he learns to resist feminine charms.
Buy now on Amazon
The Paper Moon #9
Italian 2005, English 2008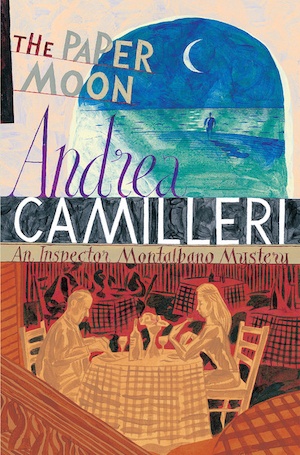 As he gets older, Inspector Montalbano is plagued by existential questions. But he doesn't have much time to wax philosophical before the gruesome murder of a man – shot in the face at point-blank range with his pants down –commands his attention. Add in two evasive, beautiful women as prime suspects, dirty cocaine, dead politicians, mysterious computer codes and a series of threatening letters, and things soon get very complicated at the police headquarters in Vigàta.
Buy now on Amazon
The Potter's Field #13
Italian 2008, English 2011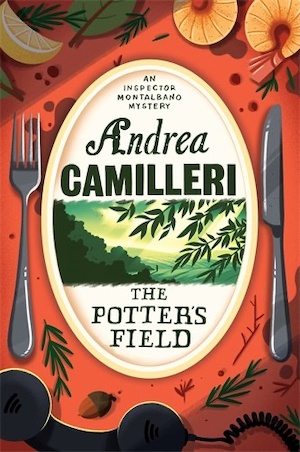 A dismembered corpse is discovered in a clay field just outside Vigàta. Historically this was the burial place of strangers and it's a long time since it's been used. Sure enough, the man appears to be a foreigner. Montalbano remembers the story from the Bible about Judas's betrayal of Jesus, his act of remorse and the money for the potter's field which began the tradition of burying strangers in the clay. This gives Montalbano an idea about the victim but at the same time he must avoid the distraction of Delores Alfano and her missing husband, a Colombian national with a connection to a local mobster. This award-winning novel reveals how complex the Montalbano investigations can be.
Buy now on Amazon
Angelica's Smile #17
Italian 2010, English 2014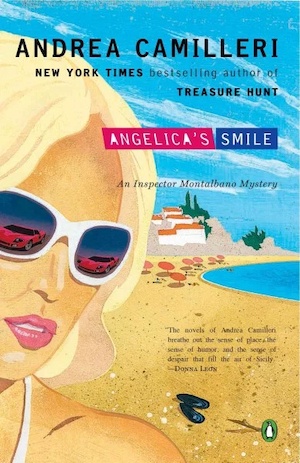 A spate of burglaries of the rich and powerful has the inspector stumped until he realises there's more than the stolen goods connecting the victims. Then he meets beautiful young Angelica and is smitten, causing him to lose all focus and begin acting like a love lorn schoolboy, which inevitably threatens his relationship with Livia. When strange anonymous letters begin to arrive claiming responsibility for the crimes, the question is can the detective be persuaded to pay attention to the case before events spiral out of control. This is another one of those times when Montalbano's relationship with Livia is strained to breaking point.
Buy now on Amazon
Montalbano's First Case and Other Stories
Italian 2013, English 2016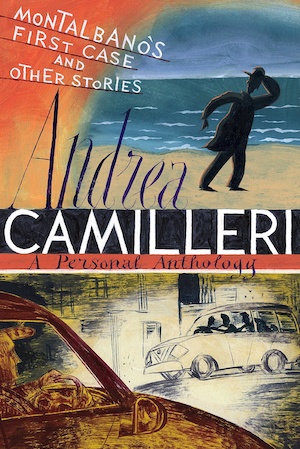 This is where we go back to the young Montalbano investigating his very first case in Vigàta, in which he stumbles upon a young girl lurking outside a courthouse with a pistol in her handbag. When she is taken in for questioning and won't utter a single word, Montalbano must find another way to learn who she is trying to kill, and why. There's myriad motives and strange cases in this collection, such as a woman who runs away from the love of her life, and the old couple rehearsing their suicide. This proves Camilleri was capable of presenting his character both as a younger man and in the short form to great effect.
Buy now on Amazon
The Sicilian Method #26
Italian 2018, English 2020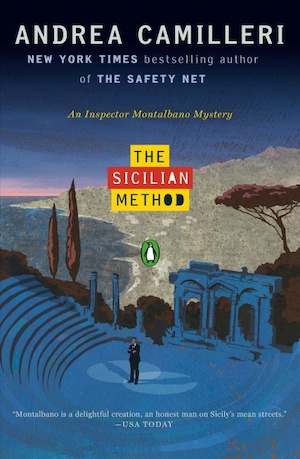 Mimi Augello is visiting his married lover when her husband unexpectedly returns and he is forced to flee. Mimi climbs out the window and drops to the balcony of the apartment below. In the dark he sees a body lying on the bed and now has the tricky task of reporting a crime without giving himself away. He has to tell Montalbano and rely on his boss's discretion. Things may not be what they seem, though. Then the body of a notorious stage director is found, a man known as a slave driver and a bully. Camilleri is playing with his Italian audience because he was a well known theatre personality there. The director kept extensive notes on his actors, so is the identity of the killer hidden among them? The delight of this novel is that the familiar traits of characters are swapped between them. For that reason this may be the best of the books, demonstrating Camilleri's ever playful prose to full effect.
Buy now on Amazon
Riccardino #28
Italian 2020, English 2021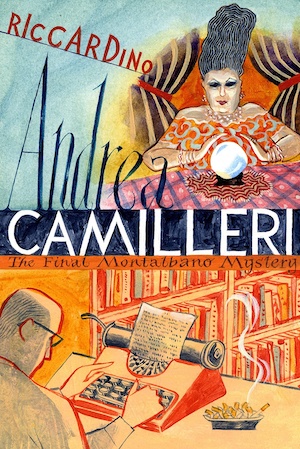 An early morning call from a man named Riccardino summons Montalbano to a meeting. Montalbano knows it's a wrong number so he hangs up. An hour later Montalbano gets another call, this time it's Catarella advising him of a murder. A man gunned down in the street outside a café. The victim turns out to be none other than Riccardino. Suspecting the friends of Riccardino, who witnessed a biker execute their life long mate, Montalbano keeps quiet about the call from Riccardino to see how they react. Read our full review here.
Buy now on Amazon
Farewell, old friend…
The Montalbano novels have become a perennial pleasure, almost a comfort blanket. They have been consistent and doses of satire and farce sustains the weaker mysteries. Camilleri's mellifluous, easy style is always a delight and he subtly manages to smuggle what he describes as a 'critical commentary on his times' into the novels without hardening the tone. This long running series is vibrant, sharp and very funny. Camilleri's detective gradually improves his delinquent behaviour as he matures but does he ever fully grow up? Although the author avoided pinning his creation to a strict timeline, Montalbano inevitably got older, calmer and a tad less selfish, though Livia might disagree. Throughout the series, Camilleri gave free reign to his love of the absurd and the dark comic moments in life.
If you enjoy Montalbano, you may also like Alexander McCall Smith's No1 Ladies' Detective Agency series, or the exploits of Philip Kerr's German investigator Bernie Gunther. Click here for more book and TV series guides.