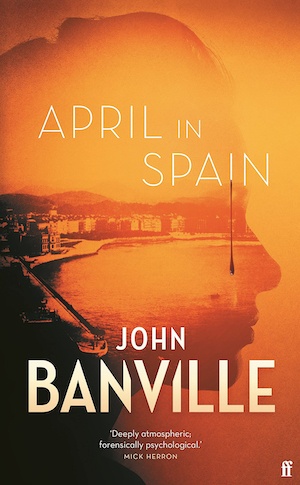 Until recently John Banville published his crime novels under the pseudonym Benjamin Black to separate them from his more complex fiction. According to the author, he could write a crime fiction novel in three or four months while his more literary work took up more of his time. He also famously said his work as Black is a craft, while as Banville he is an artist, and that crime writing is 'cheap fiction'. (Gasp – Ed.)
Despite his controversial comments about crime fiction, Banville is highly rated in literary circles and he won the Booker Prize for The Sea after previously being shortlisted. And since he ditched his Benjamin Black alter ego with Snow, April in Spain's predecessor, we can assume that at long last he's embraced his inner crime writer and can forgive him for his comments.
April in Spain once again has hard-drinking, cantankerous Irish state pathologist Quirke at its centre. However, this time around, he's slightly softer around the edges. Even though Quirke is still his grumpy self, he's wildly in love with life – and with his new, enigmatic wife. Evelyn, an Austrian psychologist who survived the Holocaust, drags him kicking and screaming off to San Sebastian in Spain for a much-needed holiday. Quirke is adamant that he won't enjoy the idyllic getaway and his nit-picking about everything from hotels to food whiffs of Paul Theroux's demoralising tone. The motivation for his simmering resentment proves legitimate when he injures himself in an attempt to crack open an oyster.
The unfortunate oyster incident lands Quirke in the local hospital, where he is attended to by Dr Angela Lawless. The doctor bears an uncanny resemblance to a woman called April Latimer, a friend of Quirke's daughter, Phoebe. He'd spotted the same woman earlier at a local wine bar, but convinced himself it was only his imagination. After all, it couldn't be the troubled April. She was killed five years earlier by her brother, following a scandal about their well-connected family who had ties to the government. The more he thinks about it, the more Quirke is convinced she is April, whose body was never found, and he convinces a reluctant Phoebe to join them in San Sebastian, escorted by Detective St John Stafford.
In a parallel story arc, we're transported into the violent, unscrupulous, racist and homophobic head of Terry Tice, a hitman who takes pleasure in killing people. Well, if you don't love your job… Terry is a man who likes to keep things tidy and in their rightful place. His enthusiasm for murder and order includes the cold-blooded killing of Percy Antrobus, a gay man who saw Terry's potential, gave him his dubious career break, supported him and with whom he cohabited in an upmarket London apartment.
Innocently mocking Terry was Percy's biggest mistake and it led to him ending up in the Thames. Killing people on a whim because they have insulted, teased or disrespected him slots Terry firmly into the sociopath category of the psychological spectrum. He is a complex guy who, after killing his benefactor, starts reading Brighton Rock by Graham Greene because his victim accurately compared him to Pinkie, its main character.
It's clear that Quirke and Tice are destined to cross paths at some point and Banville keeps us in suspense, maintaining the two characters' separate storylines almost until the end. But April in Spain isn't all suspense and crime. Banville's literary prose, style and the odd reference unobtrusively slip into the characters' observations, whether it's a comical comment on a character's appearance or an astute observation about the surroundings.
April in Spain unfolds slowly and leisurely. Much like a Mediterranean holiday, there's no rush for it to end. Aptly, the journey is more important than the destination and Banville clearly savours every moment of the trip. In a Paris Review interview, he admitted that his priority in writing is the language and rhythm, not the plot, characterisation or pacing. This approach is clear here in the somewhat abrupt ending and a brisk attempt to bring matters to a head. The only glitch is that it's not 100 per cent resolved and we're left with an itch that needs to be scratched in the next Quirke novel.
April in Spain is a pleasure to read. It is well-written with beautiful, evocative prose and vivid, troubled characters – but we'd expect nothing less of John Banville. Whichever name he uses, the author delivers another novel worth reading – dark, bitter and surprisingly droll, just the way we like our Irish crime fiction.
For more Irish crime writing try our list of ten books by Irish crime writers or our review of John Banville's homage to Raymond Chandler, The Black Eyed Blonde.
Faber & Faber
Print/Kindle/iBook
£10.99
CFL Rating: 5 Stars