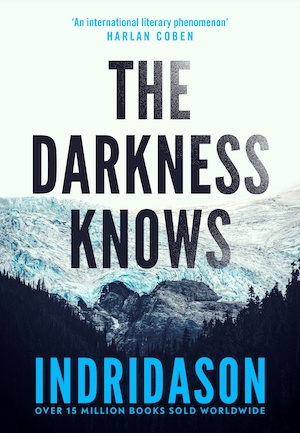 Translated by Victoria Cribb — Iceland is a country of enigmas – which could be why crime novels from the country are so popular with crime fiction lovers. Icelandic authors seem to capture those enigmas, and the nuances that surround them, with a subtle sense of humanity. Authors like Yrsa Sigurdardottir, Ragnar Jonasson and Arnaldur Indridason. The Darkness Knows is itself an enigma. It follows on from Arnaldur's earlier Shadow District novels, which flit between World War II and more recent times, with detectives in two time periods solving their cases. But The Darkness Knows also begins a new series centred on retired detective Konrad, who featured in those earlier novels, and it does away with the dual timelines.
Before you ask, the answer is 'yes'. Konrad is in many ways similar to Erlendur, the conflicted Reykjavik detective created by Arnaldur who appeared in more than a dozen novels and in the film Jar City. Like Erlendur, Konrad is quiet and contemplative. His life is slowing down and past memories now and again tumble into his mind as he thinks back to some of his darker moments. Although he has retired, in his heart and in his head there are loose ends.
One of these is a case he failed to solve 30 years ago. A flamboyant businessman called Sigurvin vanished. The Darkness Knows opens with a group of German tourists exploring the Langjökull glacier, where they come across Sigurvin's body – frozen and preserved. Konrad's former colleague Marta, who is still a detective, gives him a call to let him know and soon Konrad is collaborating with the police on the investigation.
Two other situations arise that pique Konrad's interest even more and draw him back to the case fully and completely. First of all, the chief suspect in Sigurvin's disappearance, a slippery character called Hjaltalín, is at death's door. Konrad had repeatedly interrogated Hjaltalín 30 years ago. The man was seen arguing with Sigurvin before he went missing and Hjaltalín kept changing his story when questioned. He was hiding something and seemed to enjoy tormenting the police, even bringing up the murder of Konrad's father during the interviews. Now that Hjaltalín is dying, perhaps he will tell the truth at last, so Konrad goes to see him.
In true cold case crime fiction form, The Darkness Knows also offers up new angles to investigate. The discovery of Sigurvin's body has renewed media interest in the case and as a result Konrad is contacted by a woman called Hérdis. Like Konrad, she is gripped by internal grief and needs closure. Hérdis had a brother called Villi who was knocked down and killed in the middle of a snowstorm several years back. Hérdis believes firstly that it was no accident, secondly that her brother knew something about Sigurvin's disappearance, and thirdly that he was killed because of it. While Marta at police HQ in Reykjavik thinks this is far-fetched, Konrad believes Hérdis and starts trying to find out more about Villi and the hit and run.
Reykjavik is a small city, and Iceland has a tiny population. The Darkness Knows will give you a real sense of how different life is on this isolated island. Society is close-knit and everyone is interconnected. People know things about one another, and by talking to people who knew Villi, Sigurvin and Hjaltalín, for example, Konrad is able to gain momentum with the case. Interestingly, Villi lived in the same neighbourhood that Konrad grew up in, the Shadow District, and some of Konrad's old acquaintances knew him. Further new lines of enquiry become apparent. A big off-roader was seen near the last sighting of Sigurvin – something the original investigation missed – and it could hold the answers. If only 30 years hadn't passed since that fateful night.
It makes for an intricate mystery in which a web of overlapping friendships and relationships holds information that Konrad can use to eventually identify the culprit. The solving of the case relies heavily on Konrad – not just his actions and insights but his fabric as a person. Like Erlendur, particularly in the later novels of the series, Konrad is extremely introspective. Memories about his childhood and his father's murder in the Shadow District intersect with the discovery of new leads in the Sigurvin case. Two key reasons for Konrad's inner conflict are beautifully woven together in Arnaldur's narrative.
However, it won't be for everyone. In parts it feels like slow going and you have to be willing to immerse yourself in Konrad's gloom and melancholy to fully appreciate The Darkness Knows. Konrad's regret, guilt and turmoil are far from resolved and there are glimpses of many things he may pick away at in future books. There is lots for fans of Arnaldur Indridason to look forward to, it seems.
Read more about the Detective Erlendur series here.
Harvill Secker
Print/Kindle/iBook
£7.99
CFL Rating: 4 Stars