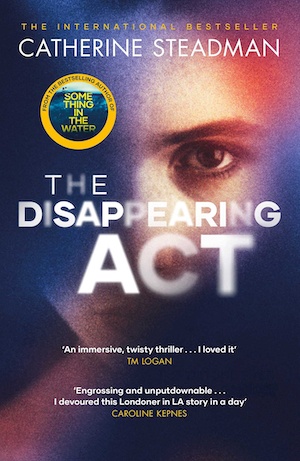 The first thing they tell you at any creative writing class is to write about what you know. Catherine Steadman has certainly taken the advice to heart with her latest standalone thriller, The Disappearing Act.
Fans of Downton Abbey will recognise Catherine as Mabel Lane Fox; crime fiction lovers are familiar with her in another guise – as the author of Something in the Water and Mr Nobody, both of which won praise for their smartly conniving plots. This time, she's cleverly combining her two worlds, because the protagonist in The Disappearing Act is a young actress, Mia Eliot.
Mia has just starred as Jane in Eyre, a TV adaptation of Charlotte Bronte's famous novel. She really made her mark in the role and as a result is tipped for BAFTA success. There's a buzz around her, and Mia's agent, Cynthia, is keen to capitalise on it, so she sends Mia to Los Angeles.
LA is in the throes of 'pilot season', when the TV networks frenziedly try to fill roles in shows that may or may not make it to the screen. Mia is pencilled in for a couple of auditions for such pilots, but she's also got a really important meeting with Kathyrn Meyer, an influential division president at Universal, about a movie based on an updated version of George Bernard Shaw's Pygmalion that could really send Mia's name into the stratosphere.
Things are looking mighty promising – her American agent has set her up in a glitzy apartment, and even provided her with a swish Audi convertible to drive from A to B (gratis, as long as she Instagrams pictures of herself with it). It's enough to pull Mia, newly dumped by her boyfriend, who is a fellow actor, out of the dumps and onto a high. Then she meets Emily at one of the pilot auditions and things start to get a little strange.
Mia is doing a last-minute scan of the lines for the audition when she and Emily strike up a casual conversation. They instantly click, and Mia wonders if she's just made her first friend in LA, so she doesn't think twice when Emily's turn to perform comes up and she asks Mia to go feed the parking meter for her. Mia obliges, returns to the waiting room – and never sees Emily again.
What follows is a hugely enjoyable ride that will have you facepalming at Mia's naivety, gasping at her audacity and screwing your eyes tightly shut in a wildly dramatic and appropriately cinematic scene involving the iconic Hollywood sign. Steadman has fun pointing out the differences between the only-trying-to-help British actress and the reactions of the laid back Los Angelenos who can't see any reason why she should have gone to Emily's rescue in the first place. But as the stress of the situation starts to get to Mia, we begin to catch glimpses of another side to her.
The Disappearing Act is a first-class mystery story with plenty of twists and turns to ratchet up the tension. The plot is clever, the settings are lush and the characters have that air of authenticity that can only come from someone in the know.
What really makes this book stand out are the behind the scenes glimpses of what life in Hollywood is like. Behind that glitzy veneer, darkness lurks and it's not all premieres, diamonds and roses, as Mia learns the hard way. Does it all end happily ever after? You'll have to read the book to find out – but be warned, because this is one of those releases that gets its claws into you and does not let go. It had a lot to live up to, but The Disappearing Act Catherine Steadman's best book so far!
Be transported to Los Angeles of an earlier era in Paul D Marks' The Blues Don't Care. Find a change of pace and plenty of humour in The Murder Quadrille, by actress and author Fidelis Morgan.
Simon & Schuster
Print/Kindle/iBook
£5.99
CFLRating: 5 Stars