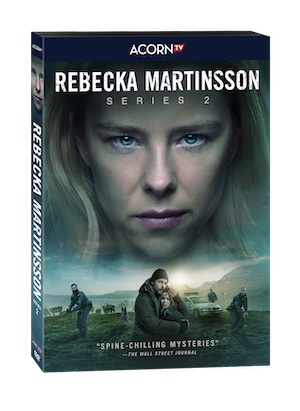 Season two of the acclaimed Swedish crime show Rebecka Martinsson has arrived on DVD in the US and Canada, courtesy of Acorn TV.
Over eight episodes, Rebecka will tackle four cases, with Sascha Zacharias taking over to star in the lead role. Having returned to her home town of Kiruna in Northern Sweden, Rebecka is a prosecutor who uses her sharp legal skills to help the local police.
The cases she faces include a young man's death by drug overdose; the unravelling of an old family feud that turns violent; the reopening of a 16-year-old cold case; and a woman and infant found dead in a car after a snowstorm. Was it an accident, or were they killed?
While her professionalism gets her through these tough investigations, which are presented in procedural format, her personal life brings drama and intrigue all of its own. The over-arching storyline involves Rebecka facing her past, and the guilt she feels over her parents' untimely deaths.
Things are complicated further by the affair she had with Krister, the police dog handler, in series one. He has moved on, but she remains confused by her feelings. She also has a growing friendship with her elderly neighbour Sivving, but perhaps with his advancing years he needs more than she can provide.
The characters in series two are based on characters from the books by Swedish crime author Asa Larsson.
The DVD costs $34.99 on Amazon. You can read more about the show in our preview, here.