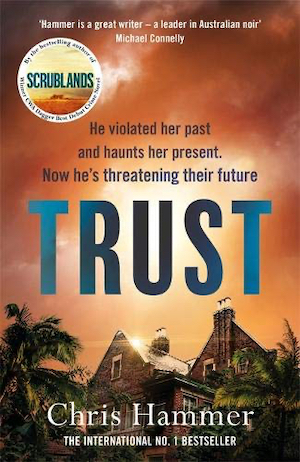 Crime fiction lovers have been treated to many a glimpse of out-of-the-way Australia in recent years. From bushland and outback to dustbowl towns and featureless farmland, we've been absorbed by shows like Mystery Road, and when it comes to novels, Chris Hammer has been at the head of the pack with his books featuring journalist Martin Scarsden using their settings as almost an extra character.
This time the journey starts in Port Silver, on the beach, to be precise, where Martin and his stepson Liam are having fun in the shallows. At last, the journalist seems content and at home and it's clear he and Liam have a fine relationship. But wait! A phone's ringing tone shatters the scene. Martin lets it go to voicemail and the pair continue in their playtime. When it rings again, Martin answers the call and then the idyll is shattered.
It's his old life calling, in the shape of former boss and mentor Max Fuller. Max is onto a big story and wants Martin to be a part of it too. It will involve a trip to Sydney but Martin is too comfortable in his new ways and hesitates. He decides to talk to Mandy before making any decision, which brings him to that voicemail. It's from Mandy – and her shrieking, despairing message sends him flying off the beach, Liam clutched to his chest, and up to their clifftop home. Where there's a man, unconscious, blood seeping from a head wound. And no sign of Mandy at all.
Quite an opening to book three of Hammer's Martin Scarsden series, and we're not even up to page 15! Best set aside some time for Trust, because this is a book that rarely takes a foot off the accelerator. Martin's search for Mandy leads him to Sydney, and voila! We have a new setting for our traverses. After two books set in small town Oz, it feels somewhat disorientating to be thrown into the big city, but there's a handy map at the front of the book to help us find our feet and soon that jarring urban vibe begins to feel more comfortable.
Mandy? She's fine. For now. But her past is about to catch up and knock her for six like a pantechnicon without brakes. A man she was once engaged to, who disappeared without trace after embezzling millions from a bank, has been found dead. As details begin to emerge, bit by bit Mandy realises that Tarquin wasn't the man he claimed to be. She has secrets too – should she keep them hidden or is it time for the great reveal? While she ponders the pros and cons, Martin is struggling with issues of his own. That big story mentioned earlier? It's huge, and people are being killed in order to keep it under wraps…
The densely woven plot work that we've come to admire in Chris Hammer's books is here in spades in Trust – such a simple title for a novel that comes at the reader from all angles. Who is trustworthy? You'll need your wits about you to sort out the goodies from the baddies.
Mandy and Martin are the undoubted lead players in everything that transpires, but one of the wonderful things about Hammer's books is the wide array of accompanying performers. From bit parts to supporting roles, every single person is depicted in sharp focus, but look out for computer geek Yev, the creepy guy known as The Turtle, the fabulously named Titus Torbett and latter day gunslinger Henry Livingstone.
2021 hasn't been much of a year to write home about so far, but I'm happy to report that with the arrival of Trust things are definitely on the up and up. With its heady mix of excitement, intrigue, drama, financial shenanigans and blood, it is an absolute cracker.
New to Chris Hammer's work? Go back to the beginning with Scrublands, the award winning debut that got the ball rolling. Or for a different take on the Australian setting, try Jo Nesbo's first Harry Hole novel, The Bat.
Wildfire
Print/Kindle/iBook
£8.99
CFL Rating: 5 Stars