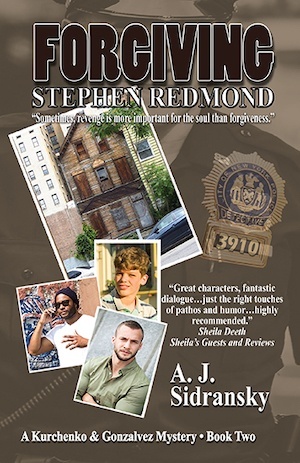 In 2008, workmen tearing down a clutch of derelict Washington Heights rowhouses make a grim discovery. Behind the plaster of an upstairs bedroom is the body of a man sitting in a chair, wearing a hat. To the dismay of the demolition foreman, NYPD detectives Tolya Kurchenko and Pete Gonzalvez intend to make a serious investigation – no matter that the corpse has been entombed for at least 40 years, and no matter that everyone who knew the victim is probably dead, and certainly no matter that the new developer of the property is breathing down the foreman's neck to finish the job.
Kurchenko and Gonzalvez, partners and best friends, have appeared in two previous police procedurals by AJ Sidransky, and their easy camaraderie is balanced by meticulous investigative work. They'll need some time to do the digging required for such a cold case, and their captain grudgingly gives them a few days. It's a sweltering August in New York, and when the temperature climbs, the homicide rate goes right up with it. Still, the detectives are intrigued. This is their neighborhood, they've known those houses for years. What happened there?
The house with the body was once a rooming house, vacant for years now. The neighborhood kids have perpetuated the rumour the house is haunted, a story that started after the 1966 disappearance of a resident named Fernando Vargas. Property records reveal that the house was then owned by Máximo Rothman and his best friend Ernest 'Erno' Eisen, Jewish immigrants from Europe by way of the Dominican Republic. Three years earlier, these detectives had investigated Rothman's murder.
The network of associations from Upper Manhattan across 1,500 miles of ocean to the Dominican Republic is dense and tangled, and some of its threads extend far into the past. That could be the case with the late Señor Vargas. The detectives ask Erno, now quite elderly, about the dead man. Erno admits flat-out that he killed him. The surprising confession could wind the case up rather neatly, but it needs some follow up, which leads the detectives deeper into the past.
Rothman and Eisen met in the coastal Dominican town of Sosúa, notable for being one of the very few places in the world that welcomed Jewish refugees as World War II threatened Europe. Dominican dictator Rafael Trujillo agreed to accept Jewish refugees in 1938, and Sosúa is where they settled.
The rest of Trujillo's dictatorship contrasts sharply with this open-hearted act. His long rule was one of the bloodiest in the Americas. After his 1961 assassination, many of his henchmen fled to New York, and if Vargas was one of them, that could have motivated his murder.
Rabbi Shalom Rothman, Max's son, was 12 when Vargas disappeared. The detectives hope he can provide insights about what went on in the rooming house four decades earlier, and their questions bring back memories and feelings Shalom thought were buried forever. Because the war destroyed Max's faith in god, when his son decided to pursue a religious life, there was a breach between them neither could quite repair. Author Sidransky uses the character of Shalom to explore the obligations of love between fathers and sons, not just between Shalom and Max, but also between Shalom and his autistic son, Baruch.
Another appealing aspect of the story is its demonstration of friendship based on mutual respect that exists between Pete, a Dominican, and Tolya, a Russian Jew. Amidst all the teasing and day-do-day banter, the subject of friendship rarely comes up. It doesn't need to. Max and Erno were similarly close, with loyalties that have extended beyond the grave.
Sidransky's description of life for the refugee Jews both before and after coming to New York make an evocative back story, but change and the need to adapt didn't end with their arrival in the United States. The old building Max owned is being torn down for new development. The original Jewish and Dominican communities, so vividly described, are dispersing, and new waves of residents are settling in. Gentrification, displacement, cultural conflict, changing markets and institutions are an effective backdrop for urban characters facing not only who they are, but who they think they are. Forgiving Stephen Redmond offers a timely, immersive mystery and a powerful family story.
Like cold case police procedurals? Try The Innocent Dead by Lin Anderson or Cold Bones by David Mark.
Black Opal Books
Kindle
£4.38
CFL Rating: 4 Stars