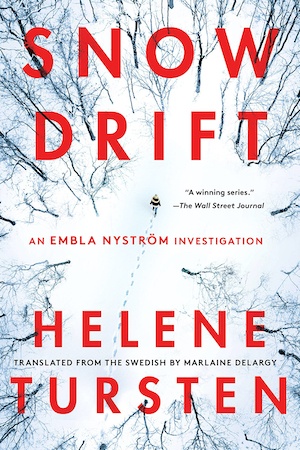 Translated by Marlaine Delargy — Detective Inspector Embla Nyström returns in the third instalment of Helene Tursten's series based on the detective. Snowdrift picks up only eight days after the end of 2019's Winter Grave when Embla receives a call from her childhood friend, Louise Lindqvist, also known as Lollo. Lollo disappeared 15 years earlier, allegedly kidnapped by the Stavic brothers, gangsters operating in Gothenburg. Her disappearance remains a cold case for the police. When Embla's phone rings late one night and the caller utters the name Åsa, Embla's birth name, her terrible memories of the night Lollo disappeared return. Is it possible Lollo is still alive and trying to contact her?
While visiting her uncle Nisse with Elliot, the son of an ex-boyfriend whom she has taken under her wing, she receives another call. This time it's her uncle's cousin, Harald, who runs a guesthouse where one of his guests has been brutally murdered. The victim has been shot in the head at close range with a high calibre weapon and is none other than Milo Stavic, one of Europe's major crime bosses operating from Embla's hometown, Gothenburg.
Milo and his two brothers, Luca and Kadar, were suspected of Lollo's abduction on the fateful night she convinced Embla to go with her to meet her new, secret boyfriend. For years Embla has lived in fear after being threatened by Milo to keep what happened that night a secret. Now he has been brutally slaughtered with his brother Luca's gun.
Before Embla can make sense of his death, Inspector Olle Tillman from the nearby town of Åmål threatens to arrest her for trespassing at the crime scene. Fortunately the misunderstanding is cleared up and shortly after they join forces on another murder case – that of an 18-year-old high school student fatally stabbed during a party. Whether the two murders in the same area are connected is for Embla and Olle to figure out. However, the teenage witnesses at the scene of Robin Petterson's murder and their hostile parents seem to be hiding secrets which might shed light on both murders.
Meanwhile Luca is also found killed and his wife Kader and their children have disappear from their home in Croatia. When the remains of a man are found in a burnt down house in Split all fingers point to a rival gang. But could the motivation behind these gruesome killings really be that simple?
Many Scandinavian crime fiction lovers will be familiar with Helene Tursten's character Detective Inspector Irene Huss, who appeared in 10 books and two seasons of a TV series. Now Embla Nyström has taken over from Huss in a new series which started with Hunting Game. Nonetheless Huss still makes the odd appearance and briefly stars in Snowdrift.
Both Irene Huss and Embla are strong female characters who are level-headed and practical without the emotional baggage that usually accompanies archetypal male detectives. According to Tursten, she wants to create a normal female detectives with normal lives and families who also happen to be good cops. For example, Embla's only baggage is her chronic nightmares and accompanying guilt due to Lollo's disappearance.
In comparison to earlier novels like The Torso and The Glass Devil, Snowdrift has a lighter, less grisly touch. There are still plenty of the required crime fiction elements, including a convincing, high-octane action scene, but it seems less sombre than the author's previous books.
References to the area where Tursten herself grew up and the weather conditions are spread throughout. Her descriptions of wind and snow are noticeable and create a teeming atmosphere. As the title suggests, snow drifts are frequent in Embla's world, along with the phenomenon of 'snow smoke'. Supplementing the Swedish weather are references to hunting and a menu of traditional Scandinavian dishes enthusiastically consumed by the main characters, which might make vegetarians cringe. Anyone up for hare casserole and smoked moose heart?
Also noteworthy are Embla's close relationship of mutual respect with her ex-boss, Göran Krantz, and her developing relationship with new colleague Olle, which is refreshingly uncomplicated. Despite Olle's skill as a detective he has aspirations to join the police's canine unit, but his partly trained Belgian shepherd isn't quite prepared for the career move as a few embarrassing incidents show.
On the surface, Snowdrift creates the impression of a standard police procedural where the body count can be laid squarely at the feet of rival gangs and their eminent power struggle. Fortunately, appearances can be deceiving and Tursten successfully distracts us with multiple loose ends, misdirection and an extensive, sometimes overwhelmingly large, cast of characters. If you long for the warm comfort of a well-written, traditional police procedural, Snowdrift should be on your Christmas list this winter.
For more practical woman detectives in Nordic crime fiction see The Creak on the Stairs by Eva Björg Aegisdóttir or Dark Pines by Will Dean.
Soho Press
Print/Kindle/iBook
£7.29
CFL Rating: 4 Stars