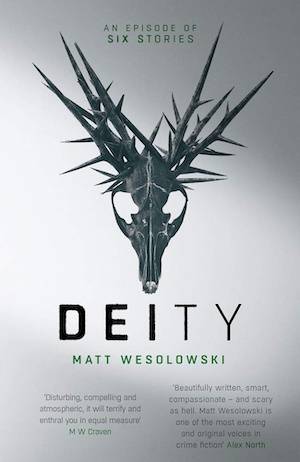 There are times when crime fiction reading can feel a little bit like Groundhog Day, with the same old tropes, characters and situations occurring again and again.
Just when the palate feels a little jaded though, along comes an author who shatters the mould. Matt Wesolowski's Six Stories series is a welcome break from the norm, telling the tale through transcripts of podcasts by Scott King.
Deity is the fifth in this group, and it sets out its stall right from the off, with quotes from Marilyn Manson and from a book about Nine Inch Nails. Yep, this time Six Stories is entering the music business. Are you ready to rock?
Or perhaps that should be 'are you ready to BE rocked?' – because there's much darkness to be found amid the glitz and glamour of chart-topping fame and fortune, as we are about to discover. Zach Crystal is a pop star extraordinaire, with a huge worldwide following of devoted fans. He started out as a teenager, in a duo with his sister Naomi and the Crystal Twins had their fair share of hits – until Zach wanted more and branched out alone, to huge acclaim.
Zach was wildly successful, but he became something of an enigma too, wearing outlandish costumes, masks and crazy headdresses when he made his occasional public appearances, retreating to his estate in the middle of a forest in the Scottish Highlands for the rest of the time.
That estate is at the black heart of this tale. Because Crystal Forest is where Zach died, in a blaze that devastated the heavily guarded complex where he lived. It is also where, for many years, he invited vulnerable teenage girls to come and visit him…
Was Crystal a squeaky clean benefactor to those in need of love and support, or was something much more nefarious going on? As Deity unfolds, we are pulled back and forth in a tug of war of emotions, each true crime-style podcast offering a different viewpoint of Zach Crystal and his life. That prismatic approach is hugely compelling and really keeps the pages turning. Is he a monster or isn't he?
The podcasts are interspersed with an interview Crystal gave to top TV chat show host Ruby Rendall a short time before his death. Amid the gushing enthusiasm from the interviewer, it's hard to get a handle on what the singer is really like. He appears upbeat and relaxed, but look hard enough and there are telling moments that cloud the issue even further.
This is my first taste of the Six Stories series and I certainly didn't feel at any disadvantage. Deity stands on its own two feet perfectly well, and Wesolowski's easy writing style is a great fit for the contemporary themes on show. Fame, fortune, the cult of celebrity and #MeToo are all interwoven into the narrative, and with YouTube videos, bloggers and chatrooms also making an appearance, this really is a book set right in the here and now.
Wesolowski lets the characters speak for themselves and it works really well in this context. The podcasts are so vividly portrayed that Deity has an almost audiobook feel to it. Through it all, podcaster Scott King stands on the sidelines, a shadowy figure who lets everyone else do the talking. He's a kind of modern day Aaron Burr character. Just occasionally though, I'd like to know what he is really thinking.
Deity is a crime book for the tech-savvy crime fiction aficionado, and it hits its marks well. I suggest you add a copy to the Christmas wish list right away. Me? I'm off to sample the back catalogue…
Read our interview with Matt Wesolowski here. For more crime fiction with a rock music vibe, try Tie Die by Max Tomlinson.
Orenda Books
Print/Kindle
£3.79
CLF Rating: 4 Stars