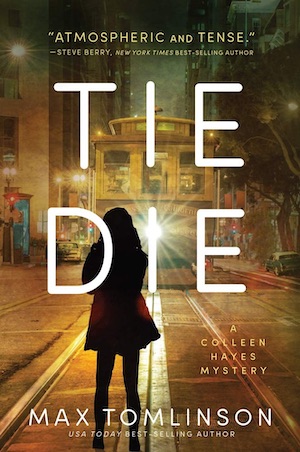 Ooh, I love a book title with a clever pun, and Max Tomlinson's Tie Die has the added bonus of immediately giving the reader some idea of the era in which it is set. Have you guessed yet? This mystery novel opens in the 1960s and then jumps into the 1970s, when tie dye clothing was king.
From the off, we're thrown head first into London in the swinging 60s, where pop band The Lost Chords are giving The Beatles a run for their money. Teenage lead singer Steve Cook is the centre of attention. As well as being a charismatic frontman he writes the songs, but their manager Ian Ellis has pulled a fast one and is taking the lion's share of the royalties. It leads to a violent row between Steve and Ian and after the show the singer drowns his sorrows, big style.
The following day he awakes in his plush hotel room, with little memory of the previous night and an unknown young woman in his bed. She's dead – and a panicked Steve does a runner, effectively ending his music career there and then.
Fast forward 12 years, to 1978 and San Francisco, where Colleen Hayes is trying to build up a business as a private detective. She's not long out of prison for killing her former partner and is still awaiting her PI licence, but when she gets a call from a distraught man who says his 11-year-old daughter has been kidnapped, Colleen sets those minor issues aside and rushes to help.
It transpires the man is Steve Cook, now gigging by night with a local band and doing up a dilapidated property in the Mission area of the city by day. He and his wife split acrimoniously and he now only sees his daughter Mel at his ex-wife's whim. It's on one of those rare occasions when Mel is snatched outside of a local bar where Steve is doing a gig. Now there's been a demand for $20,000 and Steve is desperate to get his girl back.
But desperate men do desperate things, and he's borrowed the ransom cash from some pretty dodgy people. Colleen hatches a plan where she will take the money to the drop-off point and catch the culprits in the act. When it all goes horribly wrong, she pulls in a few favours from old friend. As she begins to piece together what they discover, suddenly the kidnap is shown in a whole new light…
Tie Die is Max Tomlinson's second to feature Colleen Hayes – the first was Vanishing in the Haight – and this book really beds-in the leading role. She's intuitive, stubborn, spunky and apt to follow sudden crazy impulses and I found her both endearing and infuriating. As well as Steve the sexy former pop star, the book is populated with a full complement of well rounded characters, and the author has the 70s vibe spot on, from new-fangled answer machines right down to descriptions of the clothing and haircuts which really took me back to the 'good old days'!
When the present day is giving you grief, stepping back and immersing yourself in recent history is a welcome antidote – and Tie Die fits the bill nicely. The US-based action rolls along well but to an English-based reader the scenes in London and beyond didn't quite ring with the same clarity of vision. That aside, Tie Die is a really enjoyable read, with an easygoing style and some unexpected twists and turns designed to keep you on the back foot.
If you like crime fiction featuring feisty females, try Steph Broadribb's series featuring bounty hunter Lori Anderson, starting with Deep Down Dead. San Francisco is also the setting for Copy Boy by Shelley Blanton-Stroud.
Oceanview Publishing
Print/Kindle/iBook
£11.42
CFL Rating: 4 Stars