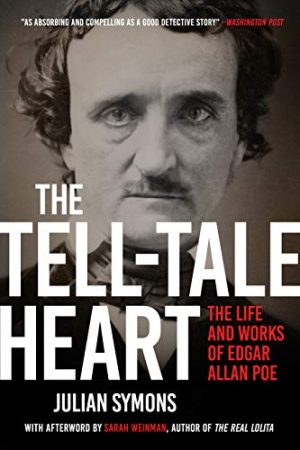 This reissue of the late Julian Symons's biography of Edgar Allan Poe – America's benighted writer of gothic stories, poetry, and literary criticism – bears an apt title. As we learn, most of the difficulties that plagued Poe's fascinating and tragic life can be put down to unrestrained passions. The book is in two parts, a biography and a critique of Poe's writings.
Despite the lasting appeal of Poe's best-known works – including the eponymous story The Tell-Tale Heart – for most of his career those efforts were secondary to Poe. His true desire was to write poetry and edit his own magazine of literary criticism. Yet it is his horror stories, adventures and tales of detection, which Symons describes in the latter half of this work, that live on.
Poe's parents were itinerant actors. His heavy-drinking father deserted the family in Poe's first year, and his mother died of consumption when he was two. Certainly the psychoanalysts of his personality make much of these early traumas. For his part, Symons believes a combination of predilection and early experience marked Poe "…and his life can best be understood as a play in which he half-consciously cast himself as a tragic hero."
Raised by a businessman in Richmond, Virginia, who didn't stint on Eddie's education – even sending him to the University of Virginia – Poe was an outsider with the Virginia aristocrats. His characteristic response to fellow-students who looked down on him, as with others throughout his lifetime, was to look down on them. After eight months, resentful that his Scottish guardian provided too little money, he abandoned the university. By age 22, he'd published three volumes of poetry, but his guardian's final judgment was prophetic: "His Talents are of an order that can never prove a comfort."
In Baltimore, Poe made contact with his aunt, Maria Clemm, and her seven-year-old daughter, Virginia. When Virginia was not quite 14, he married her. Having a family gave him a sense of purpose, and he longed to launch his own literary magazine. The problem then and ever after was earning money.
Poe disdained the prominent New England writers, and a stint as de facto editor of the Southern Literary Messenger gave him a public platform for his criticisms. His erudite, caustic reviews contributed mightily to the publication's circulation, but not the family finances. Those reviews also initiated the long list of literary enemies he'd make. Despite how hard he worked on the Messenger, he couldn't keep himself together and was fired for excessive drinking.
This pattern occurred repeatedly in Poe's career – a tantalising possibility for success and a self-engineered downfall that leaves destroyed relationships in his wake. Although Symons' work is very readable, the accumulated setbacks are discouraging. Hints his erraticism may have had some organic cause, such as a brain tumour, make some sense.
He moved the family frequently. He borrowed money he could not repay. Opportunities evaporated in a cloud of alcohol fumes. Sketches about New York literary figures, deemed malicious and treacherous, ended his career as a critic. "His drinking and critical quarrelsomeness were too well known for anybody to employ him."
When Virginia, fading from consumption, died at age 24, Poe was in a state of mental, physical and financial collapse. He couldn't settle into anything, despite the renewed possibility of backing for his literary magazine. Instead, he embarked upon a spate of wildly unrealistic romantic adventures, mostly conducted by letter.
In his letters, Symons says, "…his words are an appeal from a desperate heart, crying out for help.' In short, 'a perfect case for psychological study." This is what Symons explores in the book's second half. Childhood trauma may have led to Poe's obsession with death, especially of beautiful women, and his self-destructive tendencies.
Symons is skeptical of modern literary critics who search for complex symbolism and hidden allegorical meaning in the poems and stories. He's bearing in mind, perhaps, that they were often written quickly and sensationalised primarily to sell. Such analyses don't so much explain the stories as explain them away.
In his last year, Poe's desire to write dwindled. He was confused and couldn't concentrate. At the end, he was drinking again and died October 7, 1849, age 40. He named Rufus Wilmot Griswold as his literary executor, a disastrous choice. For reasons of his own, Griswold made false and scurrilous accusations about Poe's work and character that tarnished the author's reputation for nearly a century.
Perhaps it is the author's experience as a mystery writer that gave Julian Symons the impetus to explore Poe's perplexing history. It makes the reading of his insightful conclusions rewarding and this biography of one of America's original mystery writers will be inspiring for crime readers and authors alike.
Sutherland House
Print, Kindle
£4.55
CFL Rating: 4 Stars