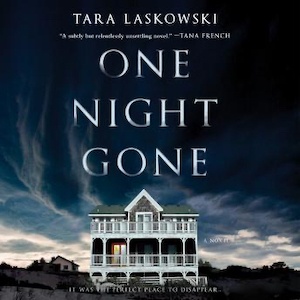 In Tara Laskowski's award-winning suspense novel One Night Gone, two women who have never met and never will meet, women of different ages with seemingly nothing in common, have unexpected and consequential connections after all.
At the end of the summer of 1986, a teenager named Maureen Haddaway disappears one night from the wealthy New Jersey shore town of Opal Beach, where she's been working a low-pay job for a summer carnival. Almost 30 years later, Allison Simpson, a television meteorologist whose life has just imploded agrees to a house-sitting gig in Opal Beach during the off-season. Soon Allison becomes embroiled in a tangle of hints, theories and clues about that long-ago event.
One of the first people Allison meets in Opal Beach is Tammy, who was Maureen's best friend and now runs the local coffee shop. Was Maureen murdered, the way Tammy still believes after all these years?
Laskowski does a persuasive job conveying the sleazy side of the carnival, the honky-tonk charms of a beach town in summer – even a relatively wealthy one like Opal Beach. Allison's stay takes place as winter is coming on, and the author's descriptions of the quiet in the streets and the ocean under cloudy skies are equally evocative. As a weather geek, Allison is well attuned to the changing moods of the late fall storms. Would she were equally quick to pick up which way the wind is blowing with respect to the people around her.
Maureen and Allison both are deemed outsiders in the Opal Beach community. Maureen, who's on the wrong side of the socioeconomic divide would never be accepted and everyone knows that Allison is a temporary visitor.
Both women know what it means to lose faith in the men in their lives. Maureen needs money and has her eye on the main chance. At first, she holds out for a boyfriend from one of the wealthy families who live in the large houses on the beach. She picks Clay Bishop, scion of a seafood restaurant franchise. She and Clay are close, but the money isn't coming. In desperation, she turns to Clay's uncle, an inveterate gambler, who she believes can get her into a potentially lucrative poker game. One of several bad decisions she makes, that goes completely south.
Allison lost her job as an on-air weathercaster when she took her husband Duke to task for his philandering. "Women aren't disposable," she tells him during her broadcast, and every one of the station's viewers in the Philadelphia metropolitan area hears it. She and Duke are divorced now, and house-sitting for a few months is her chance to recover before reentering the world of work. It's also a refuge from the constant reminders of her embarrassing outburst, something she dwells on a great deal.
Over time, Tammy opens up to Allison about Maureen and asks for Allison's help finding out what happened to her. Unlikely as it seems, Allison is reluctantly drawn in, viewing the unsolved mystery of Maureen's disappearance as another instance of women treated as if they're disposable. The risk that digging up buried secrets might pose seems not to trouble her much.
The story is told in alternating chapters from the perspectives of Maureen and Allison, which might be why both of them are hard to warm to. Just about the time you think you know who did what, which seems obvious for many pages, Laskowski throws you a curve, albeit a fairly predictable one in thriller-land.
I listened to the audio version of One Night Gone, which uses separate narrators for Maureen's  and Allison's chapters. (The performers' names were not provided.) While they're both easy to listen to and easy to tell apart, they somehow didn't create the compelling I-can't-stop-listening experience of the best audiobooks. The novel has won several prizes, including the Agatha, Macavity and Anthony awards from American crime and mystery fiction organisations, and has been a finalist for several others.
Like audio books? Here are some hits: Your House Will Pay by Steph Cha or IQ by Joe Ide, both set in Southern California.
Graydon House
Audiobook/Print/Kindle
£5.99
CFL Rating: 3 Stars