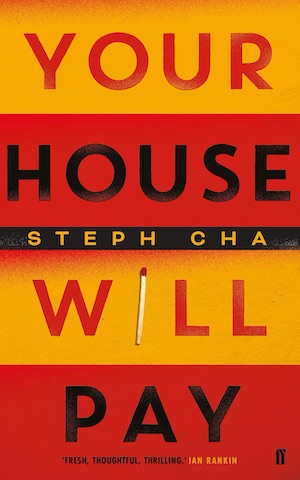 Steph Cha has created a timely and unforgettable story about crime, injustice and the collision of two Los Angeles cultures, not written in abstract terms, but in the painful impact the conflict has on multiple generations of two families – one black and one Korean. Although most of the story takes place in 2019, it is rooted in the real-life conflicts that ravaged the City of Angels in the early 1990s. Cha's story has enough resonance with real events (then and now) that the truths it exposes are all the more significant.
Chapters alternate in their telling between Grace Park, a young Korean-American woman working as a pharmacy technician in the family's suburban drug store and living with her parents who harbour a terrible secret, and Shawn Matthews, a decade or so older than Grace. A while back, he spent a short stint in prison but he turned his life around and has become a hard-working member of society. However, his principal task is keeping his extended family together – grandmother, aunt, cousins and in-laws – until his cousin Ray, a husband and father, finally gets out of prison.
Both these families are traversing a bitter sea of tragedy on the thinnest possible ice, and it may shatter at any moment. Or perhaps the better analogy would be they are crossing a sea of accelerant, unwittingly holding a lighted match.
Grace is too young to remember the intense hostility between LA's black and Korean communities. In the 1992 riots, more than a thousand Korean businesses were burned to the ground. Leading up to the riots was a period of hostility and lawlessness that terrorised the Koreans, many of whom barely spoke English. For the black community, every subsequent gain has been frustratingly hard-won. Cha captures the angst of that period well.
I listened to the superb audio version of this book, which is highly recommended. Narrating Grace's chapters is Greta Jung, a graduate from David Mamet's Atlantic Acting School; narrating Shawn's is Glenn Davis, an ensemble member of Chicago's Steppenwolf Theater Company. When a story has a lot of characters – old, young, male, female – you can become confused about who is speaking. With Jung and Davis there is never a question. They nail the multiethnic intonations and cadences, even to Grace's stiffness and Shawn's barely masked pain.
In the 1990s, Shawn's beloved older sister Ava was killed by a Korean grocery-owner who was afraid Ava meant to steal something. That murder and the subsequent lack of punishment for the shooter shaped the Matthews family's story ever since. Grace is unaware of this long-ago crime and when her mother is shot, the authorities wonder whether it is a long-sought retribution. The direction of the police and media inquiries can easily be foretold.
I don't want to say too much about plot, because if you decide to read or listen to this book (and I hope you do), Cha has plenty of twists in store. Suffice to say this is a tale in which each new development makes things much, much worse.
This is a story about assumptions, prejudice, forgiveness and heartbreak, presented in a can't-stop-reading (or listening) form. It's an important story, but it is never dull. The book was named a best book of the year by several publications and nominated for numerous awards.
Like this? Other recent books riffing off real life are AJ Sidransky's The Interpreter and Don Winslow's Broken.
Faber & Faber
Print, Kindle, Audio
£3.16
CFL Rating: 5 Stars