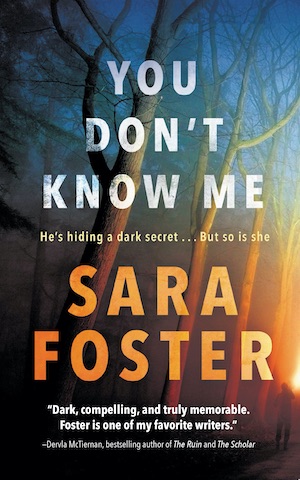 Do you stick to reading in one genre or are there times when you like to explore something new? Crime fiction has so many tempting sub-genres, it's easy to make a detour or two without straying too far from the usual bloodstained path. But what if you're longing for something completely different? In my case, I turn to the romantic novels of Nora Roberts, known in the crime writing world as JD Robb.
Imagine my delight then, when this book landed on the reviewing pile – because You Don't Know Me has the best of both worlds, author Sara Foster managing to deftly meld a psychological thriller with a story of burgeoning romance. This is a writer with an assured style, who creates solidly realistic and multi-layered characters and gives them a story arc that is both unpredictable and engrossing.
Noah Carruso is on a solitary holiday in Thailand, taking a break from the stresses and strains of helping to run the family restaurant in Sydney, Australia, when he meets Alice Pryce, a stunning Aussie redhead who is teaching English at a local language school. The attraction is instant and fierce, and very quickly they are inseparable. Which is just as well, as Noah is about to return home.
He has an inquest to attend and it is no ordinary, simple event. You see, 12 years ago teenager Lizzie Burdett went missing and was never seen again. Lizzie was the girlfriend of Tom Carruso, who is Noah's older brother and the bane of his life. There was no love lost between the siblings and when Tom left town shortly after, Noah was glad to see the back of him. The case affected the family badly, though, with the restaurant nearly going to the wall in the process.
Now Tom has returned to face the music and Noah has a dilemma. You see, he knows more about what happened that fateful day than he's ever let on. Now he's pondering upon whether to finally share what he knows.
So the delightful Noah has secrets, some of which he's prepared to share with Alice, others not. As it happens, Alice has secrets of her own that she's kept close for a number of years, and she seems determined to stay in Thailand for the foreseeable future because of them. This match made in heaven looks set to hit the buffers before it has even got going – long distance relationships are hard to maintain, after all. Then Alice gets some bad news from back home. Her father, in prison for manslaughter, has been attacked by fellow inmates and is in a coma. She needs to come back to Australia, and quickly.
There's something of a slow burn as Foster drip-feeds the back stories of her two protagonists, but that works well, because we get to know them gradually – and they prove to be a likeable pair. But the problems they've both been running away from for so long are about to catch up in dramatic fashion. Life is never going to be the same again for Noah and Alice…
You Don't Know Me is an easy, laconic read that's a great way to take your mind off things. Although the scenes in Thailand are richly detailed, once the action moves to Australia, settings are more sketchily rendered as the pace steps up a notch. Although the mysteries surrounding Noah and Alice take their time to reach a conclusion, meantime we have their ebbing and flowing relationship to keep us interested. If you're after a crime novel with a side order of romance, then You Don't Know Me could be right up your street.
There's romance in the mix in Murder by the Minster by Helen Cox, while Australia is the setting for Robert Jeffreys' Man at the Window.
Black Stone Publishing
Print/Kindle/iBook
£4.07
CFL Rating: 4 Stars