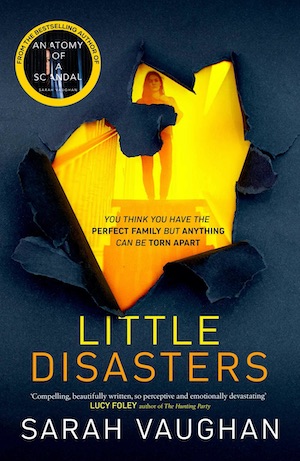 According to NHS statistics, postnatal depression affects more than one in 20 women within a year of giving birth. In Little Disasters, Sarah Vaughan takes on the unspoken, often stigmatised occurrence of postnatal depression and its potentially devastating effects.
Liz Trenchard is senior registrar in paediatrics at St Joseph's Hospital in West London. Pragmatic, no-nonsense, approachable, emphatic and occasionally a little blunt, Liz gets the job done, even if she experiences resistance from her stubborn and authoritative superior Neil Cockerill. When the 11-month-old baby of one of her friends is admitted to the emergency room, Liz's professionalism and ability to separate work from personal life is put to the test.
Betsey Curtis has a depressed fracture to the back of her skull, bruising and a subdural haematoma, and her mother Jess can't explain how the child was injured. Jess's evasive, cagey and defensive behaviour immediately raises alarm bells for someone who, on a daily basis, works with child abuse victims. Understandably Liz makes a decision she deems essential for the protection of the child – but she also puts into motion a series of events which could lead to devastating consequences for Jess and her family.
Through the perspectives of three narrators – Liz, Jess and Ed, Jess's husband – as well as glimpses into their earlier friendship, it is gradually revealed that a story always has more than one side. We are shown a marriage where there is no emotional or physical support from the husband and his job is used as an excuse to avoid spending time with his struggling wife. Ironically, Ed pressured Jess into having a third child, a baby girl to complete the family. Lack of support and a marital breakdown, combined with isolation, were all risk factors which potentially triggered postnatal depression.
Through Jess, we see the warped thought process of someone with postpartum psychosis. The constant feeling of incompetence and unrealistic demands on herself – "At moments like this, her mind fills with toxic thoughts. You're a bad mother. She'd be better off without you" – smothers Jess. So does the irrational fear that her child might come to harm, or worse, that she might cause the physical harm herself. Imagining death and danger everywhere around her leads to crippling anxiety and panic-induced risky behaviour which does inevitably endanger her daughter's life.
Jess's narrative is an eye-opening account of what many women silently struggle through on their own. Sarah Vaughan captures the smothering feeling of claustrophobia Jess experiences, as well as her struggle to keep her head above water. Despite the warning signs, Ed fails to step in and relieve Jess of the pressure of raising three children alone. Instead, he puts all the responsibility on Jess since "the children were very much Jess's domain". Adding Ed's voice to storyline provides a different perspective and an explanation for Jess's behaviour, one which naturally evokes our sympathy. However Ed also starts to question his wife's behaviour. Why did she ignore Betsey's cry and choose to hide away in bed when her child was clearly in trouble?
Adding to the complexity of relationships and abuse is Liz's dysfunctional relationship with an alcoholic mother who physically abused both her and her brother Mattie. During an unexpected illness she reveals a secret of her own, one similar to Jess's. This also poses the question if we are doomed to repeat the mistakes our parents made and asks why we're never told by our parents how difficult parenthood can be.
These two women's stories highlight the misconception that all women are born to be perfect mothers and that it comes naturally. If it doesn't, they have to deal with the difficulties of motherhood by themselves or be judged severely for their so-called inadequacies.
Little Disasters leans more towards psychological thriller. It's not a fast-paced, action-packed read, but rather an in depth exploration and revelation of the complicated psychology of early motherhood. Although it unfolds slowly, it's this gradual unravelling of both the characters and the question of what happened to Betsey Curtis that lulls you into a false sense of security and self-confidence in knowing what happened.
Here, Sarah Vaughan has penned the reality of life for many women around the world in a fictional guise. The complexity of motherhood and the fallibility of relationships, friendships and trust are issues we can all relate to – and it's this reliability that will make Little Disasters' appeal universal.
You can read our review of Sarah Vaughan's Anatomy of a Scandal here. Motherhood and postpartum depression are at the heart of The Waiting Room by Emily Bleeker.
Simon & Schuster
Print/Kindle/iBook
£12.99
CFL Rating: 3 Stars