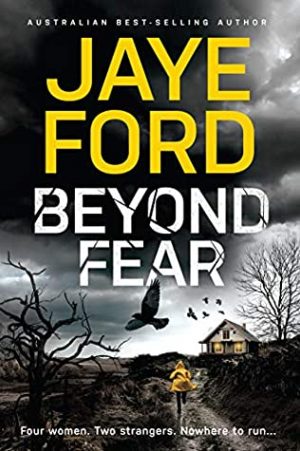 It was supposed to be a quiet weekend away for Jodie and her three friends, time away from their children, their husbands, their jobs, their whole lives back in the city. But it didn't take long before everything started going wrong for Jodie and the women from her mothers' group.
Setting out from Newcastle, New South Wales, the women venture to a town called Bald Hill, deep into the Hunter Valley in the old coal districts north west of Sydney. They have ample supplies of champagne, a booking at a converted barn outside a small town they'd never heard of, no children and no husbands – what more could they ask for? But when a close call with a ute driving in the opposite direction on a darkened country road leaves them stranded without a working car, without mobile reception and without any hope of arriving at their old barn their weekend away is starting to look much less fun.
The set-up sounds like classic Aussie horror – a little bit like Wolf Creek among the gum trees – but the women finally manage to get a mobile signal and as a result they find a tow truck, driven by Matt, a local ex-cop who left small-town life to become a Sydney homicide detective. For reasons he's reluctant to talk about, he found himself out of the job and helping out his father in a mechanic's shop in his old home town. And he's not the only one with secrets, Jodie is haunted by flashbacks of a brutal attack in the distant past, and even the converted barn they've booked for their quiet weekend away has its dark past.
Beyond Fear starts off feeling as if it's as full of Australianisms as the author could fit on the page, but soon finds its feet. As the tension mounts and the different characters of the four women start to emerge, the Aussie slang slips to a more natural level. However, as the characters start to become more fleshed out, the other shortfall of the novel emerges. The other women's reluctance to believe Jodie when she tells them she's terrified of the mysterious men camping near the barn is something I found disappointing, although definitely believable. And as happens in the real world, when the victim of a violent attack is dismissed in this way, she starts to doubt herself.
The tension and action is evident from the first page, but Jodie's fears aren't truly recognised until more than half way through. Jodie knows that the men just over the hill are not just innocent campers, but the other women just won't be convinced. They don't understand Jodie's dark past. It's no spoiler to say that the men come to find what they're looking for, and Jodie and her friends find that their weekend away in a secluded old farm house is much more terrifying than anything they could have imagined.
Beyond Fear was Jaye Ford's debut novel, first published in Australia in 2011 and now available in the US and UK on Kindle and iTunes. It has been well received throughout the world, including in translation and on audiobook, and has been followed by a string of other crime novels. As well as these, Ford also writes romantic comedies under a pseudonym. Beyond Fear is a mixture of psychological crime fiction with a side of horror, with a romantic interest for good measure. It shows a versatile author. It's riding a wave of success that has really lifted Aussie crime fiction in recent years, and will hopefully continue for years to come.
For more great Aussie crime fiction check out Bitter Wash Road by Garry Disher.
Self-published
Kindle/iBook
£3.82
CFL Rating: 4 Stars