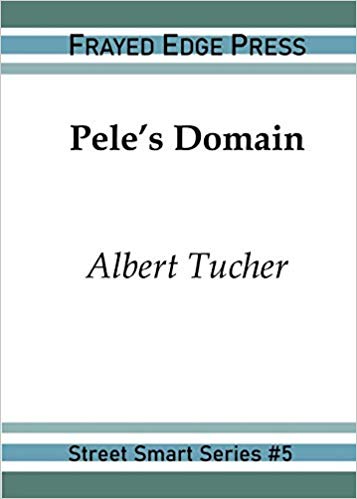 Written by Albert Tucher — Al Tucher has made something of a specialty of setting his crime stories in Hawaii, especially the Big Island, and his new novella puts the lore, multicultural mix, unique foods and island attitude front and centre once again.
Kilauea, home of Pele, the volcano goddess, is the most active volcano in Hawaii and the scene of some spectacular recent eruptions. For the residents of the raggedy communities in the path of the searing lava, more deadly hazard than spectacle. Homes, cars and trees are incinerated then buried by the molten flow and crusted over with new rock. Even boulders burst from the heat. And the gases released in the eruption make people sick. Gas masks are handed out at the police's morning roll call.
It's no surprise someone has realised that these natural events are the perfect way to hide a crime. And they would be, except that Hawaii County officer Jenny Freitas, checking houses in a downmarket neighborhood to make sure everyone has evacuated, discovers a murdered woman in a back bedroom. There's no time for a forensic investigation, though. Pictures taken with her cell phone are the best she can do and she escapes mere seconds before the house is consumed in the onrushing blaze. As they study the photos back at the station, they see the victim's face "was a quick course in Hawaiian history, combining Portuguese, Filipino, and Japanese genes."
The next day, Jenny and her partner Sammy Waga are checking another neighborhood in the path of the lava when they find another dead woman, laid out on a bed as if it were her funeral pyre. Which, in a sense, it is. Again there's no time to gather much evidence and the mandatory evacuations mean no neighbours are around to serve as witnesses, either.
But social media, and people urgently trying to make sure family members are safe, work in Jenny's favour. A 'have you seen my sister' post complete with picture identifies the first victim for them. This find starts them on a trail that leads to a certain conclusion: the two victims were hookers, if not at the time of death, at some recent point. Prostitutes, of course, accompany men to private locations – that's the job. Now Jenny and Sammy have to wonder if they are facing a serial killer. There are plenty of hookers and plenty of lava to keep the killing streak going.
Jenny and Sammy and their boss, detective Coutinho, are engaging characters, and the dialog among them is lively and believable. Hawaii itself is of course interesting, and the ironic contrast between tropical paradise and dirty dealing is always fun. Tucher made a good choice in setting the story in the midst of Kilauea's eruption. It is not only an unusual adversary, akin to a hurricane or an avalanche, it adds an overlay of dread to the story – things are out of control. The officers have to contend not only with the encroaching lava flow, but the gases the eruption produces that make them sick. Yet, Jenny presses onward, despite Pele's wrath. Pele's Domain is a quick fun read!
Other crime stories set in tropical climes include Tucher's earlier full-length novels such as The Honorary Jersey Girl, and Paula Lennon's Murder in Montego Bay.
Frayed Edge Press
Print
£4.95
CFL Rating: 4 Stars