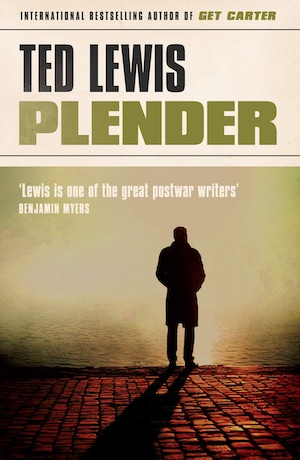 Written by Ted Lewis — Northeast crime author Ted Lewis is credited with being one of the forefathers of British noir. His greatest commercial success was Jack Returns Home, adapted for film as Get Carter and starring Michael Caine. His last novel, GBH, is considered his best work, but didn't sell well and he died at 42 in 1982. Now, No Exit Press is republishing GBH and Plender to mark Lewis' 80th birthday this year.
Lewis was born in Manchester, but after World War II his family moved to Barton-upon-Humber in Lincolnshire, which is where he set his third novel, Plencer. It's the story of two men, Brian Plender and Peter Knott, and the narrative alternates between their perspectives.
Plender is a private detective and a psychopath. He appears to do little legitimate detective work, instead running an extortion racket. He advertises in the lonely hearts columns of gay magazines, films the respondents having sex with men on his payroll and then blackmails them. He is calculating and violent, and completely indifferent to the suffering he causes. Instead, he is consumed by bitterness over his own modest upbringing and preoccupied with childhood slights, both real and imagined.
Knott, in contrast, grew up in comfort and was blessed with good looks and charm. Both men attended the same school where Plender was desperate for Knott's approval. Knott barely gave Plender a second thought. Knott is now married and works for his father-in-law as a catalogue photographer. He retains his urbane charm but looks can be deceiving. Inside, he is a mess.
His marriage is loveless and his wife suspects infidelity. She is correct but Knott is not an example of straightforward male promiscuity; he seduces his young models and captures himself on film. Cross-dressing and submissiveness are shown and homosexuality is hinted at.
One evening, Plender spots Knott in the pub with a young model, too young Plender realises to be his wife. He follows the couple to Knott's studio then later witnesses Knott putting her corpse into the boot of his car. Plender had been hoping for some evidence of an affair with which he could turn the tables on his childhood tormentor, but instead realises he has got so much more. In fact, the girl had broken her neck falling down the stairs and Knott had panicked.
Following Knott back to his home, Plender concocts a car crash between the pair and so re-enters Knott's life. Later that night he breaks in to Knott's garage and steals the corpse. Plender reassures Knott the following day he has been discreet and only acted to help his supposed friend. Wracked with guilt, Knott becomes increasingly reliant on the worldly Plender, seeing him as a saviour before recognising too late, if at all, that he represents his doom.
The fox in the henhouse aspect of the story of a psychopath inveigling himself into an unsuspecting family brings to mind John D Macdonald's The Executioners (filmed twice as Cape Fear) and the Ripley novels of Patricia Highsmith. But the closest comparison is with another great British noir writer Derek Raymond. Like Raymond, Lewis was adept at sympathetic but unflinching portrayals of psychological malaise. His portrayal of a man in the middle of a breakdown and the sadistic enjoyment of this by another is rendered with totally unsentimental clarity.
The book is introduced by Nick Triplow, author of the Ted Lewis biography Getting Carter. You can read our own profile of the doomed genius here.
No Exit Press
Print/Kindle
£4.31
CFL Rating: 4 Stars