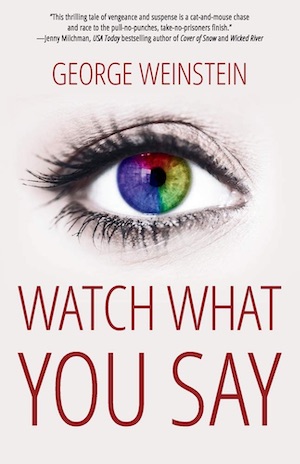 Written by George Weinstein — Bo Riccardi is a big noise in web broadcasting. She's adept at interviewing and her incisive style has earned her the nickname of the Barracuda at On-Air Radio in Atlanta, Georgia.
Bo has interviewed everyone from politicians to artists, and today's subject is an author who has just completed his memoir. But he's about to take the back burner after Bo receives a disturbing phone call. The caller is using a device to disguise his voice but his message is clear. He's kidnapped Bo's husband Oscar and he wants to be interviewed live on today's show. If not, Oscar will die a painful death.
The abductor insists upon being called Oscar too and Bo takes his words as true. In fact, she knows they're true because she has chromesthesia, a form of synaesthesia which means that she doesn't just hear sounds, she sees them as well. She can see the emotions and intent behind them – hence the book's clever title. It's what makes her such a spot on interviewer, but can it work in her favour in a situation that's far too close to home?
Bo is under strict instructions not to tell the authorities about the drama that's unfolding and she keeps her word. Worried that her husband is about to come to harm, she concocts a fiction about her last-minute replacement interviewee. At first Oscar the kidnapper seems happy to just trot out stories, each of them showing him as a hero. Bo can tell they're all fabrications, but when he demands a second interview the next day it becomes clear that he is garnering a following among her listeners. The story goes viral and suddenly Bo is being cast as the villain of the piece, particularly when 'Oscar' begins to mention a particular moment in Bo's past…
It's a time Bo has struggled to forget – the moment, 25 years ago, when her friend and room mate was murdered. Back then, Bo ran for her life and hit has preyed on her mind ever since. Now 'Oscar' wants to talk about Lori's death and this time Bo is going to have to face things head on. As her stress levels hit critical, Bo's chromesthesia begins to wither and die. How is she going to find a way to reach her tormentor and release her husband now that she's blind to the nuances behind the kidnapper's words?
Luckily, she has some help in the form of Augustus Trumbull, a private investigator hired by Bo's boss to help her find her husband. Gus is a great character, a big man with an even bigger heart, who talks as if he's digested a dictionary. He and Bo are about to make an awesome team, especially when they're joined by tech expert Randy and Bo's daughter Candace, who also has chromesthesia.
Prepare for a fast-paced thrill of a ride, because George Weinstein certainly knows how to pile on the pressure and keep his readers on tenterhooks! There are dead ends and red herrings galore as Bo, Gus and the gang desperately try to follow the trail of the kidnapper. He's something of a whizz with new technology and some of the dirty tricks he employs will have you running to change your social media passwords and settings.
George Weinstein is a writing chameleon, with a historical novel, a modern romance and a mystery novel under his belt already. This is his first psychological thriller and hopefully it won't be his last because this is a guy who certainly knows his way around a sneakily sinuous plot. I read Watch What You Say in a couple of sittings and when I turned that final page I had a little feeling of regret. Please can we have more of Bo? Please?
A protagonist with synaesthesia plays a role in The Colour of Bee Larkham's Murder by Sarah J Harris as well as the excellent Carnivore by Jonathan Lyon.
SFK Press
Print/Kindle
£2.46
CFL Rating: 4 Stars