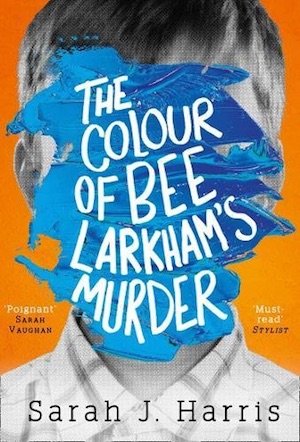 Written by Sarah J Harris — A debut novel with originality Is something to shout about from the rooftops. I'm thinking Emma Healey's Elizabeth is Missing, Fiona Cummins' Rattle and Amanda Jennings' In Her Wake. Time to add another to that list: Sarah J Harris and The Colour of Bee Larkham's Murder.
How to describe this one in a sentence? Think The Curious Incident of the Dog in the Night-Time crossed with Joseph and his Amazing Technicolor Dreamcoat and perhaps we'll get somewhere close.
Meet Jasper Wishart. He is 13 years old and lives with his father, a former Royal Marine, since his mother died of cancer. Jasper adored his mother, not least because she shared with him a most unusual talent. Where you and I hear sounds, Jasper sees colours ­– vivid, crazy combinations that wouldn't look out of place on an artist's palette. He is also face blind so doesn't recognise people, not even his father, unless they speak to him and he identifies the colour of their voices. Jasper's synaesthesia is both a gift and a burden. It isolates him from his schoolmates but also helps him to create dazzling, beautiful, unique artworks in which he paints the sounds he hears. It could be birdsong, an argument, wild music… or murder.
Jasper remembers his mother's cobalt blue tones and he adores the myriad sounds of the parakeets which have come to nest in next door's garden. He watches them often with his binoculars, noting the colours they make and also taking an interest in the comings and goings of the quiet London suburban street. So when an unknown lady moves in next door, he duly adds the information into his notebook. Little does he realise that Bee Larkham is about to change his life for ever.
Quiet, serious Jasper sees many things but his perceptions are both naively innocent and surprisingly sharp focused. He is a complete contrast to the wildly demonstrative, rebellious Bee, who loves to dance alone late at night to what Jasper terms 'Martian music' and whose off-the-wall antics set the whole of Vincent Gardens aflutter. Jasper adopts her as a friend, and an ally in looking after the parakeets. To him she appears refreshing, but we adults perhaps see Bee a little differently, and Jasper's dad seems particularly interested in the new arrival.
Bee, her loud music and parakeets cause all sorts of ructions in quiet suburbia. She begins to teach music and the additional 'tuition' she offers to one teenage pupil is about to get her into all sorts of trouble. As the book begins she is dead, and Jasper and his father are with the police. They have something to hide, but they can get away with it if only Jasper can stick to the script his father has given him. Thus begins a highly individual murder mystery seen through Jasper's eyes – and believe me, it's a world unlike anything you've experienced before.
This is a book that had me laughing and also wiping away a tear or two. Jasper is a wonderfully engaging protagonist whose colourful take on life hides something of the hurt he still feels over the loss of his mother. His dad is doing his best and loves him dearly, but he doesn't relate well to his son – the scene where they go camping is a particular highlight.
This book would make a fantastic TV series, it has so much vivid description, coupled with first-class characterisation and hear-it-in-your-head dialogue. Climb aboard and enjoy the roller coaster ride of emotions at play in a murder mystery that delights in keeping you guessing all the way. It could be the book of the year.
Synaesthesia also features powerfully in Carnivore by Jonathan Lyon, a darker and more erratic story.
HarperCollins
Print/Kindle/iBook
£7.99
CFL Rating: 5 Stars