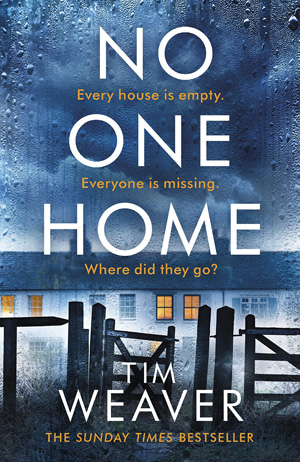 Written by Tim Weaver — At the end of Tim Weaver's last book, You Were Gone, there were distinct signs that David Raker's old pal Bryan Kennedy was about to make a reappearance. That promise has been kept, and at the start of this week Raker and Bryan – AKA the supposedly long dead and buried ex-co Colm Healy – are reunited in a case that's set to tax both of them to their very limits.
Fans of this compelling series know all about Colm/Bryan but for the uninitiated, former Met murder detective Healy faked his own death, Raker helped him do it, and if their deception is ever discovered they'll both end up in jail.
So, as you will gather there's an undercurrent from the off, with Raker keen to keep Healy under wraps, and Healy chafing at being kept in the shadows and on the sidelines. Because it's a case that he's been quietly investigating which Raker is now about to take on – and what a case!
Two-and-a-half years ago, the nine inhabitants of the little Yorkshire village of Black Gale gathered together for a dinner party. It was Halloween and everyone was in high spirits, as photos taken that night show. They captured the party perfectly and are vital evidence – because, after that night, none of the people present was ever seen again.
Where did the residents of Black Gale disappear to? It's a mystery, and if anyone can solve the puzzle, it's David Raker. He visits the village and meets Ross Perry, son of one of the couples who vanished that night. Black Gale has been left just as it was on that fateful night. A town suspended in time, awaiting the return of its inhabitants.
The police investigation ground to a halt some time ago, but Raker and Healy are determined to get to the truth. Trouble is, that's about to put them into all manner of danger and could lead to the pair's deception finally being uncovered. Why put your own future in jeopardy for the sake of a tasty conundrum? For some folk, threats and physical violence would be enough to make you decide it's time to shut up shop and move on, but this is Raker we're talking about, and he's like a dog with a bone, not prepared to let it go.
Alongside the Black Gale mystery, there's a second narrative, so far removed from the first that there can be no connection at all…. or can there? In Los Angeles, in the summer of 1985 when the city is on high alert because of the infamous Night Stalker, the sole female member of the LA Sheriff's Department, Detective Jo Kader, is called to a seedy motel off Santa Monica Boulevard, where the body of an unidentified man has been found face down in the bath. The bath is filled with acid and the body is in a sorry state. The discovery leads Kader into an investigation that's destined to haunt her for the rest of her career.
The Kader story strand flits in and out of the main Black Gale plot like a butterfly. It is drip fed to you and the juxtaposition can prove pretty annoying when you've just hit an important moment in either of the story arcs, so when things come to a head, the balance feels a little bit off. A small niggle though, in a book that is cunningly plotted and smartly rendered.
Weaver is skilled at creating an all-enveloping sense of place, whether it be the insular, claustrophobic Black Gale and its surrounds, or the equally claustrophobic, hot and sweaty Los Angeles, under siege by an unknown killer. Both Raker and Kader are dogged, determined and dead set on getting the job done, while poor Colm Healy lurks in the shadows like a lookout man at a dodgy burglary.
I found No One Home to be an engrossing, frustrating, full-on read that is a great addition to the David Raker catalogue. If you enjoy a book that keeps you guessing, grab a copy.
Missing people are at the heart of The Missing by CL Taylor and Mason Cross's Presumed Dead.
Penguin
Print/Kindle/iBook
CFL Rating: 4 Stars