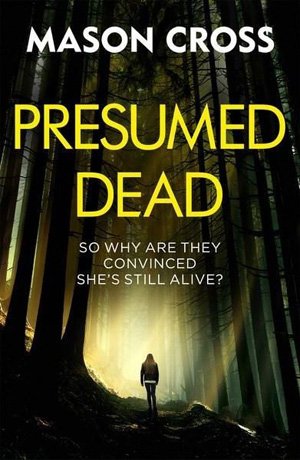 Written by Mason Cross — In Presumed Dead the ex-special forces man Carter Blake returns for his fifth outing offering his services as an all-action finder of missing persons. This time it's a woman he's looking for. Adeline Connor disappeared 15 years ago from the small town of Bethany, Georgia. She has been declared legally dead but her brother, David, is convinced she's alive after seeing her on a visit to Atlanta. David hires Blake to track her down.
The town of Bethany has a certain notoreity. It's an out of the way place with one road in and one road out. At the time Adeline went missing, a serial killer was prowling the nearby mountain trails. The murderer had a signature method – a double tap to the head with a .38 revolver. The killer's last official victims were Arlo Green and Adeline Connor. Adeline's body was never found but there was so much blood at the scene she was presumed dead. After that there were no further murders and the Devil Mountain Killer remains at large. Maybe he died, or went to prison for some other crime.
When Blake arrives in Bethany he finds a town on tenterhooks, tired of the spotlight. David Connor is an outcast. Already deemed strange, he's been further ostracised since his sister disappeared. News quickly gets around that Blake has bee hired and the cops soon turn up to dissuade him as Blake isn't the first person David has hired to find his sister. Only a few weeks before a private detective was sniffing around, but he turned up dead in Atlanta, seemingly car-jacked.
Presumed Dead has a different feel to previous novel in the series like The Samaritan, The Time To Kill and Don't Look For Me. Most of the action takes place in the small town of Bethany rather than chasing across state lines. This gives it a claustrophobic feel – presumably just what the author was after. Blake is an outsider and the locals aren't keen on the past being dug up. The area still has a shadow over it, but slowly the Devil Mountain Killer is slipping into history and that's how the residents want it.
The daughter of one of the Devil Mountain Killer's last victim's now works for the police – Isabella Green. She seems to believe Blake. The chief, McGregor, wants Blake gone as does Feldman, another cop who seems to have a thing for Isabella. But trouble has a habit of finding Blake and he picks a fight with a couple of out of local hunters who are bullying a barman. Less than 24 hours later the hunters turn up dead and Blake is the immediate suspect. But they were both killed by a double tap to the head with a .38 revolver. Blake is convinced the Devil Mountain Killer, or a copycat, is back…
Sometimes Blake gets results with very little effort. In one sequence he finds a missing girl in Atlanta who has eluded others, and it seems a little rushed, as though the author wants to get the action back to Bethany quickly. Some of the prose has repetitious words and phrases, which could have been worked out.
Carter Blake is an excellent character – plausible without being a parody, with enough skills to be excellent at his chosen role and a back story in the shadows which is alluded to but never quite revealed. What's nice is that although there is this history, he isn't the clichéd damaged investigator so common in crime fiction. The supporting cast are strong too, and the author flips from one to another so we see the case unfold through several perspectives. The jumps are well signposted and occur smoothly. Initially the pace is high, the pages skip along but it slows in the middle for a bit of a rest before lifting off again as Blake pulls the threads together. The conclusion is satisfying with a twist I didn't see coming, though it makes complete sense once revealed. And there is enough of a cliffhanger to enable a potential follow up, but closed out enough to feel right when closing the book.
For more action thrillers try Lee Child's Jack Reacher books, Deep Blue Trouble by Steph Broadribb or The Marsh King's Daughter by Karen Dionne.
Orion
Print/Kindle/iBook
£7.99
CFL Rating: 4 Stars