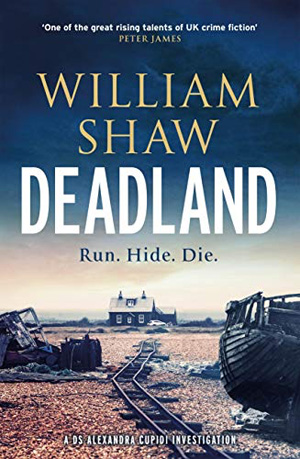 Written by William Shaw — There's something magical when a book transports you completely to the place in which it is set. Elly Griffiths does it brilliantly with North Norfolk in her Ruth Galloway novels, and after reading William Shaw's Deadland I feel like I've been for a long weekend to Dungeness, on the far southern tip of Kent – closer to France than it is to London, and a lot quieter too.
It's a book that will immerse you in the flora and fauna of the Kent coast as it continues the author's series featuring DS Alexandra Cupidi. The setting has a huge part to play in this beautifully rendered tale.
Deadland begins with Tap and Sloth, two 17-year-old lads with time on their hands and a 'borrowed' moped with which to commit mischief. They decide to try their hand at snatching posh mobile phones but they're not very good at this thieving malarkey and after several abortive attempts they're about to give up. Then an up-to-the-minute iPhone catches their eye and they somehow manage to fumble a successful robbery. Big mistake – the owner of this particular iPhone isn't about to give it up without a fight.
It looked like a such a simple job, but now Tap and Sloth are on the run with a ruthless killer on their trail and soon someone lies dead. Meanwhile, in Margate, Cupidi is called to the Turner Contemporary art gallery, where a human arm has been discovered inside one of the high-profile exhibits. Who does the arm belong to and why is it there? The majority of her colleagues treat the case as a joke, but Cupidi and her team can't see the funny side of it. As they begin to unravel the story behind the severed limb, it becomes increasingly clear that they were right to do so.
This is billed as book two in the Alexandra Cupidi series, following Salt Lane, but fans of William Shaw will also recall The Birdwatcher. That one serves as a kind of prequel to Deadland, and former police officer William South makes a reappearance here after his release from prison. There's a complex back story to this, and anyone who's followed the books so far will have a bit of an advantage on those who jump right in with Deadland. Don't let that put you off, though. This author manages to deftly fill in the blanks for newbies without damaging the narrative flow.
Tap and Sloth's story runs through this book like a river through the countryside. They are so wonderfully drawn, a pair of boy-men who want to act big and brave but inside are crying for their mothers. You may start off disliking them; as things progress I guarantee you'll start wanting to give them an all-encompassing hug or two. They're a pair of almost-innocents abroad and their tale is an entertaining, emotional and vital part of this book. Meantime, Cupidi and her team are getting the run around from the art establishment and a pair of high-profile arts benefactors who don't seem too keen on telling the whole truth.
That juxtaposition of the haves and have nots is the sparkling gem at the heart of this exceptional novel. It's one of those books that leaves you with an intense sense of loss when you turn the final page, longing to find out more about the characters who live and breathe inside its covers and sad at having to say goodbye to them.
Cupidi is a great character and her interactions with her team, Bill South and teenage daughter Zoe are what make this book so engaging. Shaw's writing is sharp and intuitive and he can plot a tale with the best of 'em. In short, this is one of the best books I've read this year. Get your copy as soon as possible!
Also try Jane Harper's The Dry or David Mark's Dark Winter.
Riverrun
Print/Kindle/iBook
£7.49
CFL Rating: 5 Stars