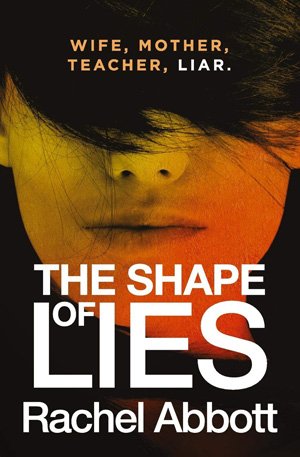 Written by Rachel Abbott — We're reached number eight in Rachel Abbott's much loved series featuring DCI Tom Douglas and our hero has domestic issues to keep him occupied. But all thoughts of teenage daughter Lucy, and why she suddenly wants to come and live with Douglas and his partner Louisa rather than her mother, must be put aside when the team is called to the scene of a murder in an underground car park in the middle of Manchester. The victim is still in his vehicle, and all signs point to him being Cameron Edmunds Junior, son of a local businessman.
Edmunds Junior is a guy with a lot of unexplained income and a veritable queue of people who'd love to see him sorted out. Even his wife seems happy at the prospect of his demise – so what's the story?
Douglas and his team may struggle to get a handle on the minutiae of the crime at hand, but we readers have the inside track, courtesy of respectable wife and mother of two, headmistress Anna Franklyn.
Actually, scratch that description, because the more we learn about Anna, the more we come to realise she is living a big fat lie. This woman has more hidden layers than a pass-the-parcel game and as Abbott drip feeds us little portions of the truth I came to like Anna less and less.
Early doors, though. Anna is on her way to work and turns on the radio when she hits a traffic jam. It's just in time to catch her favourite phone-in, The One That Got Away and she listens avidly. Then she pales as she recognises the voice of the man calling himself Scott, who is reminiscing about an old love nicknamed Spike.
At university, Anna had a spiky blonde hair cut, and her boyfriend Scott called her Spike. But Scott is dead and Anna played a part in his death. It's a secret she has never shared with anyone, but this caller knows too much. Can Scott really be alive?
As Anna's carefully constructed life begins to unravel before our eyes, it's clear she has plenty to hide. Abbott flits between timelines, feeding us the picture, piece by tantalising piece. Sadly, as the truth comes into focus I found myself with ever decreasing sympathy for Anna and her plight. She's a strong, professional woman – how can she be so bloody stupid?
The Shape of Lies is strangely off-balance book. The majority of the narrative lies with Anna, while Tom Douglas is consigned to the role of bit part player. That's a pity, because we're used to him and his investigations taking centre stage in Rachel Abbott's series. It's almost as if the author decided to shoe-horn Douglas and his team in at the last minute and the book definitely suffers as a consequence. Yes, there is a police procedural aspect but it gets lost in all the other goings on.
In truth, Anna's convoluted tale would have worked much better as a standalone, taking Douglas out of the equation altogether. There's plenty of the clever plotting so loved by fans of Rachel Abbott, although I'd worked things out well before the big reveal. Meanwhile, I think Tom Douglas fans may be left feeling a little cheated. A rare mis-step by an author who is usually so reliable.
If you were looking forward to a new police procedural, fear not, you'll find plenty more here.
Black Dot Publishing
Print/Kindle
£3.48
CFL Rating: 3 Stars