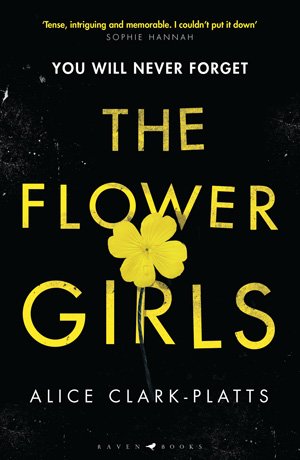 Written by Alice Clark-Platts — With children who kill as its main focus, The Flower Girls by Alice Clark-Platts has 'controversy' written all over it. Some will find it a difficult book to read. There are parallels to real-life cases such as the two youngsters who led tiny Jamie Bulger away to his death, or the mob hunt to reveal Mary Bell's new identity. However, this is not a voyeuristic reconstruction of a sordid and apparently inexplicable crime. Instead, it focuses very much on the aftermath of one, and on the affected families.
The author is a former human rights lawyer, and her familiarity with the grey areas of the law stand her in good stead. On the whole, the book steers clear of sensationalism, providing instead food for thought about the way we punish under-age criminals – in contrast to, say, Norway, which is far more concerned with counselling and rehabilitating them – and concepts like trial by media and the court of public opinion. At what point is it time to forgive and move on, even if you can never forget? Is it ever a good idea to reveal someone's past if they've been suspected of murder, even if they've been cleared? With questions like these, you can see why the novel is a perfect candidate for book club discussions.
After a brief prologue introducing the so-called Flower Girls back in 1997 – so-called because their names were Primrose and Laurel – before we even find out what they've done, the story seems to briefly turn into a Golden Age mystery. A random group of people are gathered at a luxury hotel on the Devon coast to celebrate New Year's Eve, when a five-year-old girl goes missing. It's cold and stormy outside, the coastguard are called in to search for the little girl before she freezes to death, and the police are discreetly questioning hotel guests and staff about a possible kidnapping.
Among the guests is Hazel Archer, about to celebrate her 25th birthday together with her fiancé and his teenage daughter from his first marriage. She is more panicked than most at the thought of seeing the police and it turns out that this is because she is in fact the younger of the two Flower Girls.
Nearly 20 years ago, Rosie and her older sister Laurel were accused of luring away a two year old girl and brutally beating her to death, leaving her body in a gully near the local playground. Rosie was just six at the time, so was below the legal age of criminal responsibility, but Laurel stood trial and was found guilty.
The family were given new identities and relocated from Yorkshire, while Laurel was imprisoned and repeatedly denied parole. This was partly the result of intensive campaigning by the victim's family, especially her aunt, Joanna Denton, who has become an extremely vocal activist, lobbying the government on behalf of victims and campaigning for longer jail sentences.

Understandably, Hazel/Rosie is now terrified that her carefully reconstructed new identity will be taken apart and destroyed when her past comes to light, and that she will be accused of this present-day abduction.
One of the other guests at the hotel is journalist-turned-writer Max Saunders. He recognises Hazel's identity even before the police and, motivated partly by self-interest at being able to pitch a great new idea for a book, he tries to convince Hazel to tell people her side of the story and to reconnect with her sister, whom she hasn't seen since her sentencing.
All the complexities of the present-day are interspersed with short flashbacks to that fatal day in 1997 and the days and months that followed. These explain a bit about how the Flower Girls' family fell apart and became estranged from Laurel, although the family's dysfunctionality is an area that could have been explored further.
Sensitively and bravely, The Flower Girls deals with many issues that most of us would rather not think about. However, it's a shame that there is too much of an emphasis on creating a twist, which leads to the author withholding some critical pieces of information as a device to generate suspense, and shock. The ending comes rather abruptly, spoiling the steady build up of atmosphere up to that point.
This is sad, because the book is haunting enough even without the twist. Thoughtful and thought-provoking, as well as addictively readable, I hope the author will bring all of her legal expertise to the fore in her next novel as well.
For more books that expertly explore the psychological fallout of murder, try the Norwegian author Karin Fossum.
Bloomsbury Raven
Print/Kindle/iBook
£4.07
CFL Rating: 4 Stars