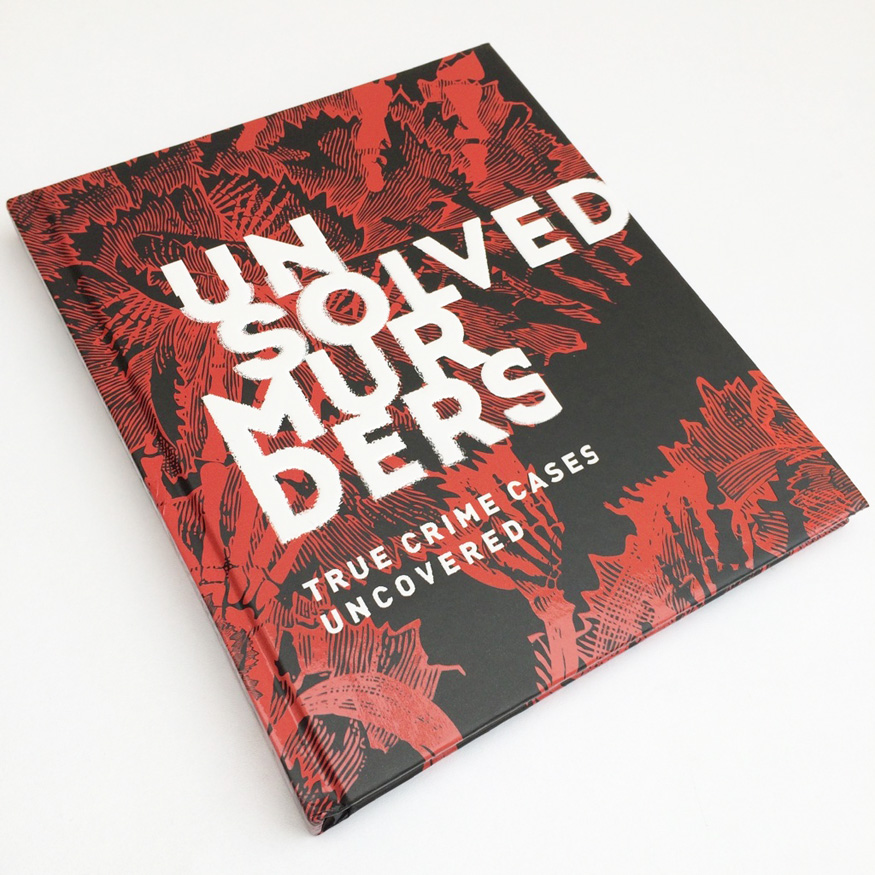 No, do not adjust your Internet. You've arrived here at Crime Fiction Lover, but today we are indeed featuring a non-fiction book. Unsolved Murders: True Crime Cases Uncovered is a special release that lands on 7 February, published by Dorling Kindersley. It'll be a treat for anyone who loves reading about true crime cases.
Between its delightful, debossed and spot varnished covers you'll find chapters outlining 20 unsolved murder cases dating as far back as 1912. Written by crime reporters Amber Hunt and Emily G Thompson, each chapter takes you through the events and the evidence from the case, and explores some of the theories police had back in the day, as well as more recent developments and speculation. Here's a complete list of the investigations covered:
The Villisca Axe Murders – 1912
William Desmond Taylor – 1922
The Hinterkaifeck Murders – 1922
The William Wallace Case – 1931
The Shark Arm Case – 1935
The Cleveland Torso Killer – 1935-38
The Happy Valley Murder – 1941
Who Put Bella in the Witch Elm? – 1943
The Black Dahlia – 1947
The Murder of Marilyn Sheppard – 1954
The Murder of Lynn Harper – 1959
The Lake Bodom Murders – 1960
The Zodiac Killer – 1968-69
The Oakland County Child Killer – 1976-77
The Tylenol Murders – 1982
The Murder of JonBenét Ramsey – 1996
Tupac Shakur and Biggie Smalls – 1996-97
The Murder of Jill Dando – 1999
The Murder of Kathleen Peterson – 2001
The Long Island Serial Killer – 2003-10
Dorling Kindersley is renowned for its great book design, and the text is made more accessible by photographs, press clippings, maps, diagrams and little call-outs about clues, forensic details and so forth. Old crime cases usually result in books full of black and white visuals with splashes of red. DK's designers have colour coded each case with its own palette, adding monochrome tints to some of the photos. The layout really brings the material to life, even though the topic itself is, well, death…
It looks great value at £12.99/$19.99. Have a gander at the images below, and also see The Crime Book published by DK in 2017.