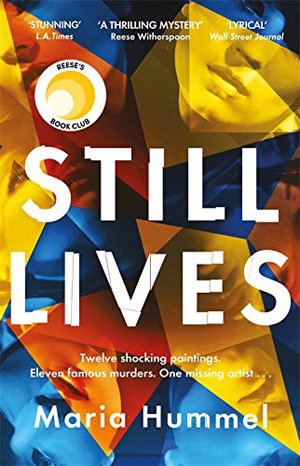 Written by Maria Hummel — The artist Kim Lord has been the it girl of the contemporary art world since her debut show, The Flesh, in the early 90s. That show was a reconstruction of dirty brothels featuring paintings of the artist herself as both pimps and prostitutes. A decade or so later, her newest show, Still Lives, is set to push the envelope yet again with 11 paintings of high-profile LA murders, from the Black Dahlia to Nicole Brown Simpson. Lord has painted the deaths of these women, replacing them with her likeness. Everyone who is anyone in LA is flocking to the opening night – all except the narrator of the novel, museum editor Maggie Richter.
Maggie moved to LA to escape her past, and also wants to forget ex-boyfriend Greg Shaw Ferguson. After she landed an editorial job at the Rocque's Art Museum, Maggie and Greg's relationship fizzled out and they moved in separate directions. Greg refashioned himself as Shaw and started dating Kim Lord. Maggie hunkered down in her career at the Rocque as the museum began to financially struggle.
Lord's exhibition is therefore a contentious space for Maggie to navigate. On the one hand is the show's significance as a revenue stream for the museum. On the other it might have meant she'd have to come face to face with Shaw's new woman. But this never happens. Kim Lord doesn't show up and at first it seems this might be for artistic reasons. When she remains unreachable foul play is suspected and the cops are brought into investigate her disappearance.
The unreliable narrator – much like the ones we've encountered in novels like The Woman in Cabin 10, Gone Girl, and The Girl on the Train – is common these days in crime fiction. The chaos of Lord's disappearance is filtered by Maggie's viewpoint but we are forced to question her because of her baggage, which she slowly reveals throughout the novel.
The big opening scene in Still Lives is compelling and enjoyable. The prose, paired down and clear, uses Maggie's narration and reflections to draw us into this world. The LA art scene is well rendered, but at times can feel like a glossy catalog rather than an insider view. Maggie's backstory with Greg plays heavily into her early characterisation, but their connection lacks depth and in turn isn't particularly compelling.
After the initial whirlwind of the opening scene settles, which covers 50 pages, the novel suffers a change of pace. The story is broken up into days of the week. Some days are more interesting than others, and some of the action is hard to follow.
Maggie's interior reflections do bring something to the rather slow middle section and Hummel does well in exploring what 30-something professional women have gained and lost in the 21st century. The themes of trauma, our societal obsession with the female body, the relationship between art and violence and fame are all touched upon. Some are handled in greater depth, others less so. The tension of this rather tame section is elevated when Greg is eventually picked up as the prime suspect, further complicating Maggie's connection to Lord's disappearance.
Still Lives is a page-turner, though that description comes with a caveat. The mystery of Lord and whether or not she still lives – a play on a title – is compelling while Hummel's interweaving of commentary on bigger themes makes this book more than just a thriller. Unfortunately, Maggie's character and her rather shallow internal life fall short of its ambitions. In the last 100 pages it picks up and the action here is satisfying enough to keep the pages turning. And, Hummel can certainly write a good ending.
Still Lives is author Maria Hummel's first foray into crime fiction. Her two previous works were the poetry book House and Fire, and Motherland, a novel loosely based on her father's German childhood. Actress Reese Witherspoon has made Still Lives one of her book club selections and it will be a good read for those who are interested in a thriller set in the fine art world that also touches on some of the bigger themes of our time.
Quercus
Print/Kindle/iBook
£3.99
CFL Rating: 3 Stars