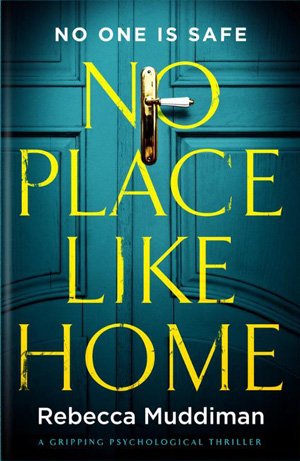 Written by Rebecca Muddiman — Some people are born lucky, others drag their bad fortune behind them like Jacob Marley's chains. Polly Cooke definitely falls into the latter category, although things begin so brightly for her you may be fooled into thinking otherwise.
Polly is 35 and fed up with flat sharing, so she's thrilled when, finally, she manages to afford a place of her own. The house previously belonged to an elderly woman and there's plenty to do before Polly can put her stamp on the place, but she's excited about what lies ahead.
Then, a couple of weeks after she moves in, Polly returns home from work to find someone is already there. The intruder is a strange man called Jacob, and it soon becomes clear that he and Polly have history. They were at primary school together – he was the class oddball and there was an awkward moment at his 10th birthday party – but they've not seen each other for years. What on earth is he doing there?
As this book progresses you'll realise your emotions are being played like a violin and that author Rebecca Muddiman is a master manipulator. So, what to believe? Jacob is hard to weigh up and in truth there's something a little off about Polly too. She seems obsessed with improving her new home but never actually gets around to doing any DIY; she worries about her mother, who is showing signs of dementia and is in a home after suffering a stroke but seems strangely reluctant to go and visit her; she talks about looking for a new job but never actually applies for anything.
It's all adding up to… what exactly?
You're about to have a love/hate relationship with Polly. There are moments of vulnerability where you'd like to reach into the pages and give her a great big hug, others where her behaviour sets off distant alarm bells. She's the sole narrator of this absorbing tale – should we be taken in by everything Polly tells us?
No Place Like Home takes a simple premise and throws perspective out of the window to create a twisted puzzle that's destined to leave you with a permanently furrowed brow as you endeavour to sort the wheat from the chaff. It's a stalker tale like no other you've read before and the pages fly by, although the jumping back and forth in timelines is a little confusing at times and may put the brakes on your reading.
Muddiman is the author of three police procedurals featuring DI Michael Gardner and DS Nicola Freeman, and this is her first standalone work. It's a book which builds up the tension nicely as it flies along and offers a story that's domestic noir at its murkiest. At the centre of everything is Polly – such a simple, uncomplicated name for a character who is both complex and compelling. You're unlikely to find a more self-centred individual in the pages of a crime novel, and life does ebb and flow around her, so that the supporting cast of characters can, in comparison, seem rather sketchily rendered. That's a minor blip and only serves to push our main protagonist directly into the spotlight. In truth, Polly loves being the centre of attention – but like a needy actress reaching the twilight of her career, she is prone to overacting when the going gets tough.
No Place Like Home is a book that delights in wrong-footing the reader. Just when you think you have all the ducks in a row, along comes a swan to mess up the display. Best to take EVERYTHING with a pinch of salt, and even then Muddiman has a few sneaky tricks up her sleeve that'll leave you gasping. Add this author to your must read list immediately!
If you love a tale with an unreliable narrator, try Watching Edie by Camilla Way, or for a tale with property at its heart, there's Our House by Louise Candlish.
Bloodhound Books
Print/Kindle
£0.99
CFL Rating: 4 Stars