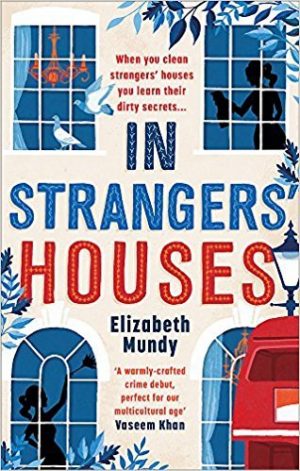 Written by Elizabeth Mundy – Visible as an issue and yet invisible as individuals, Hungarian immigrants and best friends Lena Szarka and her friend Timea Dubay clean London's houses in the daytime and its offices at night. Although the work offers them more upward mobility than would be possible back home, working in a foreign country isn't easy. The language is difficult, the systems and culture are unfamiliar, and there is the ever-present likelihood of encountering nasty anti-immigrant sentiment.
Most of Elizabeth Mundy's debut murder mystery is told from Lena's point of view, enabling a close-up perspective on the complexities and hazards of immigrant life on the lower rungs of the economic ladder. She and Timea work in other people's private spaces, see their most intimate secrets, and observe their habits. It is an act of faith that they can do so safely and will be paid for their efforts. Mundy has created engaging characters facing believable challenges. It's no surprise this is intended as the first of a series featuring the warm-hearted Lena.
Lena is a few years older than Timea and coping fairly well. But Timea, a single mother, is struggling. She's never told anyone who her son Laszlo's father is and though it was hard to leave the boy behind, this sojourn abroad will hopefully lead to a better life for both of them. The women's childhood friend Istvan, a handsome television actor, also lives in London. Istvan is married to a well-off woman who has helped his career, and he's achieved a lifestyle starkly contrasting with that of Lena and Timea, and one that lets him concentrate on what is most important, himself.
Early in the story, Lena begins to worry about Timea. Her friend is increasingly unhappy, and confesses that the problem is one of her clients, someone she must get away from. When Timea doesn't come home one night, Lena's worry blossoms into fear, and when she doesn't return by the next day, Lena goes to the police. Their first reaction is to suggest that Timea is most likely with a boyfriend and will turn up.
A new officer, PC Cartwright, is put on the case, but Lena has little confidence in him and sets out to locate her friend on her own. She takes on the extra work of cleaning for Timea's clients so that she will have a job to come back to. When Timea's body is found in Regent's Canal, the police take a brief interest, but conclude the death was suicide, an opinion they hold even more strongly once the autopsy reveals Timea was three months pregnant.
Mundy rounds out her characters in a series of flashbacks to Lena, Timea, and Istvan as children in Hungary, which help explain why Lena cannot accept the police's conclusion. Foremost, Timea would never abandon her son Laszlo.
In classic amateur detective mode, Lena continues to clean Timea's clients' homes, hoping this will lead to clues. On a visit together to one of these homes, PC Cartwright is impressed at how much Lena can deduce about the lifestyle and behaviour of the resident just from the condition of the flat, especially when it turns out she was correct in every particular. Lena's world is a facet of London not often shown, a voyeur's perspective, and Mundy makes her situation fresh and interesting, including the growing regard Lena and Cartwright have for each other.
Occasionally, the writing is a little stiff. Cartwright's responses to some of Lena's questions sound like they come from a criminology textbook. But in general, oddly, the slight awkwardness in expression is part of the book's charm. It's as if the intent is to show Lena speaking and thinking in a language other than her native one. English is bit of a struggle, but she sticks with it bravely, just as she does the pursuit of Timea's killer.
For different perspectives on London through crime fiction, try the Bryant & May series by Christopher Fowler, or Eva Dolan's This is How it Ends.
Constable
Print/Kindle
£0.99
CFL Rating: 3 Stars