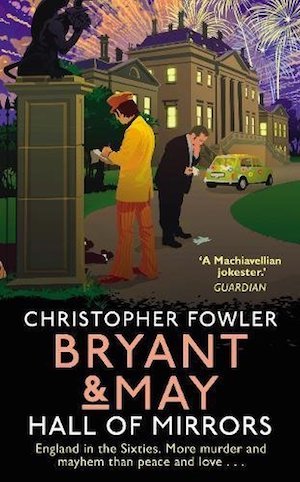 Written by Christopher Fowler — Hall of Mirrors is the 15th novel in Christopher Fowler's Bryant and May series, adding to over 40 books the author has written in total. Fowler always manages to keep things fresh, and Hall of Mirrors is no exception. This time, he's done what Lee Child, Arnaldur Indridason and the producers of Endeavour have also done by taking us back to the early days of his main detectives and shining a light on one of their first cases.
Hall of Mirrors goes back to 1969 via the memoirs that Arthur Bryant is working on. He even has a publisher on board, but it seems that readers found it difficult to tell whether the last case he wrote about was fact or fiction. So he chooses a case to share from the days when he and his partner John May were young and inexperienced, their partnership wasn't quite formed, and their jobs and the Peculiar Crimes Unit they work within are at risk.
The 60s are coming to an end and Bryant and May are out on the streets of London. Bryant spots someone he believes to be an escaped criminal. The two detectives give chase, but in the process the haphazard Bryant manages to sink a barge with passengers aboard.
Their bosses are not pleased, and both are on the brink of losing their jobs. Bryant is handed the task of protecting Monty Hatton-Jones, who is due to give evidence in a bribery case. All Bryant and May need to do is protect Hatton-Jones over the weekend, when he will be attending a get-together of friends at stately home Tavistock Hall in Kent. Hatton-Jones believes he's at risk of being murdered because powerful people don't want him to testify. The detectives have an inside man to help them in the field – one-armed ex-soldier Nigel 'Fruity' Metcalf, who's the groundsman at the Hall.
It turns out to be no ordinary gathering. Hardly any of the attendees know each other and all have an objective in mind – to obtain investments from reclusive multi-millionaire businessman Donald Burke, who's purchasing Tavistock Hall from the penniless, dope-smoking owner Lord Banks-Marion. The latter lives in an ashram in the garden with his acolytes and keeps his pet pig on a leash. The house has been in the family for generations but they can no longer afford its upkeep. Other guests include a crime fiction author, a socialite who's supposedly Burke's mistress, the obligatory local vicar, the lawyer handling the hall's sale and an interior designer.
When Hatton-Jones is attacked and then a body is found, Bryant and May have a mystery on their hands. Any of the guests could be a suspect, there are war games going on in the surrounding area, and it's raining, too. The roads are blocked; nobody can get in or out. And the locals are angry because the sale of the estate means their houses and jobs are at risk. I's up to Bryant and May to track down the killer and save their careers. Trouble is, one of the detectives is Arthur Bryant…
Hall of Mirrors is portrayed as a cosy, Agatha Christie-style mystery. Of course, everything is skewed by the oddities of Bryant and May themselves, as well as the other eccentric characters. It is as well written and original as ever, but if you're already a fan of the series, you'll notice several factors that differentiate it from the previous stories. Initially there's no crime to speak of, but plenty of mystery and social observation. London is changing, the Swinging 60s are coming to an end and the British class system is being questioned. Social class is even at play between Bryant and May themselves, at this early stage in their careers.
London is normally like an additional character in the Bryant and May novels. However, the unique, macabre and peculiar aspects of the city and its people, which Fowler writes about so well, are missing here and the story suffers a little for it. One series character who does make an appearance is the witch Maggie Armitage, bringing with her some of the quirks we're used to in the novels set in the present day.
There are a couple of call forwards and Easter eggs, little bits of information Fowler has inserted for those who've read other Bryant and May novels and future portents for society and the detectives themselves. All the chapters but one are after titled after songs from the period and as usual the novel is 50 chapters long. Finally, the author's note at the end gives a good explanation as to why Fowler chose 1969.
You can read our past reviews of Wild Chamber, Strange Tide, and London's Glory. If you are unfamiliar with the series we have a guide, and an interview with the author himself.
Doubleday
Print/Kindle/iBook
£9.99
CFL Rating: 4 Stars