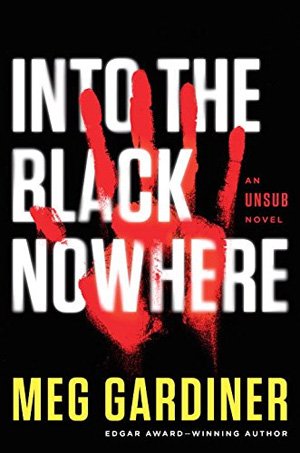 Written by Meg Gardiner — Last year, Meg Gardiner's first Unsub novel was published. It went on to receive praise from crime fiction luminaries as varied as Don Winslow, Adrian McKinty, and Steve Hamilton. We couldn't help but notice the buzz building around her follow-up, and so Into the Black Nowhere became one of our most anticipated novels of 2018.
Unsub is American law enforcement slang for unknown subject, and for the FBI's elite Behavioural Analysis Unit that means an as yet unidentified serial killer. Gardiner's series protagonist is Caitlin Hendrix, the daughter of Bay Area homicide detective Mack Hendrix. Mack was retired from the force in Unsub, unable to mentally cope with the taunting of a never–caught serial killer dubbed the Prophet. The Prophet's return after a 20-year hiatus dragged the already damaged Caitlin into his vortex, but she was able to finally confront the man who ruined her father's life.
One year on, Caitlin is a rookie agent with the Behavioural Analysis Unit. Her team includes respected profiler CJ Emmerich and another female field agent, Brianne Rainey. They receive a request for help from a sheriff's office in Gideon, Texas. Five women have disappeared in the last six months, always on a Saturday night, and the period between abductions is diminishing. They determine that a serial killer is at work and his activities are escalating, meaning another abduction can be expected quickly unless he is caught.
The latest victim, Shana Kerber, was taken from her home in the middle of the night. Other abductions were similarly daring; one woman disappeared from a cinema foyer, another as her car idled at a rail crossing. Whoever is responsible seems to be fearless, and quickly overwhelms his victims.
The scenes in which the team discuss evidence and strategy are among the book's strongest. The deductive leaps, which arise out of a combination of logical reasoning, experience and gut instinct, power the investigation forward and are convincing. Gardiner places us in the room and is it is exhilarating to watch these highly-trained professionals at work.
After a few false starts, they identify a chief suspect – a local realtor about whom Caitlin has developed an especially bad feeling. The physical evidence is thin and Caitlin, especially considering her rookie status, is putting herself out on a limb with her insistence on his guilt. After their first interview with the suspect blows up in their faces, Rainey confronts Caitlin. The scene seems set for the older, more experienced agent to lecture her younger colleague for jumping to conclusions. Instead, Gardiner expertly undercuts your expectations by having Rainey pass on praise and encouragement. This is only one small scene, but it demonstrates the amount of thought and high level of execution that has gone into this book.
There is a lot of focus on character for such an action-packed thriller. Caitlin's vulnerabilities are contrasted with the confidence and narcissism of the killer. This is most evident in what is perhaps the most important scene of the book. The killer volunteers on a suicide hotline, it is one of the ways he picks his victims, and Caitlin impersonates a caller in an attempt to draw him out. Despite her best efforts, the boundaries between the personal and professional become blurred and culprit almost becomes confessor as Caitlin struggles to keep a lid on her own demons.
A key concept of the Unsub series is that each killer is modelled on a real life case. The Prophet was based on the Zodiac killer, and the antagonist of Into the Black Nowhere is based on Florida serial killer Ted Bundy. How accurate the portrayal is I cannot say, but I can attest that the Unsub series is the state of the art among serial killer thrillers.
Also check out Mindhunter on Netflix, and for more FBI-related crime busting click here.
Dutton Books
Print/iBook
£18.47
CFL Rating: 5 Stars