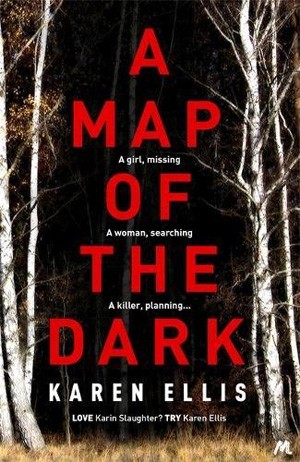 Written by Karen Ellis — Elsa Myers is the New York representative for the FBI's Child Abduction Rapid Deployment Unit in this debut from Karen Ellis. Just as in any missing persons case, the first 24 hours is crucial. The correct response from the police can make the difference in saving a life. Myers' job is to advise and support local law enforcement.
However, teenager Ruby Haverstock has been missing – unreported – from her home in Queens for three days. To add to her frustration, Myers is partnered with rookie detective Lex Cole. She wanted a more experienced officer on the case, and therefore becomes critical of Cole's work and takes a much too hands-on approach.
This sets other a whole set of internal factors into motion for Myers. Over the course of the novel she revisits the physical and emotional abuse she received from her mother, which we experience via flashbacks. As you'll discover, it had a deep psychological effect on her, and Myers is a compulsive cutter during stressful periods. Her self harm is a shameful secret she tries to hide from others, while she also feels a powerful need to save children from what she suffered. The case is personal, and although she has strong intuition and formidable energy, in the long run she is going to burn out. The challenge for Myers is knowing when to rely on her gut, and when to pull back to gain some perspective.
As if all that baggage wasn't enough for the main character, Karen Ellis has given Myers a terminally ill father. She both loves him and resents him for his failure to protect her. The trope of the damaged detective whose own trauma grants them special insight into the crimes they investigate is a familiar one, and while Ellis doesn't bring anything especially new to it, her portrayal of Myers is empathic and psychologically credible.
Watching the professional relationship play out between the intense Myers and more laidback Cole is one of the strengths of the novel. Eventually it develops into a tacit friendship. Professionally, Myers knows she can't succeed without delegating, but trusting Cole goes against her every instinct.
As the case progresses, a suspect is quickly identified. The manner of this discovery – Haverstock's credit card is used, and a man caught on security camera – seems a little too easy. Fortunately, Ellis is more confident in describing the subsequent manhunt. The writing portrays a clear sense of urgency as the clock ticks. Piecemeal fitting together of the killer's modus operandi ratchets up the tension, and the abduction of further girls, including Myers' niece, continues the drama.
The action is well handled, and the struggle to reach the missing girls ahead of the killer is as tense as anything I have read recently. Rural upstate New York provides an isolated setting for the killer's lair, and Ellis' deft use of several different character perspectives keeps us thrillingly off balance. As ever when missing children are central to the plot, there is a slight sense of being emotionally manipulated, but you will give in to it thanks to Myers' background, and nothing is too gratuitous.
Ellis is launching her damaged heroine into a rather crowded field of psychological thrillers, and it is fair to ask if she has done enough to stand out from the pack. My judgement would be not quite. A Map of the Dark is a solid beginning to a new series, but not a game changer. Ellis will have to find another angle to explore in the next Myers book. Her trauma is done very well, but also exhaustively, and for the character to develop, some other facet needs to be exposed. Perhaps she will have a brother called Michael…
The cover shout on A Map of the Dark suggests that it is for fans of Karin Slaughter, and you can read more about this author here. Also see the Tempe Brennan books by Kathy Reichs.
Mulholland Books
Print/Kindle/iBook
£4.99
CFL Rating: 3 Stars