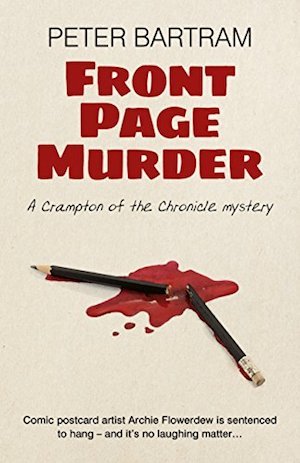 Written by Peter Bartram — In 1960s Brighton Percy Despart had been making a living illustrating saucy seaside postcards. Right until he was stabbed to death with his own pencil. Fellow artist Archie Flowerdew is sweating it out as he will be hanged for the murder on Christmas Eve. But not everyone is convinced they have the right man. Evening Chronicle crime reporter Colin Crampton finds himself snarled up in the efforts to save Archie.
Tammy Flowerdew is Archie's niece and is utterly convinced of his innocence. Crampton catches up with Tammy when she daubs a slogan on one of Brighton's best-loved buildings, the Royal Pavilion, in bright red paint. She also chains herself to the one of the pillars and it is only Crampton's intervention that persuades her to scarper before the police appear.
He takes her under his wing in the hope of securing some tasty scoops to bash out on his trusty Remington for the front pages of the Chronicle. Crampton needs to keep Tammy out of prison so he calls on friends and colleagues to secret her away as he tries to save Archie from the hangman's noose. Life soons gets more complicated for Crampton with a subplot involving an unfortunate misprint that threatens his career.
The dead man, Percy Despart, was not a pleasant chap. He used his risqué postcards to skewer and humiliate people he didn't like. He had built up a solid backlist of the maligned who would cheerfully have seen him dead ensuring there is no shortage of suspects to investigate. We soon have all the ingredients for cosy crime fiction lined up: the 1960s Brighton setting is pleasantly nostalgic; Crampton is a likeable investigative reporter cum sleuth; some incompetent policemen are bimbling around; and there is a large cast of colourful characters for us to suspect as the true murderer.
The story is expertly constructed by Bartram. Each clue and partial resolution leads to further mystery and more jeopardy. Just as the mystery feels within Crampton's grasp, it slides away, and he chases after it again. Meantime, his position at the Evening Chronicle is getting increasingly precarious and the hierarchy are gunning for him.
The characters are distinctly drawn though they do flirt with caricature. Crampton's Australian girlfriend, Shirley, is teeth-itchingly stereotypical and one of the set pieces later in the book pushes this to the very limits, even for a cosy with a strong comic element. There's more than a touch of British 'Carry On' styling to the humour throughout the book. It's richly endowed with cheesy puns and amusing banter and it is all good-natured fun that pushes the book along at a decent lick.
The 1960s setting in Brighton is handled with a light touch that I enjoyed. Like the best cosies the setting isn't really nostalgic, you'd need your rose-tinted goggles firmly strapped to your head to think that. It's a distilled and fantastical version of the time and place. When the brothel madams are bawdy women making lewd but cheery double entendres and offering freebies you know you've left social realism far behind. There is a wry sense of humour accompanying the rather more ribald nudge-nudge-wink-wink innuendo but the jokes grate after a while. Perhaps there are too many gags for the overall tone of the story.
This is the third outing for Crampton of the Chronicle with the most recent being Stop Press Murder following the opener in the series, Headline Murder. Peter Bartram has crafted a mystery that is a great romp. Front Page Murder is a lot of fun.
Another historical crime cosy series worth checking out is the Kate Shackleton novels by Frances Brody. Sara Sheridan has also written a cosy series in 1950s Brighton and there have been several other crime series set in Brighton.

Roundfire Books
Print/Kindle/iBook
£10.99
CFL Rating: 3 Stars