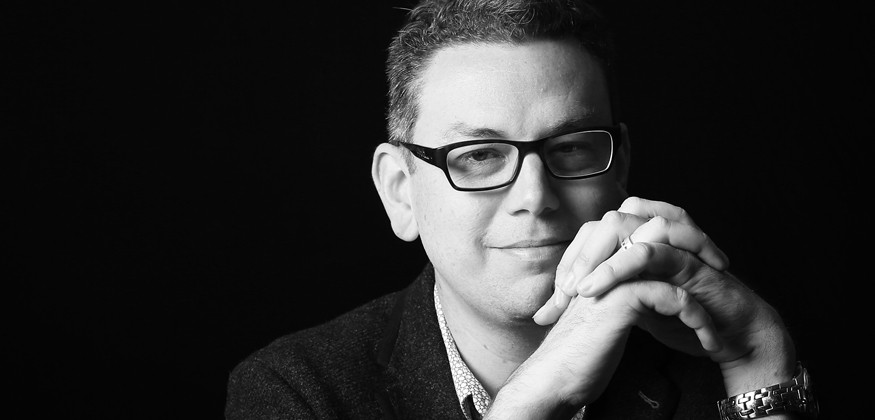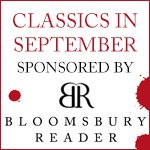 He's one of the hardest working writers we've come across, sometimes smashing 10,000 words a day. Based in Bristol, for many years Cavan Scott was a magazine journalist indulging his passion for fiction of all kinds in the evenings and on weekends. Best known for his Doctor Who books, today he has become an expert when it comes to taking well known characters, studying their worlds, and imagining them in new story situations. Everything from Vikings through to Beano and DC's Lego franchise have come under his remit. More pertinently, he is a huge follower of Sir Arthur Conan Doyle, and with Sherlock Holmes – The Patchwork Devil already under his belt, today he's releasing Cry of the Innocents, a story that brings Holmes and Watson to the author's home city. A look at how Cavan has taken one of the icons of crime fiction and used the great consulting detective in his own stories ties in perfectly with our Classics in September theme. We are pleased to bring you a launch day interview with the writer…
This is your second Sherlock Holmes mystery – what drew you to write stories featuring the great consulting detective?
I'm a sucker for Victoriana, and always have been. I came from a family that had a deep history with the Salvation Army, one that stretched all the way back to its early days. That meant I was brought up surrounded by Victorian-inspired iconography, from the uniforms, flags and terminology to the hugely-intimidating portraits of William Booth and his wife that used to hang in Salvation Army halls. I remember being taken to the old Salvation Army citadel in the middle of Bristol, this huge, imposing fortress of a building. It felt like stepping back in time, and I got the same feeling when I read Sherlock Holmes; a magical, almost otherworldly place, that was so very different to Britain in the late 70s, and yet strangely familiar.
Around the time, I picked up a children's version of Hound of the Baskervilles, and, by complete coincidence, stumbled upon the Basil Rathbone film adaptation on TV a few days later. By the time the Jeremy Brett series came along I was hooked.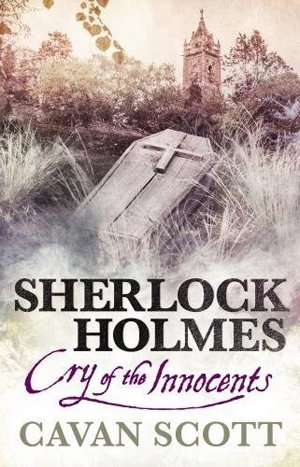 And what are crime fiction lovers going to love about Cry of the Innocents, aside from the obvious?
It's a mystery that starts with a senior Roman Catholic priest dropping dead on 221B's doorstep. The monsignor's untimely demise sends our intrepid detectives charging to Bristol to uncover a conspiracy that has Holmes fighting for both his life and his reputation.
Each Sherlockian rewriter has their own take on Holmes, Watson, Moriarty and so on. Tell us about how you've approached the characters? Canon, creative, or somewhere in the middle?
I've tried to keep everything as canonical as possible. My previous Holmes novel, The Patchwork Devil, had a slightly supernatural edge, but this one is played dead straight. Well, as straight as Holmes adventures ever get.
What do you make of Conan Doyle's style and how has it informed you as a writer?
I'm always amazed at how modern Conan Doyle is in some of his choice of language. It's easy to fall into the trap of thinking that he (or should that be Watson?) writes in a flowery or archaic style, when, it's actually extremely conversational, which is probably why Holmes translates so well to modern day settings.
Conan Doyle was also incredibly fast paced, especially in the more action-heavy stories. I've definitely been influenced by Sir Arthur's particular brand of daring do. Without Holmes, I don't think we would have James Bond or even Batman.
Slavery is part of the backdrop in your story and I don't think Conan Doyle touched too much on any major social issues. Tell me about your inclusion of this topic? Do you have perhaps more freedom as a modern author to touch on moral issues?
I think you do, yes. At the end of the day, while there's a desire to write an authentic Holmes story, I don't think you should limit yourself when it comes to such topics. After all, I'm writing in 2017, not the end of the 19th century.
In this case, slavery plays a small part as the story is set in Bristol, and deals with the legacy of the slave-traders who helped put the city on the map. It's a conversation that still rages here to this day.
There are those who see Conan Doyle's texts as sacred. Others who want more, more, more Sherlock. Thinking of other series that are being continued posthumously by new authors – from Poirot to the Millennium series – there are those who see the use of a dead writer's IP as a cash-in. Where do you sit in this debate?
Well, I've just written two Holmes novels, so obviously, I'm in the camp of people who embrace new stories with favourite characters. There's a comfort in seeing age-old favourites in new adventures. I'm all for it. As long as the stories are good, and both the characters and the original texts are treated with respect, then I say the more the merrier. Plus, if it leads people to discover the originals, then everyone wins. I'm a big James Bond fan and came to 007 through the films, and then picked up a John Gardner novel. From there, I went back to the original Flemings. I think that should always be the goal. As Rizzo the Rat says to the audience at the end of Muppets Christmas Carol, 'If you liked this, you should try the book.'
What is your favourite among the original Sherlock Holmes stories?
The Blue Carbuncle, because I read it every Christmas without fail. It's become a real tradition. Also, I love The Empty House, for the spectacle of Holmes's return, especially the bookseller disguise.
Which non-Conan Doyle Sherlock story has inspired you most and why?
Probably The House of Silk because it's a perfect example of how to root yourself in the canon, but push Holmes and Watson into darker territory.
What about on television – there have been all sorts of renditions and it would be great to know which you think is best?
For me it's always Brett. He's the definitive Holmes. I also adore the BBC Radio 4 adaptations starring Clive Merrison and Michael Williams. They were a fantastic pairing.
And finally on the big screen, there is everything from Basil Rathbone's Sherlock Holmes to Robert Downey Jr's approach?
So many to choose from. Basil Rathbone was the first Holmes I ever watched, but I have a soft spot for the garish spectacle of Hammer's Hound of the Baskervilles, with the ever-wonderful Peter Cushing. Christopher Plummer always springs to mind for Murder By Decree. His Holmes is strangely emotional, prone to mawkish speeches in extremely soft focus, but the film's a lot of fun.
What was the hardest thing about taking a classic character, one that so many people know and who has been interpreted in so many ways, and writing a consistent novel about them?
Keeping it true to the original, while also doing something that hasn't been done a hundred times before.
And what advice would you give to other authors who want to dabble in reinventing classic works?
It's been a bit of a theme for this interview, but go back to the originals as much as possible. There's nothing wrong with being influenced by film, TV and radio incarnations, but you need to be true to how it all started… Once you've got that foundation, then the fun can begin.
Watch for our review of Sherlock Holmes – Cry of the Innocents, soon on Crime Fiction Lover. Order your copy below.