Mystery, suspense, chills and thrills are all part of the crime fiction experience. At Halloween, however, you might want your reading to have a little extra terror. The threat of the unknown, perhaps. This carefully curated list brings with it demons, ghosts, horror, and more, to what are essentially crime novels. Here are our 2015 Halloween reads…
The Scarlet Gospels by Clive Barker
Do you remember those terrifying Cenobites in the Hellraiser films? Well, Clive Barker, the writer who came up with them, sometimes takes his horrorshow style and adds in a dollop of crime fiction. Occult detective Harry D'Amour has actually been around for three decades and in The Scarlet Gospels he's first manipulated by a dead lawyer and then by the most terrifying Cenobite of them all, Pinhead. He's being pressured into researching a coup in Hell, a chronicle called the Scarlet Gospels. Bizarre, bloody, sometimes funny – this book stretches the limits of crime fiction and is perfect reading on Halloween, right around bed time. We reviewed it here.
Buy now on Amazon
The House of Susan Lulham by Phil Rickman
Phil Rickman has been busy. His new Merrily Watkins novel Friends of the Dusk is on the way, but in the meantime he's released this 192-page novella featuring his main character in time for Halloween. Here the Hereford-based exorcist, who does plenty of sleuthing too by the way, is investigating a haunting in a modernist house that sounds a bit like Grand Designs gone wrong. Susan Lulham died in that house and her blood covered the walls. That's been painted over but sadly for the Mahonies, who've recently moved in, a lick of paint can't remove a restless spirit. This is what we call a Halloween treat.
Buy now on Amazon
The Visitors by Simon Sylvester
Before Christianity, and before the Romans and their Gods, the Celtic Britons had their own set of beliefs. Evidence suggests that around the Samhain festival – which approximates to our Halloween – the druids would offer human sacrifices. And Celtic beliefs come to the fore in The Visitors, a gripping and haunting crime novel by Simon Sylvester set on the remote island of Bancree. Two strangers – a man and his daughter – have arrived and they fascinate young Flora. But what's really troubling for the islanders is that people are disappearing and ancient legends are haunting Flora's dreams. It was one of last year's top debuts and we reviewed it here.
Buy now on Amazon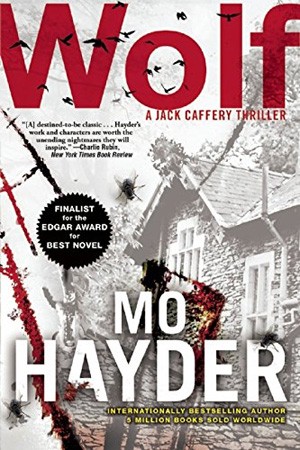 Wolf by Mo Hayder
One look at the stag's skull on the cover tells you that evil's afoot in the most recent Walking Man novel by Mo Hayder. The Walking Man himself is a bit of a chilling motif in the series – he wanders through now and again, searching for the bones of his missing daughter, and occasionally passing information to DI Jack Caffery that may or may not help him. This time, Caffery's headache is a dog collar carrying the message 'Help us.' It was put there by a family held hostage by two home invaders, just near where a pair of teenagers were murdered 14 years prior. Horror soaks Mo Hayder's books like blood through a bandage – why not grab this one for Halloween? Here's the review.
Buy now on Amazon
The Wolf in the Winter by John Connolly
What is it about wolves and scary crime books? This time we're talking about the latest Charlie Parker novel. If you've not come across him, he's an ex-cop and now a private detective whose cases usually involve… well… demons. The apparent suicide of a homeless man called Jude, and the disappearance of his daughter, takes our Maine-based hero to the village of Prosperous. The church there was built from stones brought over from England, and contains carvings of the pagan deity The Green Man. The community it serves doesn't welcome outsiders. Is the village in the grip of the supernatural? Or is it human corruption? You'll have to read the book to find out. For more see our review.
Buy now on Amazon
The Jigsaw Man by Elena Forbes
The London-based DI Mark Tartaglia is investigating a murder in a hotel, but then another body is discovered in a burnt out car on Guy Fawkes night. Forensic investigations reveal that the body is made up of parts taken from four different corpses, and Tartaglia realises that he's got a unique and seriously disturbing serial killer on his hands. This killer has an unforgettable MO and it's this gruesome artistry that makes The Jigsaw Man a perfect read for Halloween. Tartaglia is an intriguing character, and Forbes has also crafted a superb plot. Read our review here.
Buy now on Amazon
The Devil's Detective by Simon Kurt Unsworth
Thomas Fool… yes, really… is an Information Man in Hell. Erm… yes, really. This means that he's there to suffer – part of that is watching demons torturing other poor souls – and he's also a detective. When a man is found dead after being defiled in just about every way possible, and there is no soul to match this double-dead guy, Thomas and his colleagues Gordie and Summer are encouraged to investigate. They may well be pawns in some demonic power play in the underworld, but Thomas' investigation takes him right to the Crow Heights and to the doorstep of the Devil himself. Here's a book that takes fear and brutality to a whole new otherworldly level and it could well take your fancy on Halloween. Here's our review.
Buy now on Amazon
Wylding Hall by Elizabeth Hand
"It's all a bit Wicker Man," says one of the characters in this book, which is about how the fictional 1970s band Windhollow Faire goes on a retreat to Wylding Hall to play music, take drugs and rediscover their creativity. Soon things get spooky. Someone sees a mysterious girl in the library, a door is opened revealing a pile of dead birds, ghostly voices are joining in with the jam sessions and some in the party are getting lost in the house while others sense strange vibrations. As the narrative mixes in commentary from band members in the present, it becomes clear that something bad happened to the dandyish lead singer Julian Blake in that house. Mixing in acid rock, folk, magic and mystery, Elizabeth Hand creates the perfect Halloweeny atmosphere, and our full review is here.
The Dead Assassin by Vaughn Entwistle
This one isn't quite so scare-your-pants off as some of the others on this list, but it's a fantastic read if you're a fan of Arthur Conan Doyle. The Sherlock Holmes author, as you probably know, was interested in spiritualism and the occult and attended many a seance. Here, he takes the main role in a mystery that involves the supernatural and he's joined by none other than Oscar Wilde. Lord Howell, the secretary for war, is found dead at home and whoever killed him was a formidable fellow. He bashed his way in and made his escape having been shot five times. Soon another high ranking figure has been killed and our literary sleuths are flummoxed. Once again, excellent gothic atmosphere to make your Halloween reading extra chilling. Read the review by RoughJustice.
Buy now on Amazon
Joyland (illustrated edition) by Stephen King
We didn't draft Stephen King onto this list because he's most likely the greatest living horror author. No, we did it because this illustrated edition of Joyland is an absolute Halloween treat and you'd be missing a trick if you failed to grab a copy. Firstly, of course, it's got a wonderful coming-of-age mystery inside, which sees college student Devin working the summer at a fading theme park in North Carolina in the mid-70s. He befriends a woman with a strange past, and her disabled son. Then Devin's friend Tom sees the ghost of a woman who was murdered in Joyland's Haunted House four years prior. It's tense, scary and also very touching. The second reason you should read it is because of the additional plates by illustrators Robert McGinnis, Mark Summers and Pat Kinsella, which really bring out the novel's 70s pulp vibe and add to the Halloween fun. We reviewed Joyland here, and looked at the illustrated version here.
Buy now on Amazon
Please recommend your own favourite Halloween crime read below.