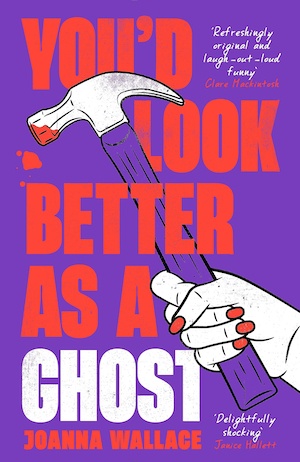 Recent years have truly witnessed the rise of the female serial killer. Literarily speaking, anyway. From How to Kill Men and Get Away With It to My Sister the Serial Killer, How to Kill Your Family to Bad Men, women are finally breaking through the blood-soaked glass ceiling and joining the ranks of serially murderous men who have long been a staple of the crime fiction genre. The latest prolific predator to emerge is Claire, the homicidal heroine of Joanna Wallace's debut novel You'd Look Better as a Ghost.
At the funeral of her father – the only person she has ever really cared about – Claire receives an email about a painting of hers being shortlisted in a competition. It's the one bright spot in an otherwise deeply dark day. Unfortunately, a short while later, she receives a follow-up email from Lucas Kane, the competition's organiser, apologising for his mistake and explaining that a different Claire should have been emailed about the shortlisting. It's just the kind of inexcusable incompetence that makes Claire feel murderous.
Sadly for Lucas, Claire is one of a limited number of people prepared to act on such a feeling.
Similarly, Claire decides to seek further solace following her father's passing by disposing of Sebastian Sinclair, a sadistic nurse who she discovered had been torturing her father during his final hospital stay. Rather than complaining to the hospital authorities, she decided to bide her time and then take more direct action. The double homicide in just a few days might be satisfying, but it leaves a fair bit of mess behind.
Soon, however, blood and gore are not the only things Claire has to clean up. She's been attending a bereavement counselling group, which she's finding quite enjoyable despite the neediness of the other attendees, although the change in routine has disrupted her otherwise sharp focus. In fact, it seems that someone might have got wind of her deadly hobby, someone who's not afraid to blackmail a serial killer, and blackmail is yet another thing that Claire finds inexcusable…
You'd Look Better as a Ghost is related from the first-person perspective of Claire, which allows Wallace to offer in-depth and often startling insights into her unusual – hopefully unique – personality. She has a remarkably matter-of-fact attitude towards life, recognising the monstrousness of killing but also neatly justifying it as a means of dealing with infuriating people. This attitude, combined with her dark sense of humour, renders the indefensible really quite reasonable.
Indeed, Wallace does an excellent job of delving into Claire's arguably damaged psyche. Aside from the contemporary insights, there are chapters interspersed throughout the main story that concern Claire's early childhood. She was raised by a devoted father and a deranged mother, and these vignettes open up an interesting debate about nature versus nurture when it comes to the development of violent psychopathic tendencies.
Interestingly, despite her disturbing behaviour, both current Claire and young Claire come across as understandable and largely sympathetic. That's not to say that murder and torture are justifiable, just that the motivations behind such actions can sometimes be fathomable. Similar to how Jeff Lindsay makes Dexter seem appealing even when in the midst of truly macabre actions, Wallace's portrayal of Claire's complex background adds depth to her character and helps situate her as an engaging and likeable protagonist.
The supporting characters, although not quite as well developed as Claire, also intrigue and provoke quite strong emotional reactions. In particular, her mother is a joy to hate, while her father is something of a cypher whose knowledge of Claire's true nature remains questionable. The bereavement group attendees – especially the Welshman, Will and Christiana – bring additional complexity and humour to the story, providing Claire with numerous opportunities to offer wry witticisms and to contemplate killing.
Given that You'd Look Better as a Ghost centres on the exploits of a serial killer, the fact that it involves some upsetting and troubling content should come as no surprise. Yet, what is surprising is that the murders are among the least upsetting aspects of the book. Wallace works issues concerning child neglect and elder abuse into Claire's story, which tempers some of the humour and, for all its more outlandish elements, keeps the plot firmly rooted in grim reality.
As Claire endeavours to spot where she went wrong – how she allowed her mask to slip and her identity as a serial killer to be exposed – and get to the bottom of the blackmail plot, she finds herself embroiled in an increasingly complex mystery that causes her to go places and interact with people she would really rather not. It proves quite vexing when word of her murders threatens to spread and she finds herself on the back foot for a change. Of course, she hasn't managed to remain an undetected killer for this long without learning a few tricks, meaning the blackmailer should be very afraid…
You'd Look Better as a Ghost is a deliciously dark and twisted story that offers fresh insight into the mind of a serial killer. Wallace's portrayal of Claire's warped psyche and irrepressible gallows humour renders her a complex and enigmatic protagonist, and the mystery she unwillingly becomes entangled in raises plenty of questions and generates a fair few shocks and surprises.
Viper
Print/Kindle/iBook
£13.79

CFL Rating: 5 Stars