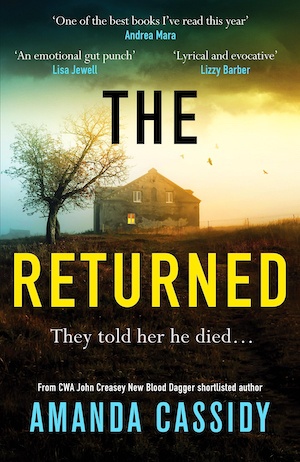 Irish author Amanda Cassidy is a freelance journalist and former Sky News reporter, and she certainly knows how to pull her readers into a story from the get-go.
It's the week before Christmas when a fire breaks out at the Wills family home in County Kerry in the Republic of Ireland. Returning home to find her house on fire and the babysitter drunk and snoring, a frantic Nancy Wills rushes upstairs to her children. Her five-year-old son Joey's bed is empty and in the nursery there is no sign of her baby boy either. Six years on, Nancy bears the scars of that night on her skin and in her heart, because although Joey was found safe and well, no trace of the infant was ever found.
She is haunted by memories and by the fact that she believes her child was taken, and did not die in the fire as a subsequent investigation claimed. But her claims are treated as the rantings of someone close to breakdown – until another fire happens in the same area, killing a man and injuring his daughter. Suddenly, Nancy's story begins to take on a sheen of truth.
It's up to garda DS Ally Fields to sort out the fact from the fiction, and it is no easy task. For one thing, she is heavily pregnant and hormonal, humming and hawing over her strange relationship with the father of her child, for another, the arson attacks both occurred in Currolough, where she was brought up with her sister Sammy and their younger brother Brendan. It's a place which holds terrible memories for Fields, and somewhere she never had any intention of ever returning.
It doesn't take long for Amanda Cassidy to get into her stride and show the readers what she's made of. As a result the images presented to us are skewed and a bit fuzzy at the edges. As the pages turn and turn, one thing that becomes abundantly clear is that everyone – and I mean, everyone – has something to hide. Add in a creeping sense of uncomfortable small-town claustrophobia and The Returned is destined to pull you into its web and hang on tightly.
Ally Fields is a prickly and unpredictable protagonist, and not having met her before I'm unsure whether she's always like this or if the hormones have taken over. Either way, she's not the most likeable of women and you have to feel sorry for her sidekick, Detective Clarke Casey, who has to put up with her jibes, mood swings and unpredictability. I liked him a lot, and also admired the courage and tenacity of Nancy Wills, the woman who has been marginalised, and that no one seems to take any notice of. Make no mistake, this author is a dab hand at characterisation.
She also excels at scene-setting, with the wild landscapes of Kerry making a – literally – refreshing change from the dirt and pollution of an urban crime scene; this is a police procedural with a side order of Irishness, so settle back and enjoy the craic of it all.
She's pretty new to this crime fiction game, but Amanda Cassidy hasn't taken long to get her feet under the table alongside the likes of Jane Casey, Tana French and Claire McGowan – and if the aforementioned are already on your radar, then I recommend adding Cassidy's name to your list of authors to keep an eye on. Her debut was shortlisted for the CWA John Creasey New Blood Dagger award, and in The Returned she keeps up that momentum.
You'll find more crime fiction from the Emerald Isle in our Gazetteer of The Irish Republic.
Canelo Crime
Print/Kindle/iBook
£2.99
CFL Rating: 4 Stars