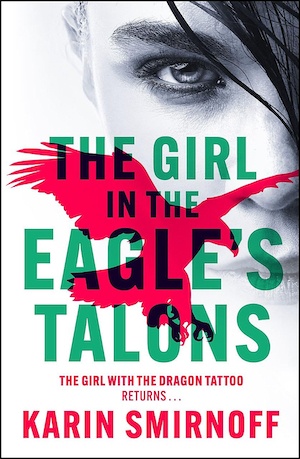 Translated by Sarah Death — She's back. The Girl with the Dragon Tattoo is no longer the Lisbeth Salander we were introduced to 18 years ago in Stieg Larsson's first Millennium novel. Now older and more responsible, Lisbeth is co-owner of Milton Security with her old mentor Dragan Armansky and is also appointed as guardian of a 13-year-old girl.
Svala is Lisbeth's niece and the daughter of her stepbrother Ronald Niedermann, the two-metre-tall albino monster whom she killed in Larsson's The Girl Who Kicked the Hornets Nest. Svala's mother has vanished and is presumed to have been kidnapped by the notorious Svavelsjo Motorcycle club, which has spread north from Stockholm. Sorting out family matters takes Lisbeth to the fictional town of Gasskas in Norbotten, Sweden's most northern county. But where Lisbeth goes, Mikael Blomkvist isn't far behind. Even though they have largely lost touch over the years, Mikael is aware of how deeply connected to his past she is.
Mikael too is at a crossroads. Millennium has gone from trailblazing political magazine to podcast and after 31 years of being a print journalist Mikael is redundant. He's always chosen Millennium above his family, friends and girlfriends and without it he's nobody, a has-been and 'a denier of progress'. Fortunately, he has mended fences with his daughter, even if a few tiny jackals occasionally slip through. He's embracing his role as a grandfather and trying to be there for Pernilla after being an absent father through her childhood. Pernilla's wedding to Gasskas' municipal manager, Henry Salo, is what brings him to Alvsbyn in the north of Sweden.
In Gasskas, women, like Svala's mother and women from a refugee centre, are disappearing. Mikael receives information about corrupt officials and politicians in the area and sees it as an opportunity to investigate, expose them and get a scoop. His future son-in-law and his municipality intend to build Europe's largest onshore wind farm on the land of local Sami reindeer herders, transforming the forest into an industrial site. They hope to swiftly get rid of the landowners and reap the benefits by partnering with a large corporation. What Salo doesn't realise is that they're getting into bed with a criminal mastermind.
Marcus Branco is the owner of a security firm that's invested in mines, property and manufacturing. He thrives on bribery, violence, intimidation and misogyny, and enlists the help of the Svavelsjo Motorcycle Club to carry out his dirty work. He could easily have been a Bond villain, given that he lives in a large house against a steep mountainside. Also on the evil spectrum is The Cleaner, a hermit-like man obsessed with his eagles, who receives deliveries of men and women on his doorstep to dispose of.
In taking over the Salander franchise Smirnoff has enormous shoes to fill – not so much those of David Lagercrantz who has written three Millennium books, but those of the series' deceased originator Steig Larsson. Fans may well criticise Swedish author Smirnoff's interpretation of two of crime fiction's most beloved characters but the author does a good job of making Larsson's themes and characters uniquely her own, and The Girl in the Eagle's Talons feels like it's very much her creation, written in her style.
Here, Lisbeth is a little warmer than she has been depicted in the past but still has an edge. As in previous novels, there is a strong focus on her childhood, and her sister, Camilla, also makes a return. Parallels are drawn between the lives of Svala and Lisbeth. Both had mothers who didn't know how to set boundaries, and abusive fathers. Lisbeth empathises with Svala, sees her restlessness and knows she's had to grow up fast to survive, shaped by circumstances. Svala often acts like the adult of the two and Lisbeth comments that there's "…a preachy old lady living inside that kid." It will be interesting to see where Smirnoff takes Svala in the upcoming two novels.
Larsson's signature themes, such as exposing Swedish extreme right and racist organisations, are still present. We see it in Thomas de Deus, the leader of the Swedish Democrats who treats immigrants as criminals, as well as racist remarks by Henry Salo, whom Mikael describes as "a virtual parody of himself." Similarly, human trafficking, domestic and child abuse, and environmental threats are highlighted. Smirnoff's background as a journalist is evident, particularly when it comes to green energy and climate change, and information-dense paragraphs pop up.
Smirnoff's writing style is her greatest strength, whether it's the terse, staccato sentences she employs to keep readers on edge or the expansive, dramatic and cinematic descriptions of her settings. She brings a unique perspective to a popular series known for its intricate plots, action sequences and social commentary. Smirnoff's work retains these three core elements; the only difference is that she adds a distinct literary flavour with a concentrated drop of dark humour. To quote Lisbeth: "Well, here's your apocalypse. Now."
Also see our review of The Girl in the Spider's Web by David Lagercrantz.
Quercus
Print/Kindle/iBook
£9.99
CFL Rating: 4 Stars