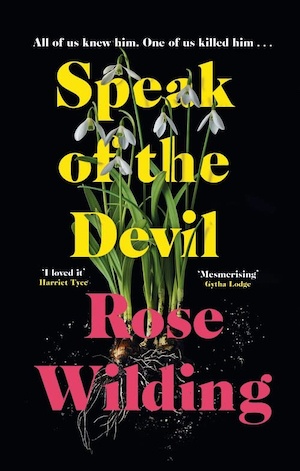 Seven women. A man's head. Who swung the axe that killed Jamie Spellman? Rose Wilding's debut novel is about the anger of women who are not heard and what happens when they take justice into their own hands.
It's 31 December 1999, the eve of the new millennium. Seven women form a semi-circle around the head of a man in a room in a run down hotel with a shady reputation. All of them had received a message from an unknown number earlier that evening: 'Meet in the usual place, tonight, 7pm. Emergency.'
Nobody knows who sent it but each of them had a plausible reason to kill him and their motives, as well as the identity of the killer, will be revealed over the following pages.
Detective Inspector Nova Stoker is called to the Towneley Arms Hotel in Byker, Newcastle several hours later. The severed head of husband and father, Jamie Spellman, has been found. The rest of him is missing and the only hint is the stack of bibles on which the head is resting. The one on top is open to Leviticus 2:16 and the well-known verse about an eye for an eye is visible to the observer. It's obvious Spellman was killed in revenge. The snake symbol and runes painted on the wall are reminiscent of recent cult cases, but that could just be what someone wants the police to think.
Author Rose Wilding gathers quite a diverse cast of female characters of different races and sexual orientations. However, they do all have one thing in common: they have all been scarred in different ways by the manipulative Jamie Spellman. We have Ana, his colleague and a trans woman who supported and trusted him for years only to be stabbed in the back; Maureen, the aunt who unwillingly raised him and saw the evil in him at a young age; Sadia, the wife whose infertility he used against her; the vulnerable Olive, susceptible after her husband's death; Josie, an innocent 14-year-old infatuated with him; and Sarah, who is an alcoholic because of him.
Kaysha Jackson has used her journalism skills to track down the man who had raped her 15 years before. She's also found all of the other women he's harmed and formed a group so that their voices can be heard, hoping that if they stand together someone will eventually listen.
Kaysha is in a relationship with Sarah, but she's also having an affair with her ex-lover, Nova, the detective working Jamie's case. Nova is also in a relationship, but she's only staying with Ella out of obligation after she was diagnosed with breast cancer. There's a lot of backstory here. Of course it's important that we know how these emotionally damaged women arrived at this point, what the source of their rage is. Unfortunately, instead of increasing suspense, the interspersed stories slow down the pace. Even though the characters are named in the chapter headings, it's difficult to keep track of their stories. A better balance of character development and plot would have made for a more compelling read.
What stands out is the police's atrocious treatment of Kaysha when she reports her rape. This scene is the epitome of victim blaming. It happened because she was inebriated; she sent mixed signals by accepting a drink and the policeman suggests that she should consider the impact on Jamie's life if she pursues her charge.
Even though Jamie was the aggressor, Ana, his colleague, also contributed to Kaysha's trauma. Instead of believing her, she chose to spread rumours about her reputation. She believed Jamie didn't need to rape anyone because he was so attractive he could easily find willing women. Ana's attitude demonstrates that women who do not support and believe in other women are also to blame. As is Sadia, who chose to ignore his flaws and infidelity, becoming a silent accomplice to his actions. Can they be blamed, though, if Jamie has been gaslighting them both, along with the other women, for years? One thing is certain: by the end of the novel, you will also have murderous thoughts about Jamie's character.
In terms of social commentary Speak of the Devil excels. It thoroughly highlights discrimination based on sexuality and race. It's filled with rage anger and rightly so. Where it does fall slightly short is in execution. With such a large cast, it's difficult to fully connect with all of the characters and their backstories. Criticism aside, Speak of the Devil is an impressive debut novel and I do hope we see more trans characters in crime fiction in the future. I, for one, will be waiting with bated breath to see how Wilding's writing career unfolds.
Baskerville
Print/Kindle/iBook
£8.99
CFL Rating: 3 Stars