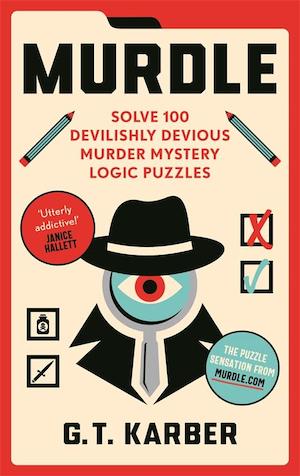 Concerned that your little grey cells may be in need of a tune up? Worried that nefarious criminals could be going unpunished? Plagued by ownership of an armchair from which no deductions have yet been made? Fortunately, you can now put your mind at rest – or to the test – as GT Karber has the solution to all these problems and more: Murdle.

With the daily murder mystery puzzles published at murdle.com enthusiastically embraced by both amateur sleuths and graduates of the prestigious Deduction College, Karber has upped the challenge and compiled the case files of the world's greatest mystery-solving mind, Deductive Logico, into a single taxing volume.

There are 100 fiendish new puzzles to be solved in this book, ranging in difficulty from Elementary through Occult Medium and Hard Boiled to Impossible. There's also an overarching case that can only be cracked by solving all the puzzles and helping Deductive Logico to finally bring the perpetrator to justice.

To assist all the newly minted detectives out there, Karber begins Murdle with an outline of Deductive Logico's first case: the murder of the student body president at Deduction College. While Logico solved this particular puzzle when he was a college junior, the solution is far from immediately clear and so Karber sets out the process for solving a murdle.

Using a novel grid-based system in which the columns and rows are each labelled with a picture representing each of the suspects, possible weapons and likely locations so that each square reflects a unique potential pairing, armchair sleuths can organise their thoughts, work through the list of clues and mark down their conclusions.

In this way, it is possible to solve all 100 cases alongside Deductive Logico, provided you pay sufficient attention to the evidence and crack all the necessary codes, of course. However, while the mechanics of the puzzle-solving process are ingenious, the real joy of Murdle lies in the storytelling that accompanies each case.

Karber has put together a cracking collection of miniature mysteries that are narrated with a well-balanced combination of reason and humour. Deductive Logico's career has taken him to exotic and peculiar locations and introduced him to an eclectic bunch of people and the bizarre ways in which they are willing to kill people, which makes figuring out whodunit a whole lot of fun.

Who?

Among the colourful characters that Logico meets (sometimes repeatedly) during the course of his investigations are Cosmonaut Bluski ("An ex-Soviet spaceman whose blood flows red. Sure, that's normal, but for him its patriotic.") and Blackstone, Esq. ("Incredibly talented at the most important skill for an attorney: getting paid.").

Where?

The crimes themselves take place in locations as diverse as The Distracting Graffiti ("The dragon-riding-a-motorcycle mural really ruins the noir vibes."), The Spooky Attic ("Nothing but cobwebs, family heirlooms, and haunted paintings.") and The Cramped Bathroom ("So small it seems like it was designed for a discount airplane.").

How?

As for the weapons, Logico finds that practically anything can be used to kill a person, including A Crystal Ball ("If you look into it, it will tell you your future, so long as your future is a crystal ball.") and A Tote Bag ("Bibliophile mafiosos use these canvas bags for hits. You can also carry books in them.").

While solving each case proves compulsive, following the stories behind the crimes is equally compelling. The combination of perplexing puzzles, witty descriptions and entertaining characters renders Murdle addictive and makes it near impossible to attempt just one puzzle. With unlikely scenarios, logic-defying outcomes and suspects who routinely and expertly lie, it's a proper brain-buster of a book.

In fact, many of Logico's investigations will challenge even the most polished of deductive reasoners and raise the risk of criminals escaping justice, so it's lucky that Murdle includes both a helpful hint and the solution to each case. It's also possible to turn to Karber's online Detective Club for help when necessary. After all, when Deductive Logico is on the case, it's impossible to get away with murdle!
When you're done, there isn't long to wait, Murdle: More Killer Puzzles is out in October.

Souvenir Press
Print
£12.29

CFL Rating: 5 Stars