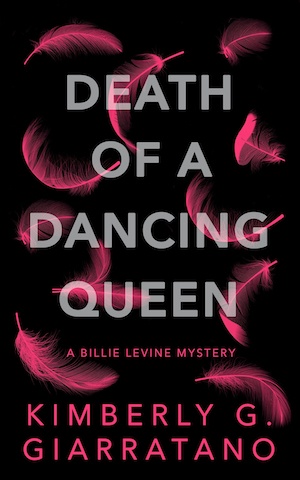 Datura Books is a new imprint from Angry Robot that specialises in crime fiction, and its very first title is Death of a Dancing Queen by Kimberly G Giarratano. This novel details the mystery behind the murder of Starla Wells, a New Jersey stripper who was killed 30 years ago outside The Malta Club. Missing from her body, and presumably the motivation for the murder, was the famous diamond ring she wore on a chain round her neck.
Jasmine Flores is a junior at Kentwell College who is originally from Honduras. A true crime fanatic, she became obsessed with Starla's murder and set up a podcast dedicated to the subject with her friend Nuri O'Brien. She's also been part of the Sleuth Squad, a group of Kentwell female students who post about true crime on Reddit.
Jasmine was working part time as a dancer at the Malta Club – coincidence or more than that? – and was dating Tommy Russo, the drug-addicted nephew of Paul Russo. Russo is businessman and alleged organised crime boss who just happens to have ties to the Lucky Louis strip club, where Starla worked before switching to the Malta Club to become its star attraction.
Now, Jasmine has been missing for five days.
The job of locating her has fallen to Belinda 'Billie' Levine. Billie is an unlicensed private detective, nominally working under the supervision of her grandfather, William Levine, an ex-New Jersey police detective who was also involved in the Starla Wells case back in the day.
Billie graduated an English major from Kentwell a couple of years ago, is Jewish, and likes to transact her business from a booth at Nagel's Deli. It's Tommy who hires her, and Billie's first thought is that Jasmine is fine, just avoiding her no-good addict boyfriend. It's just what she needs – an easy case.
Her home life isn't so straightforward. Billie's dead beat dad left a long time ago, and Billie and her nurse brother, David, have their hands full looking after their mother, Shari, who has early-onset Alzheimer's. David has his own mental health problems and he and Billie have to give her constant supervision. William, who lives with them, isn't much help, as he drinks heavily.
Billie's first stop is the Kentwell dorm where she inspects Jasmine's room before going to Tommy's. There she sees a neo-nazi gang member threatening Tommy's roommate, demanding the money Tommy owes them. So Billie now knows the Torn Crosses are involved to some extent – not good news for a Jewish PI whose on-off boyfriend, Aaron Goff, just happens to be in organised crime himself and a sworn enemy of the Crosses.
The mystery of Jasmine's disappearance, and of Starla's murder, has a lot to it – and I mean a lot. I've read plenty of private eye fiction over the years, but I found it difficult at times to keep track of who did what, when and how. There's just so much information, too much in fact. The Maltese Falcon has nothing on this book! I hope the next Billie Levine Casebook – yes, there's a planned series – is a little simpler to follow.
The reason I'll be back for the next book, and the reason you should be too, is Billie herself. She is just cocky enough to be believable as a take-no-nonsense gumshoe. She's also anxious about her family, her abilities and conflicted about her choice of lovers and the moral dilemma of her family-duty to look after her mum put against her own dreams for the future. Spending time with Billie leaves you with a smile on your face.
For more New Jersey PI fiction, check out our reviews of The Pine Barrens Stratagem and New Jersey Noir: Cape May.
Datura Books
Print/Kindle
£4.93
CFL Rating: 4 Stars