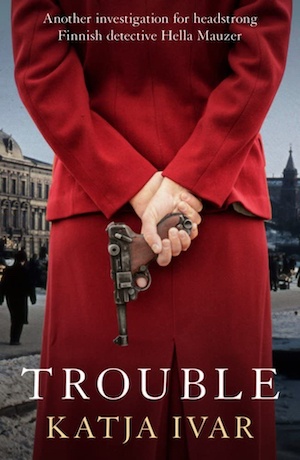 This week sees the release of Trouble, the third book in the Hella Mauzer series by Katja Ivar. Set in 1950s Finland, during the Cold War, the books tell the story of a young police woman and budding detective who cuts against the grain when it comes to how things were done in the police and in society in those days. Following on from Evil Things and Deep as Death, Trouble looks at how Hella's life develops after leaving the police. One thing's for sure, if there's a mystery to solve she won't let go. We invited the author Katja Ivar to the virtual CFL sofa, and asked her to tell us more about Trouble. There's a fascinating story behind the author, the series and the latest book…
First of all, what are crime fiction lovers going to love about Trouble?
Readers tell me they love my protagonist, Hella Mauzer, which can come as a surprise because, at a first glance, Hella is all but lovable. She is spiky, and at times socially awkward. She is not conventionally 'nice', but she is a good person and a good investigator, she abhorrs injustice and she would stop at nothing to get to the truth. She is also haunted by her family's supposedly accidental death, and in Trouble, she finally gets the chance to get to the bottom of what had really happened.
You grew up in Russia and have travelled all over. What led to you becoming a crime author?
I wrote the first book in the series as therapy, after losing my daughter, who was stillborn. I needed to get out of my head, and as cliché as it sounds, concentrating on characters in my novel proved cathartic. I thought I would stop there, but then the characters grew on me. And as to choosing crime novel as genre… I like the idea of combining page-turning intrigue with a social commentary. Crime fiction offers the freedom to do that.
Tell us more about Hella Mauzer. Where did the inspiration for her come from?
She sort of materialised out of nowhere: a woman, alone, knee-deep in snow, trying to solve a crime that no one cares about. But when I think of it now, I realise she was partly inspired by my grandmother, Klaudia. In the 1950s, she was a young medical professional in a remote wilderness and she had to deal with terrible accidents and pain, all on her own, without ever giving up. My grandmother was a very modern woman, and Hella shares that uncompromising independence with her.
Who is she up against in Trouble – where's the conflict?
It starts as a background check on a bureaucrat who is up for a promotion. Hella doesn't expect it to take long – she only takes up the case because it gives her an opportunity to consult the police archives file on her family's deaths. But of course things are not so simple – the bureaucrat she is investigating used to have a wife and a child, who have both died. And her family's file in the archives is empty – someone has taken the contents out. And then there are the poison pen letters, a dead dog and her shoes stuck on top of a corpse in the mortuary's freezer.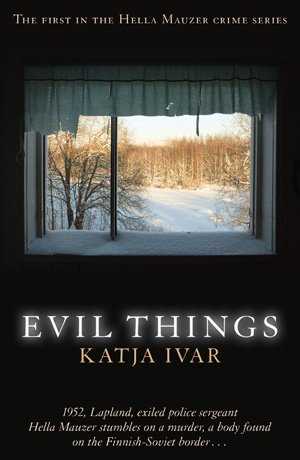 Why did you choose to set your stories in 1950s Finland?
Finland is a very progressive country – the first European country to let women vote and run for office. And yet even in Finland it took a long time for women to join the police ranks. At first, they were limited to body searches on other women or taking children into custody, things that men couldn't do for reasons of decency. I wanted to tell the story of a pioneer – the first woman who broke ranks, who actually managed to do some real detective work.
What research did you have to do, and what interesting discoveries did you make that inform your Hella stories?
When you write historical fiction, you walk the tightrope between providing too much historical detail that drown the plot and giving away too little, with the risk of confusing your reader. Because this is fiction, I chose a light-touch approach, so the bulk of the research I did is not even in the novel. The research process itself was fun. I was lucky to find many sources of information, from the wonderful National Police museum in Tampere to the first-hand account of a young British woman who settled in Finland in the 1950s and who described the restaurants, the nightlife, all the little things that make a location come to life. For Trouble, I also spent time researching the medical discoveries of that decade, as they are significant to the plot.
Were there women detectives in Finland in the 1950s? Tell us more about how you examine sexism and misogyny in your books.
The first Finnish female police officer was called Hilkka Hartamaa. She graduated from the Suomenlinna police academy in 1948. From the records I found, she didn't stay long on the force because after a while she couldn't support the misogyny. My character, Hella, has been thrown out of the force after just a few years as homicide inspector, but she is a tough cookie, and so she sets herself up as a PI and tries to ignore the patronising attitudes of her former colleagues.
What other themes are you interested in that have informed your writing?
Trouble is not only the novel where Hella finally discovers what happened to her family, it is also one where she has to decide whether to stay with her American boyfriend, Steve. He has left his wife for her, but Hella is now having second thoughts. Is she even made for family life? How can she dare building a relationship when she knows it only takes a split second to destroy a family?
What other crime books and/or authors have influenced you and why?
I have very eclectic tastes, so in no particular order, AD Miller's Snowdrops for the voice of the POV character, Louise Penny's Still Life, John Le Carre novels for the atmosphere and PD James's impeccably twisted plots. And my all-time favorite novel: The Secret History, by Donna Tartt. I would say these are books that I prefer, not ones that have influenced me for Trouble.
What's next for Hella Mauzer and/or Katja Ivar?
I am currently researching my next novel… but it's a little too early to say anything yet.
You can order a copy of Trouble or its predecessors below. Watch for our review, coming soon…