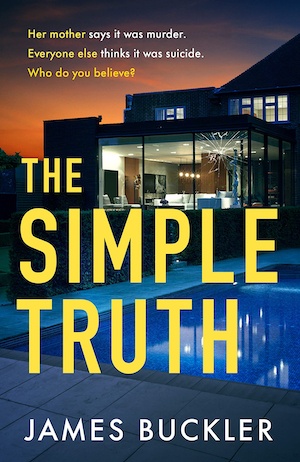 With a background of writing for film and television, James Buckler is bringing his scene-setting skills and cinematic eye to the crime fiction genre. In 2017, his debut Last Stop Tokyo featured a Brit fleeing problems at home only to find new ones in Japan. Five years on, Buckler's second novel is here, and it swings us back to Britain where an ambitious young lawyer is given a seemingly simple assignment that drags him into a world of dark dealing involving energy firms, NDAs and, ultimately, murder.
The novel opens with a familiar scene. An early morning dog walker finds a body in a car on the Coldharbour Marshes in London. Approaching the vehicle, he sees a note with a clear instruction attached – BEWARE, DO NOT OPEN, CALL POLICE.
Naturally, he can't resist opening the car door and that rash act nearly costs him his life. Toxic fumes burn his lungs as he peeks inside the car to see the dead woman. He collapses and it's an hour before the woman is discovered again and he is rescued and given treatment. The young blonde woman's death is presumed to be a suicide, using easy-to-obtain chemicals with instructions from the internet. This intriguing take on an ambiguous death sparks the mystery in The Simple Truth.
Lewis Miller is a low-level corporate lawyer for Renfrew Hall and is part of a team closing a big deal for a UK conglomerate buying out a German competitor. He's suddenly pulled off that job by the head of the commercial division, Charlie King, his ultimate boss. King has a special assignment for Miller. He is to take a non-disclosure agreement to the Whitechapel Law Centre and witness its signature.
The client is Robert Carlson, boss of energy giant Ever Sine. The other party is Maria Brennan's family. Maria, the dead woman from Coldharbour, was a climate scientist for Ever Sine who worked closely with Carlson. Though it's been deemed a suicide, Carlson wants the story of his employee's death to vanish before it impacts Ever Sine's commercial activities. He wants to buy her family's silence for £100,000. King assures Miller it's already a done deal, he just needs to get the family to put pen to paper.
Arriving at the Whitechapel Law firm, Miller realises it's anything but straightforward. Maria's mother, Irina Koval, has no intention of signing the NDA. She wants an explanation for her daughter's death directly from Carlson, and says Carlson fired Maria, then had her blacklisted and even began stalking her. Irina thinks Maria was murdered and she won't stop until she finds that out for certain – or Carlson proves he wasn't involved.
Miller's hopes of getting in good with his boss by tying up this supposedly simple matter have rapidly evaporated. He can return to the office and report his failure or he can look into Maria's life and death for himself, to see if this situation can be salvaged by convincing Irina she is wrong about her daughter's demise. With his boss, King, away for the weekend, he has a few days to prove himself.
It soon becomes clear to Miller that Carlson is hiding something – but could it really be murder? If so, is it personal or could Maria's death be connected to controversial plans for a hydrogen plant in the Coldharbour Marshes? If approved, it could power all of London's energy needs, the sums involved are astronomical and the stakes couldn't be higher. So just how deep was the relationship between Carlson and Maria and why did they fall out so spectacularly?
Miller works hard on gaining the trust of Irina but Maria's brother is openly hostile. He doesn't believe the young lawyer is really looking for the truth rather than just doing his client's bidding. As Miller digs, he discovers Maria's family also have secrets and a blighted past that may be relevant. Whatever the truth may be, it's clear not everyone wants it to see the light of day. As Miller gets closer to Maria's story, her family and her former employer, his own life is suddenly in danger.
An intriguing premise gets a grip on the imagination as The Simple Truth heads down unexpected roads. It's a mix of conspiracy and legal thriller with a zeitgeisty political theme. Contemporary London is well realised and the characters, particularly smart but naive Miller, are believable. It's an interesting choice using a corporate lawyer rather than police detective or journalist for the investigation – independent but lacking specialist knowledge, it's all a steep learning curve.
There are well-disguised twists but the main thrust of the story is difficult to mask. Nonetheless, the tension builds as Miller goes deeper into his investigation, making enemies on all sides. This is an intriguing thriller rather than an all-out page turner. You are always wondering where the story is going and it is absorbing but not totally engaging and lacks a little propulsion. The Simple Truth is about abuse of power and the weight of history and environmental concerns – all hot topics. This is on the whole enjoyable but the energy of the narrative is sometimes slowed by a downbeat tone.
Bantam
Print/Kindle/iBook
£5.99
CFL Rating: 3 Stars