Crime novels trump all else for me and we have had another great year of reading about the darker side of human nature. Looking back over the books I have reviewed in 2022 these are the ones that stick with me. They provided the purest reading pleasure and I smile when I think how much I enjoyed them. This is how I do most of my globetrotting these days and it's one of the ways I confront the important issues we face, wrapped up in a murder mystery. However fraught the world is, however edgy it gets on the page, I can relax here because this is fiction.
5 – A Certain Hunger by Chelsea G Summers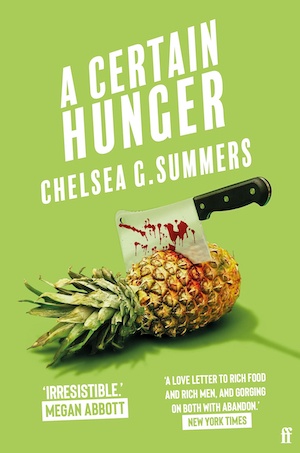 This dramedy thriller – 'chick-lit cannibalism' – is a tongue-in-cheek fable. Niche maybe, but wickedly funny if you have the stomach for it. Hell hath no fury like a love-scorned celebrity chef and as you might expect there's a particularly gruesome form of revenge on the menu. By a country mile, this is the most fun I've had in the company of a flesh-eating gourmand since Hannibal Lecter got creative in the kitchen. Get ready for barolo, truffles and human tongue – haute cuisine in gloriously bad taste. Chef Dorothy Daniels keeps her ex-partners close by devouring them for dinner. If this idea puts you off, and the novel is sexually frank too, this book may not be for you. But if the idea of a dishy boyfriend, in a literal sense doesn't offend then read this satirical romp. A Certain Hunger feeds on our obsessions with sex, food and death. Killing is Dorothy's self-actualisation and fulfilment. What she does mitigates the sense of loss she feels after a breakup. The press nickname her The MILF Killer, The Butcher Food Critic and The Bloody Nympho. So how did this pioneer of the internet celebrity age, a lauded critic for a hip New York magazine, fall so far from grace? There are sharp observation on food, misogyny, sexism, marriage, relationships, celebrity and dealing with the aftermath of a break up here. Tinged with elements of Brett Easton Ellis and Angela Carter, this is nonetheless an original and highly entertaining novel. A Certain Hunger is seductively written and to assuage our guilt Dorothy gets her comeuppance. This is a beautifully mad flight of fancy, a cathartic redress for all the spurned lovers out there. Fay Weldon on steroids. Read our review here.

4 – Yesterday's Spy by Tom Bradby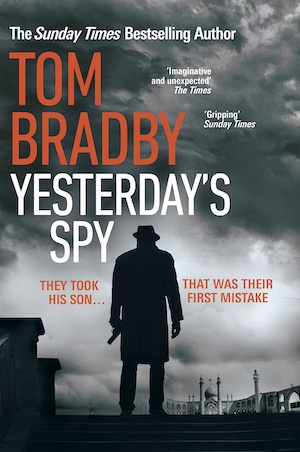 Set in 1953 Iran, a critical but lesser known juncture in world history as the US and Britain scupper a budding democracy, this love story/family drama thriller is page-turning and richly entertaining. Harry begins working for SIS just before WWII. Two decades later, now a fading star, he is called to Downing Street for his expertise on Iranian affairs. Harry served in Tehran and his son, Sean, is still there. Churchill is about to approve British involvement in US Operation Ajax, a plan to oust Iran's legitimate populist prime minister, Mohammad Mossadegh, and Sean, a Guardian reporter goes missing so Harry, yesterday's spy, springs into action. This novel has all the trappings of a traditional spy story – layers of intrigue, double-crosses, imminent danger and a whirl of murky politics. It's hard to believe that this moment in Iranian history hasn't featured more prominently in spy fiction before. It's a pivotal moment in setting the tone for the conflict in the region to this day. The coup is the fascinating backdrop to the very personal tale of a man in search of his son. It feels like this is an idea that fired Tom Bradby's imagination and has an energy and drive that is easy to get caught up in. This is not le Carré but it has a literary tinge to it and is beautifully easy to read. Check out the review here.
3 – Tokyo Express by Seichō Matsumoto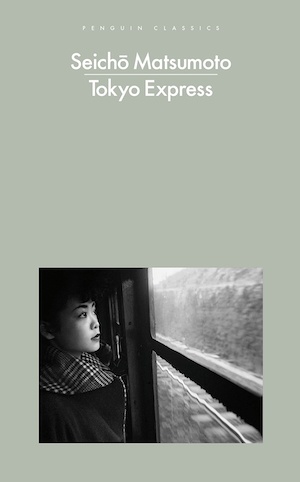 Translated by Jesse Kirkwood from a 1958 Japanese bestseller, this is a book you can lose yourself in. As long as you love a puzzling murder you can relax on a wonderful journey, the express route between Tokyo and Hakata. The deaths of two young people near a shrine on the route is assumed to be a lovers' suicide pact. Detective Torigai is not convinced but his boss wants the matter wrapped up. The dead man works at an unnamed procurement ministry in Tokyo but the young woman, a waitress in Akasaka, has no obvious connection to him. A receipt for a meal on the Tokyo Express is all there is to go on. Torigai is dogged and thorough, and with the help of a colleague gradually unravels the mystery. Railway murders are a staple of the crime novel but they are rarely this good. Paying homage to the British Golden Age while exuding a very distinct Japanese culture, it's a book that's beautifully understated, spare and yet elegant. And if that isn't enough of a hook, the super clever mystery and the endearing detectives at the heart of the case will mesmerise you. This isn't just a crime classic, it's a masterpiece. Read our review.
2 – Racing the Light by Robert Crais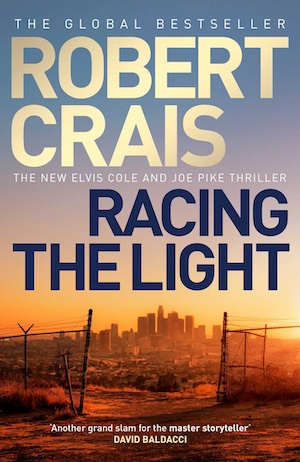 The Elvis Cole and Joe Pike series began in 1987 with The Monkey's Raincoat. A quarter of a century on, Racing the Light proves keeps the series fresh and exciting. Set in southern California, it's rich in local colour with solid hardboiled credentials. Cole is a slightly whimsical character but anyone underestimating his smarts will do so at their peril. Pike is the hard in hardboiled – if you need a wingman, he's your guy. This time an oddball missing persons case turns out to be a lot more complicated than it first appears. Geeky podcaster Josh Schumacher is obsessed with Area 51, aliens and secrets and now he's gone missing. His eccentric mother blames the government. She hands Cole a wedge of cash to find her boy. It turns out his friend Skyler has disappeared too. She may have overheard a conversation that got her in trouble. Political corruption and corporate greed are lurking in the background. When it gets nasty Cole turns to partner Joe Pike for help. This is a beautifully honed mystery, cleverly disguised to keep us guessing. An intriguing and colourful cast of characters, fizzy dialogue and a strong dose of humour, particularly Cole's wry view of life, make it sing. Tough, funny and hugely entertaining – in the best traditions of the LA PI novel. Read our review here.
1 – May God Forgive by Alan Parks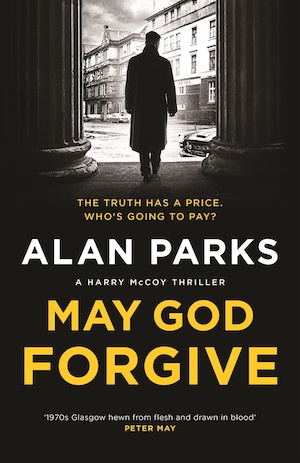 Fifth in the detective Harry McCoy series named after months of the year, May God Forgive is set in 1974 and things kick off in grim fashion. McCoy leaves hospital with an ulcer that's still bleeding, but he wants to work. Outside a courthouse, McCoy is caught up in an angry mob attacks a police van containing three youths accused of the arson of a hairdressers and the murder of four women. One of them has been labelled a pyromaniac after a school incident, ergo they are guilty in the eyes of this crowd. Unable to get on the inquiry team, McCoy deals with a body is found outside a Salvation Army hostel that no one else cares about. Then a young girl is murdered and dumped in a local cemetery. Everybody assumes she's a prostitute but McCoy isn't jumping to conclusions. May God Forgive is gritty, darkly humorous and wildly entertaining, it's steeped in the grim menace of post-industrial Glasgow. This is a go-to novel if you like intelligent historical crime fiction set in the near past. Its skilfully crafted plotlines coalesce perfectly. Parks writes an intriguing cast of characters and keeps to a tight timeframe, which adds to the tension. McCoy, like all good detectives, is as driven as he is flawed but it's a treat to spend time with him. This is fast and hard, edgy and thought provoking, a truly gripping novel. Read our review here.