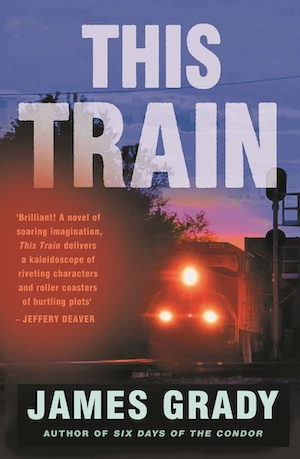 James Grady was 23 in 1974 when he wrote is iconic conspiracy novel Six Days of the Condor, in which the sole survivor of a wiped out a covert CIA unit has to figure out who and what is behind the massacre. Reconfigured for the big screen as Three Days of the Condor, it became a hit film starring Robert Redford and Faye Dunaway. In 2006, Grady returned from a career in journalism with Mad Dogs, a new Condor story, and now he's back with This Train – something a bit different.
The Empire Builder runs from Seattle to Chicago – 2000 miles in 47 hours. It's a journey that promises to be action-packed, fun and dangerous, with a cosmopolitan cast drawn from all walks of American life and it's a dual track journey.
This Train offers up a heist thriller, with a gang of thieves led by the mysterious Zed, aiming to rob the train. Because Seattle's treasury incinerators are down, old cash is being sent to Chicago to be burned, but Zed's plan is to intercept the money. Each member of the gang has specific skills and a set task, but each knows only their own part of the masterplan. They don't even know what Zed looks like.
Standing in their way is a SWAT team protecting the money, but that's not all that's going on. A wife exasperated with her marriage is planning on killing her husband and making it look like an accident. She's thought long and hard about this and a fellow passenger is sympathetic to her cause.
We are introduced to everyone as the passengers board the Sleeper in Seattle. Each has a story, and Grady takes great pleasure in riffing on Murder on the Orient Express, Strangers on a Train, Double Indemnity, Butch Cassidy and the Sundance Kid and more besides.
Going a little deeper than a mere heist, the author also presents a satire on modern America, hence the diverse representative cast. It's Grady's own commentary on the state of the nation, seen through a wry lens, lampooning, picking up on the absurdity of life and nailing some of the divisions and strife the country is going through.
For instance, we meet Fergus Lang, a Donald Trump-style billionaire, made rich by the oil industry and richer still by running private prisons. Then there's the family of a US Marine Corps officer who are on eggshells because he is suffering from PTSD. We also meet a charming young couple, free spirits who to have a perfect relationship, at least on the surface, that facade soon crumbles. Nora is the coder and she's in on the robbery. Constance and her yappy little dog Mugzy, a self-important bank president and the glamorous Della Storm make up the numbers.
The Empire Builder is a real-life train and lends itself perfectly to the drama by giving us a closed circle environment ripe for criminality. En route, Grady manages to draw in American history, including the Marias Massacre of 1870, where 200 Piegan Blackfeet people, mostly women and children, were murdered. It's a reminder that the modern nation is built on the bones of the past and we'd do better if we acknowledged that.
The story unfolds in those classic train areas – the dinning car, the observation car, the private cabins and the baggage carriage where the treasure lies. There's very little exposition, the story is all about events and dialogue. It's always clear that this is a snapshot of the lives of the people here, mostly their stories remain open at the end, something for readers to ponder. Grady seems to be saying: we're in this together, so how we go forward is our choice.
This Train is an inventive and energetic novel. It reflects on some of the concerns of Grady's earlier work such as the surveillance society and personal responsibility in a confusing and complex world. Ultimately, hopeful, there's always a chance of redemption. This is an entertaining thriller but it's also a thoughtful piece so be prepared to work the grey matter. You can get lost if you're not paying attention. This is not a Heat-style takedown kind of robbery, it's a much more contemplative read. Grady had his finger on the pulse of the nation in 1974 and his thoughts still seem bang on target now.
For a totally different take on the train mystery Bullet Train by Kotaro Isaka translated by Sam Malissa, now a 2022 film starring Brad Pitt.
No Exit Press
Print/Kindle
£3.79
CFL Rating 4 Stars