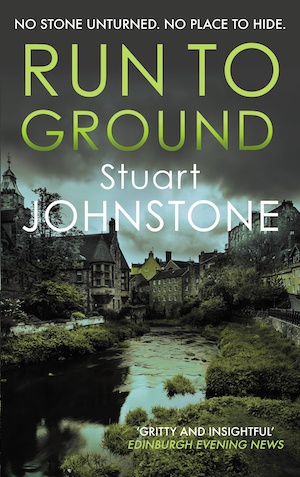 The term Tartan noir might be getting a little tired or over used but gritty Scottish crime fiction still seems to be at the vanguard of British crime writing. Run to Ground is an Edinburgh set police procedural, the third outing for Sergeant Don Colyear. Formerly a community police officer, Don has finally made it all the way to Edinburgh's prestigious CID. There's no time to settle in, bodies are dropping across the city as the ever-growing drugs problem takes its toll.
Dillon, Davie, Tavish and Sal are bored youths, hardly a gang in any real sense, but that doesn't mean they're not dangerous. They want excitement, a bit of mischief and something that will earn them a few quid. They've targeted a gang of traffickers working out of a car park in town. They are sure the drugs are inside the portacabin office. When most of the gang leave in a Range Rover, there's only one man looking after the stash. The boys tool up and bust in. The dealer warns them they're getting in way over their heads but there's no turning back now.
The haul isn't what they expect, though. It's a huge consignment of grade A heroin. The last thing the man picks up on is Dillon's stutter. He'll be easy to find, the man warns, when the others come for their drugs. And they will. For the moment the youths stash the stuff until they can figure out how to sell it. The bright idea they come up with is selling it to street dealers direct at half the usual price.
Meanwhile, Sgt Colyear is a rising star of Police Scotland since he solved a big murder case. It's tough getting to grips with the paperwork and micromanagement of CID. He's hardly had time to get to know his new boss, DCI Kate Templeton, when suspicious drug deaths begin to demand his attention. There's some 80% pure heroine out there, which is deadly even to regular users. More deaths could follow if the police don't find out what's going on.
While hiding the fact that their heroin has been stolen, the gang are now looking for the youths. They lift street dealer Malky working his patch and pump him for information. They want to know if there are any new drugs in circulation on the streets, any new players in the market. Malky genuinely doesn't know anything but they give him a couple of days to come up with some names or else. What they don't know is Malky is an informer – he's Colyear's new tout. Only rather than give Colyear info he tries to find out if the cops have anything that can get him out of a hole.
The youths hoped to make a few thousand pounds but what they have been passing on cut rate is uncut product. It's worth millions and they have to find a smarter way of selling the drugs. Now the police and a vicious drug gang are on the tail of the upstart young toe rags. Things are set to get nasty in this atmospheric story as tension builds towards a crackling denouement.
Johnstone was a police officer for 10 years and Colyear stories have the authentic feel that comes from someone who's been there and seen it, tying their experiences to a fictional tale. There's a pathos to the story of youths on the make stumbling into more trouble than they can handle and not knowing how to get out of the coming mess. You can't help feeling there's a better path in life for them but they don't see it and have not been offered an alternative. They're not inherently bad, just misguided outsiders. Nonetheless they are dangerous, reckless and a menace to society. It feels like these could be youngsters from any one of our cities going off the rails.
This dark realism grounds the novel. It's gritty, the villains are violent and the other miscellaneous characters are credible, as are the streets they inhabit. The pace is a bit slow at times but the story builds nicely. There's a sense of brewing trouble around every corner, but more than anything the characters, the youths and Sergeant Colyear are what gives this story heart. Colyear's an instinctive copper and that frequently get him into trouble, as much with his boss as the bad guys. Here and there it also brings some humour to the novel, always welcome and reflective of life. As we know, the topic of drugs and gangs is a perennial one that refuses to be sidelined in police related fiction.
There are a lot of Scottish police procedurals out there, but Run to Ground is a great read and worthy of your attention – very enjoyable if not as tight as it could be.
If you haven't caught up with the latest Rebus A Heart Full of Headstones we can highly recommend it.
Alison & Busby
Print/Kindle
£6.99
CFL Rating: 4 stars