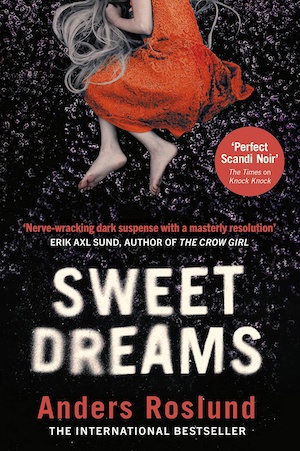 Swedish crime writer Anders Roslund returns with Detective Ewert Grens for the 10th instalment of his gritty crime series set in Stockholm. Grens, now 65, is as depressed and gloomy as ever, and the psychological scars of years of police work are beginning to show. When he inadvertently stumbles across a child pornography ring, he finds the much needed motivation to keep going.
True to the Nordic noir sub-genre, Sweet Dreams is dark and unsettling and this atmosphere is established right at the beginning with Ewert visiting his wife Anni's grave. While contemplating his involvement in the injuries which led to her death and that of their unborn daughter, he notices a woman sitting on the bench he usually claims for himself. She introduces herself as Jenny and Grens instantly feels a connection because she reminds him of Anni. Jenny is visiting the grave of her daughter who was kidnapped at age four from a car park in the Södermalm borough. The grave remains empty because the little girl was never found.
Grens feels he should follow up on the girl's kidnapping and during his investigation he comes across a report of another girl's disappearance on the same day. Linnea was abducted from a shopping centre three years ago and her case is about to be closed. Grens is a detective known for making emotional decisions only to see events spiral out of control and has burned many bridges. Furthermore, he is experiencing dizziness and confusion, possibly as a result of PTSD, and his boss orders him not to continue the investigation.
Like so many others in crime fiction, he is a stubborn detective and he carries on under the radar. Then Gunnar, who works in the cyber crime unit, receives an anonymous tip in the form of a photo from a Swedish aid organisation whose mission is to prevent the online sexual exploitation of children.
With the help of Birte, a computer expert from the National Investigation Centre in Copenhagen, they trace the photo to a group of men who have been chatting anonymously online for several months. Although the men can be identified, the only way to find the organiser is to infiltrate the paedophile ring it with the help of Piet Hoffman.
Grens and Hoffman have history, and Hoffman has helped the detective in similar ways in the past. However, this time he's hesitant to help Grens as their last collaboration was meant to be the end of their business relationship. Hoffman wanted a normal life with his wife and children, not to constantly be on the run and endangering his family's lives.
Hoffman's wife eventually convinces him to help expose the sex trafficking ring because she was in a similar situation when she was young. He has infiltrated the mafia in Sweden, drug cartels in Colombia, gangs of human traffickers in Libya, arms dealers in Albania, but this time Hoffman feels unprepared for the challenge. What follows is a disturbing account of what goes on inside paedophile networks on the Dark Web, and it is not for the faint of heart.
Ewert's melancholy dispostion and mental state align almost too perfectly with the dark side of human nature depicted. We feel enormous sympathy for this broken man who only finds solace in his job and uses it to escape the reality of his wife's death. Birte, like himself, lacks a social compass, the ability to deal with emotions and is perfectly content to work hard as long as there are set rules.
Sweet Dreams delves deeply into the world of child pornography and paedophilia; it's unsettling and troubling not because Roslund revels in graphic or heinous details, but because it serves as a reminder that there is truth behind this fictitious rendition. This is classic Scandinavian crime fiction in its purest, original form.
Also see The Grow Girl by Erik Axl Sund, and our review of Knock Knock, also by Anders Roslund.
Vintage
Print/Kindle/iBook
£7.99
CFL Rating: 4 Stars