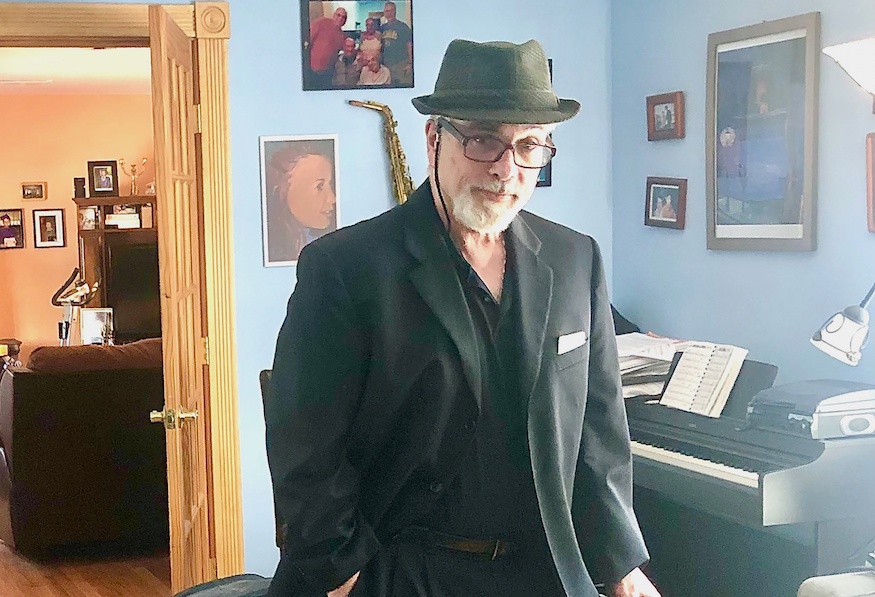 By day he's a marketing and branding copywriter. By night he's a crime novelist, and sometimes even a ghost. Well, a ghostwriter to be precise, who coaches new authors and helps them get that elusive novel that's inside them down on paper.
At the moment, David's mystery series featuring private investigator Dora Ellison is thriving. The first in the series, Not Today, was a shortlisted finalist for the 2022 Killer Nashville Claymore Best Mystery Award. That came out last year, and on 14 September 2022 the fourth book in the series will be available. It's entitled A Biological Storm, and we wanted to find out more about it from David himself…
Firstly, can you tell us a little more about yourself?
I live in Long Beach, New York, with Ellen, my wife of 35 years. We have two grown sons and a Yorkshire terrier who thinks he's the mayor… until he sees his shadow. I have long loved reading mysteries, particularly Lee Child, Harlan Coben and John Sanford – especially those in which a killer gets what's coming to him or her.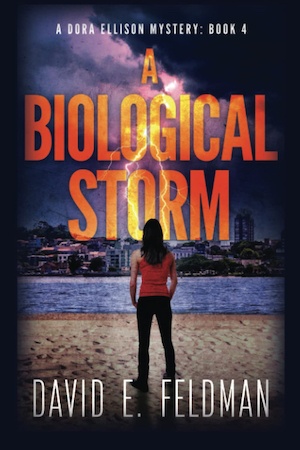 What are crime fiction lovers going to love about A Biological Storm?
A Biological Storm, has everything crime fiction aficionados love – a tough-yet-human main character with a smart sidekick, a bewildering murder mystery whose stakes are raised throughout the story, a bevy of suspects and vicious killer who will come as a surprise, and subplots and love stories involving an ongoing cast of characters.
Tell us more about Dora Ellison – who is she, how has she developed and what inspired her?
Much about Dora's personality stems from her abusive childhood, which can be read about in her prequel, Storm Warnings, which can be downloaded for free on my website if you sign up for the newsletter. Dora is a both a seasoned mixed martial artist and a sensitive woman with a deep and hidden wellspring of trauma-fuelled rage. She despises bullies of any kind and usually gives them their due – with results that sometimes blow back on her.
And what about Missy Winters, her sidekick?
Missy is introduced late in Not Today. She works at the Beach City library – I, too, am a librarian, though I do not work at a library. Missy is proud of her ability to research and find answers to a crime's bewildering puzzles. When her skills are doubted, she often indignantly retorts, "I'm a librarian!" She and Dora are attracted to one another, are mutually supportive and share a love of dogs and puzzles.
What are they up against in your latest novel?
In A Biological Storm, a beloved hair colourist is brutally murdered, her body torn apart by an automatic rifle. At first, suspects abound: local hair salons are fiercely competitive, she had several dangerous clients and had a conflict with a neighbour who says he wanted her dead.
But when another woman is found murdered with the same MO, Dora and Missy realise that the victims share a characteristic that is the key to this case – a key that has drawn the attention of a hate-filled murderer and that person's accomplice. This, they realise, was a hate crime. They also often butt heads with two local (and recurring) police detectives, Paul Ganderson and Gerald Mallard – aka the Goose and the Gander.
Tell us about the setting, Beach City, and what it approximates to in real life?
My home, Long Beach, New York, serves as a model for Beach City. It's a lovely beach town with one of the nicest beaches on the East Coast, a vibrant restaurant and nightlife scene and fascinating politics.
What's your approach to getting the right balance between the fighting, bloodshed and the deeper side of your crime stories?
Early in each book, I have Dora run across a bully, whom she inevitably teaches a violent lesson. These are situations many of us run across – early morning leaf blowers, people mistreating their pets, drivers cutting us off, someone with too many items in the express line at the supermarket… Dora acts out what some of us might fantasise, in a foreshadowing of violence to come much later on. She is also deeply loving and sensitive, and connected to a recurring cast of well-developed characters who have their own lives and loves.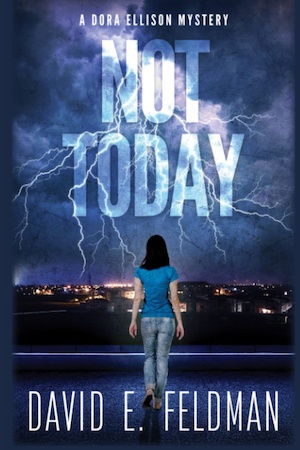 Before you started writing and publishing our own books, you made films and have been a ghostwriter. Can you tell us more about those facets of your writing career?
I still ghostwrite all manner of books, including several memoirs, a travel love story, a handbook for chaplains. I am writing a series of books for a New York City chaplain, both fiction and non fiction.
I wrote, directed and produced several award-winning films, including Let Me Out, about a man who realises he is nothing more than a character in a film, and Everyone Deserves a Decent Life, a documentary about people with special needs that focuses on the question of their care after their parents are gone. My short play, Love Lives On, was a winner of a local playwriting contest and will be staged late September and early October in Long Beach.
What are the main challenges for you as an indie author, and what advice would you give to someone setting out to do the same?
I fell in love with reading as a teen when I read voraciously and saw that reading created worlds that I often found preferable to my own. The months, often years, of waiting for responses from agents led me to become an indie author. I connected with successful indie authors in Facebook groups, from whom I learned the tools of marketing my own work – a challenging, ongoing effort. A marathon rather than a sprint. It helps if you love to write. Best advice: be patient and write a series so people can buy your backlist.
Who are your influences?
My influences include the sci-fi author Ray Bradbury, whose lyrical writing style is a model for mine; John Steinbeck, whose prose and social awareness are also models; Lee Child, who created the bully-hating, violent tough nut Jack Reacher, who could be Dora's uncle; Harlan Coben, whose work often showcases deep love which is torn apart then reunited – a frequent goal in my work; and John Sandford, who writes terrific mysteries with an ongoing cast of characters.
What's next for David E Feldman?
I have already outlined A Special Storm – Dora Ellison Book 5 – which is available for preorder on Amazon and will be on other retailers soon, as well as on my website. I've already completed a non mystery novel called The Neighborhood, which focuses on four families in Valley Stream, New York, where I grew up, one of whom is the first black family in a previously all-white neighbourhood. I have another novel in development as well.
You can grab a copy of A Biological Storm via the buttons below. All of David's books can be purchased at 20% off the regular price directly on his website.