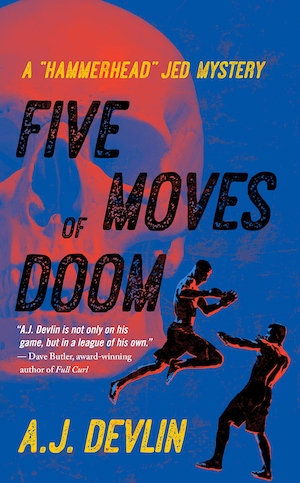 Five Moves of Doom is the kind of novel we like to point to when we talk about independent publishing and how it feeds vibrant new material into the crime fiction scene. I'm not sure any mainstream publishers would dare touch a book where the main character is 'Hammerhead' Jed Ounstead, a private investigator who is a former WWE champion and drives around Vancouver searching out banana milkshakes. But NeWest Press in Edmonton, Alberta, took on AJ Devlin and 'Hammerhead' Jed some years back and our genre is all the better for it.
We're not the only ones who think this way. Cobra Clutch was the first novel in the series and it won the Crime Writers of Canada's Arthur Ellis Award for Best First Novel in 2019.
Author AJ Devlin's writing and imagination are as vivid as ever here as Jed faces his toughest and most bone-crunching case yet. It starts off when a fellow former wrestler's diamond encrusted trophy belt is stolen. Someone has evaded the security at Elijah Lennox's MMA gym and sniped the bling. Lennox is a philanthropist and many who frequent the gym are young criminals trying to get straight, but this looks like a professional job.
When Jed tracks down the caretaker, also an ex-con, he's attacked by three thugs. As you might expect, Jed's size and fitness stand him in good stead in any fight. Although wrestling is sports entertainment, usually with pre-ordained outcomes, Jed lands real blows and breaks real bones. AJ Devlin knows how to write a fight scene and if that's your thing, this is your book.
There's mystery too, and soon everything takes a darker turn. Jed recovers the belt quickly through the info he collects from the caretaker and a few other bizarre characters from the worlds of bodybuilding and MMA training. However, when he returns to Lennox's gym, he finds the man hanging dead. Jed has completed his assignment but this shocking development sends him in a new direction. Lennox had no reason to kill himself, and the dead man's mother won't accept the police's suicide ruling. She hires Jed to dig deeper.
Sykes, the bookmaker who we met in Rolling Thunder, has some useful information for Jed. Once a proponent of dachshund racing, Sykes has a new venture – goat yoga. Just like the world of professional wrestling, stories by AJ Devlin are embroidered with unusual characters with bizarre passions. More serious mysteries rely on plot twists to keep readers on their toes. With this author, there's always something crazy and/or tacky around the corner, and it keeps everything light hearted and interesting.
On Sykes' lead, Jed finds himself trying to infiltrate a secret bare-knuckle fight club which Lennox had descended into. The villain he's up against is a cold-hearted killer who not only hospitalises Jed but frames him for a murder. In fact, the book opens with Jed being arrested by detective Rya Shepherd, a woman he yearns for even though he's officially with roller derby athlete Stormy Daze. So there we have another facet to the story – Jed's precarious love life.
As the story hurtles towards its combustive conclusion, Jed must reach inside himself and unleash the five moves of doom of the title. Because he's going to need a devastating finishing sequence to deal with what he's up against. His cousin, Declan, helps him prepare. Declan too is an amusing enigma – an ex-IRA man, a street fighter and a karaoke marvel who pulls pints in, yup, an Irish pub called the Emerald Sheleighly.
Most crime fiction lovers enjoy novels with a layered storyline, a rich cast of characters, a really tricky mystery and a brooding atmosphere. Sometimes, though, we're happy to leave that last item off the menu. The world is a melancholy place at the moment, and we need crime novels that make us smile. We need to root unreservedly for a hulking crime-solving hero who might even be wearing spandex and glitter boots. At times, little things might grate, like Declan's faux Irish accent, but Five Moves of Doom is fantastic crime fiction entertainment.
For more North West quirkiness, see John Straley's Cold Storage, Alaska.
NeWestPress
Print/Kindle
£6.64
CFL Rating: 4 Stars