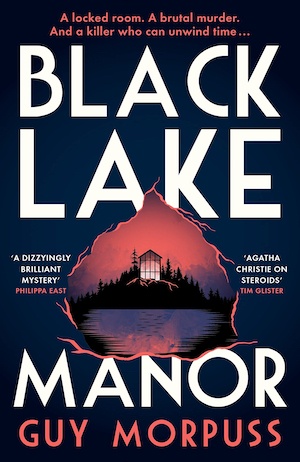 British author Guy Morpuss was a barrister and QC, and saw some unusual cases during his 30-year legal career, but certainly none so strange as the one he crafts in Black Lake Manor. His second novel after Five Minds, it's a dark, complex mystery, set in the future with time travel, spooky elements and even a touch of cannibalism, perhaps.
More than a hundred guests have gathered at Black Lake Manor, tech billionaire Lincoln Shan's cliff-top mansion on Vancouver Island, to celebrate his 40th birthday. At the party he will reveal his company's groundbreaking new technology but by the end of the evening someone will end up dead.
Among the guests is marine-biologist Ella Manning, Lincoln's ex-fiancée and childhood friend. When a body is discovered in Lincoln's office the next morning, Ella, who is also a part-time community police officer, is tasked with solving the crime. The victim was brutally murdered in what appears to be some kind of ritual which involves removing the brain.
Ella and several guests are trapped at Black Lake Manor as a raging storm sweeps in from the Pacific. The storm knocks out the power and their connection to the rest of the world. One thing is certain: the murderer is someone in the house. The office door was locked from the inside and only a few people, including Ella, had access.
We've only just reviewed A Christmas Murder of Crows and seems there has been an increase in closed circle mysteries set in remote locations, recently. This trope is not new, but writers must push the envelope and create something unique to keep their readers engaged. Morpuss pulls out all the stops with Black Lake Manor.
The first is to use multiple timelines and switch between them regularly. It takes some getting used to and can be tricky to keep track. All three timelines contain valuable information, and the link between them is revealed gradually as you connect the dots. The murder occurs in the near future, in 2045, with frequent flashbacks to 2023, when Lincoln, Ella, and their friend Noah were 17 and living in Black Lake, the old mining town. The third part of the story goes back to 1804 when a ship called the Pride of Whitby, runs aground in the area. Seven of the crew escape the wreck but that number is whittled down to one and the circumstances are… suspicious.
Morpuss' second manoeuvre is to give the descendants of the wreck's sole survivor a unique ability – they can rewind the events of the previous six hours, but they can do this only once in their lives. It's a supernatural addition with the potential to throw logic out the window. Someone reverses time by six hours just as Ella is making progress with her investigation. But who did it, and why? Lincoln has surrounded himself with the ability to manipulate time, so it could have been anyone in their midst who has a round tattoo with a wolf's head in it.
Three timelines with rewinds results in a Groundhog Day-like murder mystery. Events are replayed and deductions about the identity and motive of the murderer are altered accordingly. It's a clever gimmick, but the unavoidable repetition adds unnecessary bulk and complexity to the story. Maybe this is just the thing to pique some readers' interest and entice their inner-sleuth. However, no matter how proud you are of sleuthing abilities, this one is likely to outwit you.
Three main characters and their relationship over the past 20 years stand at the centre of the story. We learn about Ella and Lincoln's relationship, as well as how Noah, the third member of their group, became an eco-terrorist, changed his name to Maquina and became chief of a time-shifting tribe. Maquina was there at Lincoln's party, but the two men don't see eye to eye because of Lincoln's unethical business practices and greed.
Lincoln is almost as unlikable as Elon Musk, but it's not clear whether he's morally ambiguous or simply a self-absorbed attention-seeker with far too much money and power. This is someone who has the means to make a significant difference in the world but chooses not to. He constructs his villain's lair from glass and granite on a cliff above the ocean as proof that he is so powerful that he can even bend nature to his will.
Lincoln has tried to entice Ella back into his life by offering her work on his projects. She subsequently worked as a consultant for Lincoln's company studying parallels between multiple octopus brains and AI technology. Ella is familiar with octopuses because she has a tentacled friend called Scarlett. Her interspecies friendship with Scarlett demonstrates her strong empathy for animals. Unfortunately, she has an unusually low empathy for humans, which creates its own set of complications.
Black Lake Manor has more smoke and mirrors than a Pen and Teller magic show. It's a challenging read with some unnecessary repetition and it verges on tangling itself up in too many details and intricacy. However, it's certainly one of the most original books you'll read this year and it excels at creating the claustrophobic feel of a traditional locked-room mystery.
For another ingenious spin on the closed circle mystery, try Everyone in My family Has Killed Someone by Benjamin Stevenson.
Profile Books
Print/Kindle/iBook
£8.99
CFL Rating: 3 Stars